In 1994, every Pole was a millionaire and they had barely used coins. This seems like a joke, but it's actually true. However, it's not that easy to tell the difference between a fact and a joke on April Fools' Day. It appears that we prefer to believe in good news and reject bad news.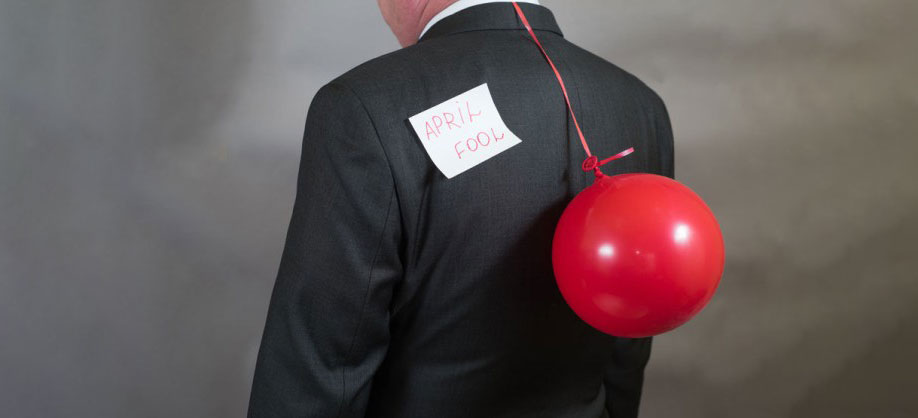 Everybody has at least one friend that would try to fool us deliberately on the 1st of April. However, the problem with April Fools' Day pranks that they seem funnier for those who make them, rather than for their victims.
Origins of April Fools' Day
The tradition of April Fools' Day has been popular since the medieval times. However, it's difficult to establish who started this. There are a few theories. One of them originates from the ancient Rome and it states that the spirits of the dead were the meanest towards the living on the 1st of April. The theory regarding the implementation of the Gregorian Calendar seems quite likely as well. According to the new calendar, the new year begins on January 1st, instead of the break of March and April as it has before. Therefore, those who celebrated the New Year's Day in January, made fun of those faithful to the old tradition.
Notorious stories
April 1, 1703, Moscow. City's inhabitants went to a free theatrical play. However, when the curtain went up, it revealed a sign saying, "Don't get fooled on April Fools' Day". And that was the end of this play.
The impact of April Fools' Day has increased with the development of the media. Fake news were published in newspapers, announced in both radio and TV stations and now they spread around the internet.
April 1, 1957. The British TV station informed that the noodle bushed in Switzerland had started blooming intensively. It is said that some Brits had fell for this information.
April 1, 1962. That was the era of black and white TV screens. However, one of the Swedish TV stations had managed to convince its viewers that it's possible to watch TV in color. All they had to do is put stockings over TV screen and nod their heads in order to achieve the desired result. It's not difficult to imagine how silly these attempts must have looked like.
These false news had been relatively innocent at the beginning. In time, however, they had been becoming increasingly intense and sometimes even cruel. The extreme cases are the announcements of somebody's death. Of course, people who had been spreading such news were fired immediately.
Unfortunately, the tradition of prank making has changed the perception of news published on April 1st. If you keep in mind that this is a day for fooling others, you may approach to all information with doubts.
April 1, 1946. A five-meter tsunami wave had reached Hawaii and had forced its way one kilometer into the land. One hundred sixty-five people died on that day. Some of them most likely ignored information about the danger, because they might have taken that information for an April Fools' Day prank.
We love to be right
To protect those less skeptical, some countries established a rule that false information on April Fools' Day can only be published until noon. However, there are countries that allow pranks for one additional day.
To what stories are we most susceptible? - Basically, people prefer good news from bad news and they are less eager to believe the latter. If an information is not too abstract and concerns something that people had been expecting themselves, there's a larger likelihood that the majority will believe it. This is because that we love to be right. Being right strengthens your self-esteem – said Marcin Florkowski, psychology PhD. - However, Poles are slightly different than the other nationalities, due to their defensive pessimism. They don't have great expectations towards anything, just in case. For example, even if they wish that the weather on weekend is nice, they will still say that it will most likely rain on Saturday – he adds.
Unbelievable, but true
Some ventures are deliberately announced on April 1st. This is because their creators assume that a thing that seemed like a joke and appeared to be true, will get a larger recognition. Currently, approximately 500 million people uses Gmail, which was initiated on April 1st, 2004 and was treated as a joke.
If nowadays teenagers had been told that twenty-five years ago every Pole was a millionaire, they would find it very difficult to believe. Meanwhile, this story is true. - In 1994, the average annual salary in Poland was approximately 64 million PLN and the average monthly salary was 5.3 million PLN – said Bartosz Grejner, analyst of online currency exchange company, Cinkciarz.pl. Moreover, in 1994 the cost of one dollar was 9.5k PLN, whereas today it costs less than 4 PLN (currency exchange rate as provided by Cinkciarz.pl). - This was a result of hyperinflation. A similar phenomena appeared in Hungary, shortly after the Second World War. However, this was even worse than the situation in Poland in 1980s and 1990s, because back then Hungarians had been using bills worth 100 trillions Hungarian pengo (Hungarian currency at that time). The situation in Germany after the First World War was similar and the dollar's cost was approximately 4 billion Deutsche Mark – adds Grejner.
---