Currency exchange
Exchange currencies from the comfort of your home, quickly, safely and free of charge. Initiate orders 24 hours a day.
Register for free
See how much you can save with us.
Currency converter is currently unavailable. We apologize for the inconvenience.
Security
Our transactions are executed online, eliminating the risk of handling cash.
See our standards
High-speed currency transactions
Save time with fast execution of foreign exchange transactions.
Check the execution time
Multiple payment method
Pay for your transactions with convenient payment methods.
See available methods
---
Attractive exchange rates of 27 currencies
Exchange rate for 50 000 currency units.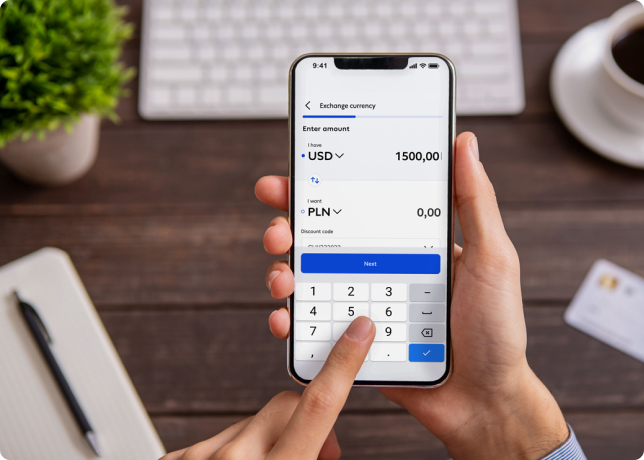 Download our app
Make managing your favourite currency services faster, easier and more convenient. Wherever you are.
See our application
Money conversion services
Streamline the process of converting money. Plan regular transactions. Set useful alerts. Save time and order your currency exchange at an attractive rate.
See all services
Attractive online offer of 27 currencies
Convert 28 of the most popular currencies online. Free of charge.
Appreciated by customers.
Awarded by experts.
900 thousand
positive customer reviews (Opineo.pl)
4,9/5
quality confirmed by customers (Opineo.pl)
170 billion PLN
total value of exchanged currency
12 years
on the market
2+ million
app downloads
Put your business
in safe hands
We offer services based on a licence issued by the Polish Financial Supervision Authority. Safety is our top priority. Our trustworthiness is confirmed by international sports partnerships.
Payment institution licence
(Conotoxia sp. z o.o.)
Member of SWIFT
Find out more
Start saving today
Looking for attractive rates with no hidden fees? See how much you can save. Create a free account and start converting currency online.
Sign up free