Efficient money transfers
Efficient money transfers
Why are Conotoxia online money transfers so effective? To put it simply, we prefer to work smarter and not harder. By doing business this way, we are able to pass our savings onto you.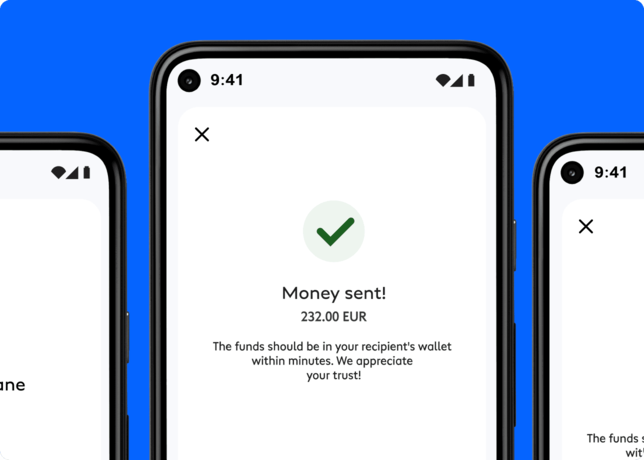 How long does it take to send money online?
2
Transfers that are paid for with a credit card, debit card or currency wallet are completed within a few minutes.
Transaction times depend on the selected bank. We strive to cut our transaction times so you get your money faster.
Timetable of cut-off times
If a transaction is ordered after the cut off time, in accordance with the Payment Services Terms and Conditions "Money Transfer", its execution takes place:
on the next business day at the latest (for PLN and EUR currencies),
within two business days at most (for other currencies).
| Currency | Cut-off time (UTC+1) |
| --- | --- |
| PLN and EUR | 13:00 |
| Other currencies | 12:00 |
Effortless money transfers
Send money online easily with Conotoxia.
Our commitment to speed is our top priority. If you send money internationally, the funds are withdrawn from accounts that we hold in the chosen country, reducing transaction times.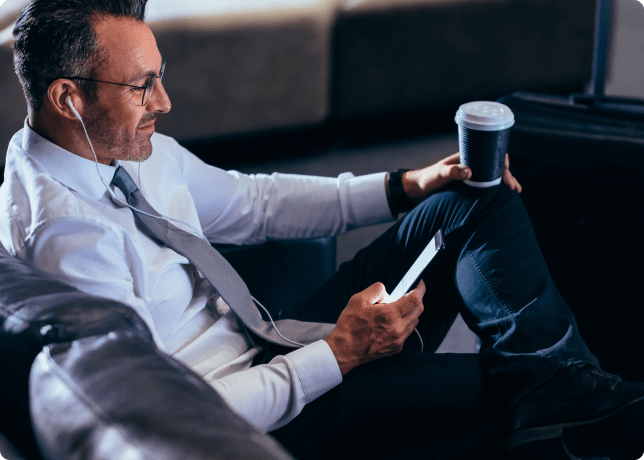 Fee and commission tables
We provide attractive rates as well as minimum fees and commission. For the execution of a transfer we charge a basic fee, the amount of which depends on the method of sending or receiving the transfer. However, there may be additional fees and commission.
Basic fee
*Fee will be converted at the current exchange rate.

| | Transaction fees: | Transfer fees: |
| --- | --- | --- |
| Internal transfer order (currency wallet, email, text message) | - | - |
| Money transfer order to an account in Poland in PLN | 0,2% (max. 250 PLN)* | - |
| Money transfer order to an account outside Poland (SWIFT) for currencies: EUR (outside the eurozone), GBP, USD, BGN, CNY, HKD, HRK, MXN, NZD, RON, SGD, ZAR, ILS, AED, THB, PLN, CHF, CAD, SEK, CZK, AUD, DKK, NOK, JPY, HUF, RUB, TRY, RSD | 0,2% (max. 250 PLN)* | 0,25% (min. 40 PLN, max. 200 PLN)* |
| SEPA transfer order | 0,2% (max. 250 PLN)* | 5 PLN* |
| SEPA transfer order to an account in Poland to the following banks: mBank, PEKAO SA, PKO BP, Santander, Millennium, BNP Paribas (BNP, BGŻ, Raiffeisen), ING, Alior Bank, BOŚ, BPS | 0,2% (max. 250 PLN)* | - |
| Foreign currency transfer order to currency accounts from Getin Bank Group | 0,2% (max. 250 PLN)* | 10 PLN* |
Fees for express payment transaction and payment method
Express payments are executed immediately. For this reason additional commission is charged.
| | Transaction fees: | Payment method fees: |
| --- | --- | --- |
Other fees
Cancellation fees: up to 10% of the transaction value
mBank transfers to us in a currency other than PLN are charged. Price list is available from mBank. The rest of the transfers are free.
Getin Online, Idea Bank Transfers in foreign currency from us are made through mBank. A fee of 10 PLN + additional fee for the intermediary bank. See more. The rest of the transfers are free.
Getin Noble Bank charges fees for transfers within the bank. Price list is available from Getin Noble Bank.
Bank BPS S.A. charges a fee related to the execution of currency transfers. Transfers made in PLN may also be charged.

Other Polish banks:

Transfers in banks not listed above are processed via mBank. In most cases sending and receiving transfers in PLN are free of change. Transfers in foreign currencies, both to and from us, may be charged with a fee. Please check with your bank.

For transfers in USD, an additional fee will be charged by the bank STANDARD CHARTERED BANK (the intermediary bank in cooperation with mBank) in the amount from $25 to $50, or with JPMorgan Chase in the amount from $20 to $32. In case of transfers in foreign currencies, additional fees may occur as intermediary banks might participate.
Foreign transfers may be subject to additional fees charged by intermediary banks. The fee may range from 20 to 50 USD (converted into the final currency).
GBP transfers from Great Britain to us may be charged an additional fee ranging from 12 GBP to 20 GBP. The fee is charged by intermediary banks.
Attention: Information regarding fees charged by intermediary banks (transfer service costs) are estimated. Actual costs depend, among others, on the banks participating in the transfer, type of transfer or cost clause. We cannot be held liable for fees charged by external payment institutions and intermediary banks, which actions are independent from us.
Transfer money for less
Sign up for a free account and easily send money online
- all without leaving your home.
Send money now