Payments
27 currencies on offer, low commission, simple integration. Launch fast payments today.
Launch payments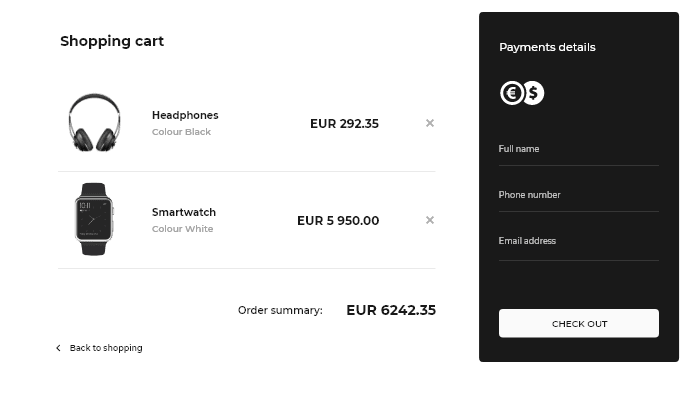 27 currencies
Provide your store with payments in many popular currencies.
Check rate
Secure payment services
We use encrypted connections and international security standards.
Find out more
Check our prices
We have nothing to hide. See how low your costs will be thanks to the integration with us.
See the pricing
Do you run an online store?
Enable payments in multiple currencies and increase sales. We offer support at every stage of integration.
1. Register
You can create a free account yourself.
2. Integrate your online shop
Give your customers what they want. A quick and easy ecommerce payment system.
See how to integrate a store
3. Sell
Increase sales with Conotoxia Pay in 27 currencies.
Do you shop online?
Enjoy fast payments with Conotoxia Pay and conveniently pay for your online shopping.
1. Use Conotoxia Pay
Select Conotoxia Pay from the purchase payment screen.
2. Choose payment method
There are many convenient payment methods to choose from.
3. Buy and pay online
In only a few clicks, your purchases are paid for quickly and with no additional fees.
Interested in implementing our solution?
Use ready-made modules or technical documentation and embed Conotoxia Pay in your shop.
1. Register
Create a free account
2. Use provided tools
Ready-made modules and detailed technical documentation are available to you.
3. Initiate integration
If you have any additional questions, contact us.
Global payments in 27 currencies
Accept payments in the most popular currencies. Your clients will benefit from the attractive rates offered in our system.
Check out our rates
Appreciated by customers.
Awarded by experts.
900 thousand
positive customer reviews (Opineo.pl)
4,9/5
quality confirmed by customers (Opineo.pl)
170 billion PLN
total value of exchanged currency
12 years
on the market
2+ million
app downloads
Put your business in safe hands
We offer services based on a licence issued by the Polish Financial Supervision Authority. Safety is our top priority. Our trustworthiness is confirmed by international sports partnerships.
Payment institution licence
(Conotoxia sp. z o.o.)
Member of SWIFT
Find out more
Offer your customers fast and convenient payments
Interested in including payments in multiple currencies at attractive rates in your shop? You can integrate with our system yourself.
Launch payments