Reaction regarding the political turbulence in Italy limited to local market only. Investors are waiting for FED decision and bet on deal concerning the fiscal cliff. EUR/USD rebounded from strong support level around 1.2900, and PLN strengthened on the wave from record low yield on debt market and improving market sentiment.
Najważniejsze dane makro:
11.00 CET: ZEW index from Germany
Politicians on both side of Atlantic in the game. Important ZEW.
Yesterday's political turmoil as the day progressed was diminishing its impact. Early afternoon European indices started decreasing its losses, and finished the day on the green side. The similar situation we could observed on the EUR/USD which ended the session 40 pips above the opening level. The only instruments which were unable to rebound were Italian bonds and local stock market. Investors were calmed by Mario Monti statements reassuring that there will be no political vacuum and his austerity and reforms policy will suppose to be continued. Undoubtedly it was purely up to investors how to interpret this words (either positive or negative), especially that they were not changing the situation at all. On the other side of Atlantic politicians also try to reassure that all is under control. Monday's Obama's declaration after his meeting with U.S based Daimler plant, according to experts, getting closer to the agreement. Commentators noticed that the President hadn't repeated his famous "hostage" phrase which target republicans and their approach to rising taxes. Also quoted by Bloomberg history professor from Princeton University, Julian Zelizer claim that" there is a change in tone, obviously". It means that the agreement can be pretty close, and negotiators are preparing its teams to declare victory (both sides, of course) Coming back to Europe today it is worth to pay attention to ZEW indicator. Due to empty calendar it will be closely watched data. Every reading above minus 10 points will be positive for EUR/USD. On the other hand data showing contraction of more then 15 points will be weighting on the markets.
FED again.
After yesterday's Reuters survey today I want to present similar research done by Bloomberg. 48 of 49 economist expect that FED will announce the new easing operation which replaces expiring in December "twist". Most of the market participants see the new bond buying program at level around 45 billion a month. If we add it to the current MBS buying valued 40 billion it totals 85 billion every month. Professional investors predict also that FED balance sheet will widen by more then 1 trillion USD till the end of 1Q 2014 (from current 2.86 trillion to 4 trillion USD). I want to stress that if that predictions are fulfilled tomorrow it will be strong negative news for U.S dollar which can weight on it for the following months.
The outcome from turmoil in Rome > PLN stronger.
The Polish currency took advantage from the Italian problems. Its resistance form the morning resulted in substantial strength after the situation calmed. Currently we are around 0.02 PLN stronger on EUR/PLN then yesterday at the same hour. The zloty is also supported by record low yield on 10 year benchmark bond. Now for PLN the most important news will come from FED tomorrow. If FED expands its QE according to analyst's expectations it will push USD/PLN much lower.
Expected levels of PLN according to the EUR/USD value:
| | | | |
| --- | --- | --- | --- |
| EUR/USD | 1.2850-1.2950 | 1.2950-1.3050 | 1.2750-1.2850 |
| EUR/PLN | 4.1300-4.1000 | 4.1200-4.0900 | 4.1600-4.1200 |
| USD/PLN | 3.2100-3.1700 | 3.1800-3.1400 | 3.2500-3.2100 |
| CHF/PLN | 3.4200-3.3900 | 3.4000-3.3700 | 3.4400-3.4100 |
Technical analysis EUR/USD: EUR/USD rebounded from 1.2900 level (50 DMA and 23.6% Fibonacci retracement level). The situation is not clear until the pair either breaks 1.3000 or 1.2900 level. Technical analysis shows that the move above 1.3000 supports the bullish side. The slide under 1.2900 will be positive for bears.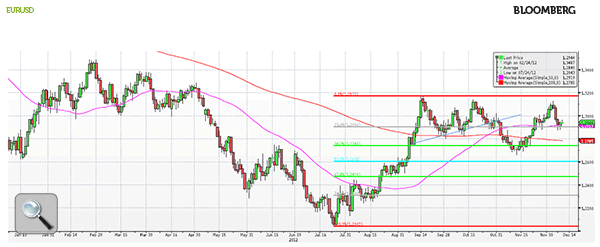 Technical analysis EUR/PLN: the clear comeback under 4.1200 level is a strong signal for bulls to close longs. If we break support at 4.1000 there is a clear chance to reach the targets at 4.08, and 4.06.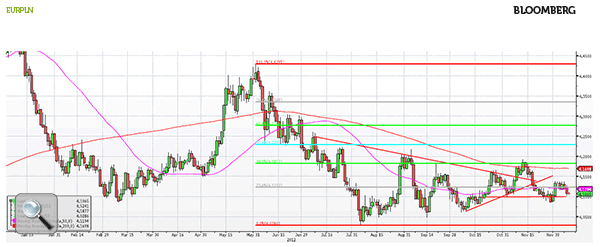 Technical analysis USD/PLN: the upside move was negated on USD/PLN. The current target for this pair is 3.1500, and then 3.1200 in extension to 3.1000. The come back to upside trend needs the closing above 3.1900.
Technical analysis USD/PLN: the upside move was negated on USD/PLN. The current target for this pair is 3.1500, and then 3.1200 in extension to 3.1000. The come back to upside trend needs the closing above 3.1900.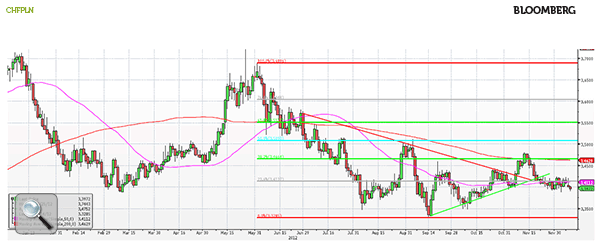 ---
This commentary is not a recommendation within the meaning of Regulation of the Minister of Finance of 19 October 2005. It has been prepared for information purposes only and should not serve as a basis for making any investment decisions. Neither the author nor the publisher can be held liable for investment decisions made on the basis of information contained in this commentary. Copying or duplicating this report without acknowledgement of the source is prohibited.
---