Another day, and another higher levels on EUR/USD (1.3110). The pretext: positive info from Greece and broad selling of USD. Polish zloty is waiting for the MPC rate decision and currently is trading around 4.1300 per EUR.
Macro data:
14.15 CET: ADP report (USA)
16.00 CET: services ISM (USA)
16.00 CET: MPC conference after the rate decision (Poland)
Between 12.00 CET and 15.00 CET – MPC decision regarding rates
EUR/USD selective approach to the news. Technical analysis is winning.
Recent upside move is explained in many ways. Some analysts claim that it is the result of the Greek agreement, other see that Eurozone collapse has been averted, and the danger is only extended recession. Investors also point out that EUR/USD rally is spurred by broad weakness of USD (caused mainly by fiscal cliff), and recent investments banks reports (Goldman predicts EUR/USD at 1.4000 in 2013, Morgan Stanley according to Reuters suggests to open long positions above 1.3050 with target at 1.3400). All the mentioned reasons seem to be valid, but I think this time the biggest chunk goes to technical analysis. After the rebound from 1.2650 lows to 1.2900 and breaking 1.2900 (23.6% Fibonacci retracement level, and 50 DMA) the shorts capitulated (short squeeze) what in effect we could observed 200 pips move. Looking at the long term chart we can expect that after breaking 1.3150-70, EUR/USD can move to 1.3500 till the end of the Q1 2013.
Greek debt buyback, ADP and ISM, FED.
Coming back to the recent situation the positive impact on the sentiment comes from the Greek debt buyback (one of the agreement issue). "Quite happy" should be hedge funds which recently bought the Greek debt around 28% its face value, and now they can sell it back at around 32%-34%. For additional 10 billion EUR borrowed Greece will be able to lower its debt by more then 25 billion EUR. The market will also try to use today's ADP report to predict Friday's NFP. Investors should observe how the common currency reacts to better/worse then expected data. I also want to remind about the FOMC meeting next Wednesday where Ben Bernanke decides how to deal with the expiring operation twist. The speculations regarding the monetary committee decision can impact USD (worse then expected data will put pressure on FOMC to exchange the Twist to bond buying program), and eventually weaken it.
PLN is waiting for MPC decision. Conference is the key?
Today the committee will probably lower the benchmark rate by 25 bps to 4.25%. The decision will be announced between 12.00 CET and 15.00 CET. I think that the initial reaction on PLN pairs will be positive. Speculations concerning 50 bps cut will not be fulfilled what is suppose to strengthen the zloty. On the other hand I expect that the statement and the conference will be much more dovish then investors expectations what suppose to weaken the PLN> in consequences the closing price will be similar to the opening one. In the following days I assume that PLN will come back to the usual correlation, and will be paying attention only to the global events.
Expected levels of PLN according to the EUR/USD value:
| | | | |
| --- | --- | --- | --- |
| EUR/USD | 1.3050-1.3150 | 1.3150-1.3250 | 1.2950-1.3050 |
| EUR/PLN | 4.1400-4.1100 | 4.1300-4.1000 | 4.1500-4.1200 |
| USD/PLN | 3.1800-3.1400 | 3.1600-3.1200 | 3.2000-3.1500 |
| CHF/PLN | 3.4200-3.3900 | 3.4100-3.3800 | 3.4300-3.4000 |
Technical analysis EUR/USD: the AT prediction has almost been fulfilled with the first target around 1.3150-70. The further EUR/USD performance depends how the common currency will deal with the resistance level. Fast move above 1.3200 can spur a rapid move toward 1.3300. Longer hesitation near the key levels can initiate some profit taking and push EUR/USD to 1.3000 level.
Technical analysis EUR/PLN: EUR/PLN didn't use the opportunity to move further upside. It is currently around support level (50 DMA and 23.6% Fibonacci retracement level). The target for EUR/PLN is around 4.1700-4.1800. The comeback under 4.1100 negates recent moves and suggests further downside move.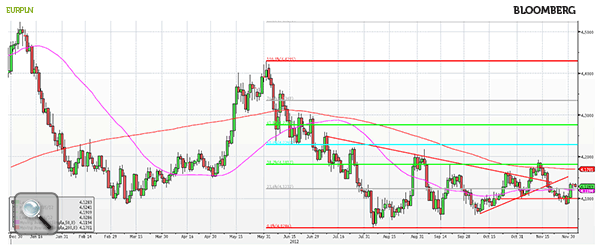 Technical analysis USD/PLN: short positions is still preferable on USD/PLN with target at 3.1300 and then around 3.1000 level. Break out above 3.1900 line suggests the shorts to be closed.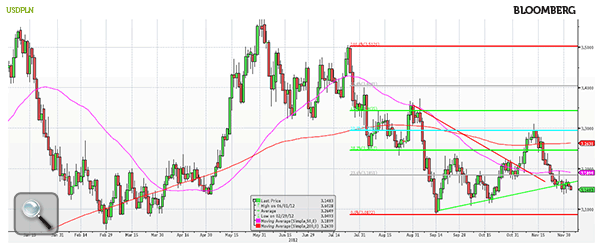 Technical analysis CHF/PLN: the comeback under 3.4000 will suggest the recent upside move to be negated. It will also increase the odds for downside trend comeback with the target around 3.3300 level.
---
This commentary is not a recommendation within the meaning of Regulation of the Minister of Finance of 19 October 2005. It has been prepared for information purposes only and should not serve as a basis for making any investment decisions. Neither the author nor the publisher can be held liable for investment decisions made on the basis of information contained in this commentary. Copying or duplicating this report without acknowledgement of the source is prohibited.
---