Weak debt auction in Spain and much worse than expected retail sales in the Eurozne weakened the common currency (currently at 1.3060). In line with expectations the Polish MPC lowered rates by 25 bps and signaled another cut in January. PLN strengthened to EUR by around 0.01 PLN (4.1200).
Macro data:
13.45 CET: EBC Interest rate decision (Eurozone)
14.30 CET: EBC press conference (Eurozone)
14.30 CET: weekly jobless claims (U.S.)
Weak Spanish debt auction and disappointed macro data weighted on EUR.
The mood on EUR/USD deteriorated due to following issues. Firstly it was weak Spanish debt auction (especially not reaching the maximum target of 4.5 billion EUR). Secondly much worse then expected retail sales data form the Eurozone (survey: (-0.1%); actual: (-1.2%). Both cases resulted in 60 pips slide on the common currency to the levels around 1.3060. The downside move was in line with the technical correction after 5 days in the row of gains, and closeness of the strong resistance level around 1.3150. It is possible that the correction will last till the end of the week and will test 1.3000 mark. At the beginning of next week the market is suppose to speculate about the replacement of Operation Twist which will weaken USD and give some boost to currencies sensitive to global sentiment (EUR, PLN, GBP).
ECB in focus today.
EUR/USD investors will suppose to watch the ECB data. At 13.45 CET the market will receive the interest rate decision in the Eurozone. Most analysts (56 from 61) surveyed by Bloomberg expect ECB to leave the benchmark rate unchanged at 0.75%. Others claim that worsening economic situation will push the MPC to lower it by 25 bps. As recent months showed much more impact can have non standard operation (like OMT) than moves on interest rate. I don't expect ECB to change the cost of money what should slightly strengthen EUR. On the other hand the Committee will probably change its GDP forecast from 0.5% to virtually 0% for 2013 what in result can weaken the common currency. If ECB decides to lower the rate or gives a signal about negative deposit interest it will put pressure on EUR, and even can push it under 1.3000 mark.
MPC decision, statement and conference without surprises.
The conservative MPC approach was confirmed yesterday. The Polish Monetary Committee lowered benchmark rate by 25 bps to 4.25%. No surprises investors can find in the statements after the decision. Only some "freshness" we could observe during the conference run by governor Marek Belka. He clearly signaled that the next rate cut will be in January ("central bank can't afford pause rate cut"). The question mark is then February decision. However, taking into account lack of inflation pressure, and low GDP growth there is a high probability that after two first months of 2013 we can see the interest rates lower by 50 bps. In the coming days PLN is suppose to come back to its usual behavior and move according to EUR/USD rate and global equity markets.
Expected levels of PLN according to the EUR/USD value:
| | | | |
| --- | --- | --- | --- |
| EUR/USD | 1.3050-1.3150 | 1.3150-1.3250 | 1.2950-1.3050 |
| EUR/PLN | 4.1400-4.1100 | 4.1300-4.1000 | 4.1500-4.1200 |
| USD/PLN | 3.1800-3.1400 | 3.1600-3.1200 | 3.2000-3.1500 |
| CHF/PLN | 3.4200-3.3900 | 3.4100-3.3800 | 3.4300-3.4000 |
Technical analysis EUR/USD: the correction move should not exceed 1.3000 mark. There is still higher probability to successfully test 1.3150-70 level then get under 1.2900 (strong support: 50 DMA and 23.6% Fibonacci retracement level).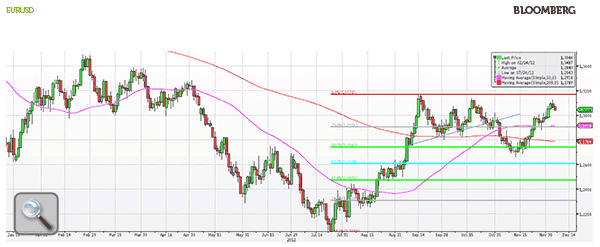 Technical analysis EUR/PLN: currently at strong support around 4.1200. There is lower chance to move downside under 4.1100 level. The preferable scenario is upside move with the first target around 4.17-4.18.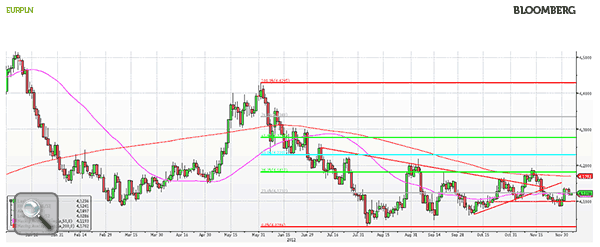 Technical analysis USD/PLN: technical situation has not changed on USD/PLN. Despite recent stop in the downside trend shorts are preferable until the pair breaks 3.1900 level. The first target in the move is 3.1300 and second around 3.1000.
Technical analysis CHF/PLN: CHF/PLN was not able to close under 3.4000 mark what supports the bullish side. The upside move will be confirmed after upside breakout above 3.4150 (50 DMA and 23.6% Fibonacci retracement level. The target after 3.4150 is around 3.46000.
---
This commentary is not a recommendation within the meaning of Regulation of the Minister of Finance of 19 October 2005. It has been prepared for information purposes only and should not serve as a basis for making any investment decisions. Neither the author nor the publisher can be held liable for investment decisions made on the basis of information contained in this commentary. Copying or duplicating this report without acknowledgement of the source is prohibited.
---