ECB with its revised GDP growth estimates, rate reduction discussions and operationally readiness for negative interests pushed EUR/USD 100 pips lower to 1.2950. The PLN weakened on the wave of euro dollar sell off but record high European equities slowed the slide.
Macro data:
14.30 CET: Non Farm Payrolls (U.S.)
15.55 CET: University of Michigan index (U.S)
Draghi pushed EUR/USD lower.
European Central Bank in line with expectations left the rate unchanged at 0.75%. Surprises came during the Draghi conference. ECB lowered its estimate on GDP growth in 2013 for Eurozone from + 0.3% to (-0.5%). The chairman also mentioned about "wide discussion" over the interest rate cut, and claimed that the Bank is "operationally ready" for negative yields. All this issues were highlighted in yesterday's analysis as elements which can lower EUR/USD under the 1.3000 mark. However, it is possible that before Wednesday's FED meeting USD will weaken and we can come back above 1.3000. Some impact on the common currency will also have today's data from the U.S job market.
Non Farm Payrolls.
Many analysts form the U.S market claim that today's NFP data will be disrupted by Hurricane Sandy outcome. However, it does not mean that the data will be useless for investors. Currencies react usually to the deviation from survey's data, and the estimates for today's reading are from 85k reported by Bloomberg to 93k presented by Reuters. If the actual report is lower then 80 k it will suppose to lower the USD in the anticipation of increased odds for FED action on Wednesday. On the other hand when NFP reading is higher then 100k it will strengthen the dollar and can push EUR/USD under strong support level of 1.2900. Scheduled at 15.55 CET University of Michigan will not have much impact on the currency market which will be already setting for the December FOMC meeting.
The zloty comes back to its usual behaviour.
During writing the analysis the news from Bundesbank hit the wires. The German central bank lowered its 2013 GDP growth forecast from 1.6% y/y to 0.4% y/y. These estimates are much lower then published at the beginning of November European Commission prognosis (0.8% y/y). The report can have quite a substantial impact on the common currency, and also for the PLN pairs which have already come back to its usual moves after some disruptions caused by MPC meeting.
Expected levels of PLN according to the EUR/USD value:
| | | | |
| --- | --- | --- | --- |
| EUR/USD | 1.2950-1.3050 | 1.3050-1.3150 | 1.2850-1.2950 |
| EUR/PLN | 4.1500-4.1200 | 4.1400-4.1100 | 4.1600-4.1300 |
| USD/PLN | 3.2000-3.1500 | 3.1800-3.1400 | 3.2400-3.1900 |
| CHF/PLN | 3.4300-3.4000 | 3.4200-3.3900 | 3.4400-3.4100 |
Technical analysis EUR/USD: technical situation significantly worsened. We are very close to the key support levels (50 DMA and 23.6% Fibonacci retracement level). Its breakout will generate strong sell signal with the target around 1.2780-1.2740.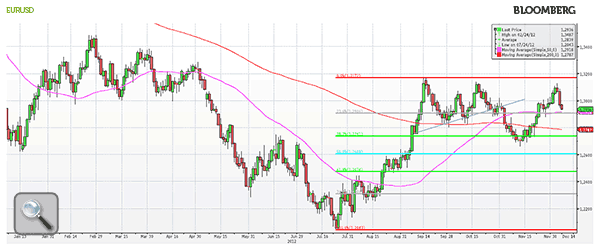 Technical analysis EUR/PLN: EUR/PLN continues its slow upside move. The technical situation has not changed. The target for the following days is 4.17-4.18. The come back to downward trend is possible after breaching 4.1100 level (low probability).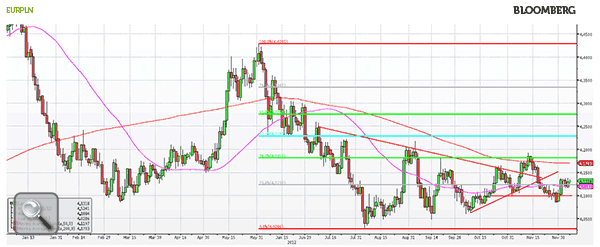 Technical analysis USD/PLN: the breakout above 3.1850-3.1900 is a strong buy signal with the target around 3.2450 (38.2% Fibonacci retracement level) and 3.2640 (200 DMA). The come back to the down trend is possible after sliding under 3.1700 (trend line and half of yesterday's candle).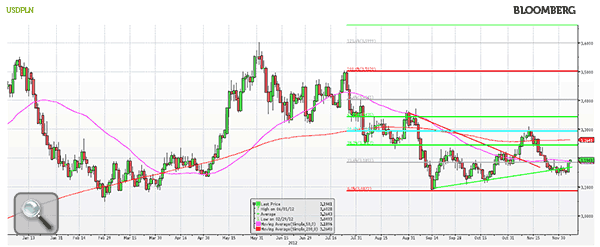 Technical analysis CHF/PLN: CHF/PLN is trying to push higher from the range trade. The probability for upside move is rising with the target around 3.4600 (38.2% Fibonacci retracement level and 200 DMA). The come back to the down trend is possible after closing the day under 3.4000 (low probability).
---
This commentary is not a recommendation within the meaning of Regulation of the Minister of Finance of 19 October 2005. It has been prepared for information purposes only and should not serve as a basis for making any investment decisions. Neither the author nor the publisher can be held liable for investment decisions made on the basis of information contained in this commentary. Copying or duplicating this report without acknowledgement of the source is prohibited.
---