Cypriots were relatively calm after banks resumed withdrawals. EUR/USD is trading around 1.2800. Today both debt and equity markets are closed in Europe and in the States. A new Prime Minister in Italy in the coming hours? EUR/PLN is weak but the moves are in the recent range trend.
Macro data (CET- Central European Time). Survey is supplied by Bloomberg unless otherwise noted.
14.55 CET: University of Michigan index (survey 72.6)
Cyprus and Italy
Banks in Cyprus were reopened yesterday. Despite the strict withdrawals restrictions (up to 300 euro per day) there has not been any major incidents in front of financial institutions. A Bloomberg report was covering live the situation on site and was claiming that "there were more journalist then clients before the opening". After a few minutes he personally went to a local branch and did some short interviews with some Nicosia inhabitants. The calm reaction does not mean that the Cyprus situation is resolved especially that, as I was pointing out in previous analysis, the key questions has not been answered (capital control duration, haircut on larger deposits).
In line with previous reports a mission to form government in Italy faild. However, yesterday after the President office issued a statement that Napolitno "would act without delay" a solution is still possible. As Financial Times reports some political analysts claim that the President can act quickly "perhaps within 24 hours, to nominate a prime minister". The daily newspaper points out that the candidate can come from outside and have a support from the main parties.
It is worth to note that any resolution in Italy can help the EUR/USD. Adding some calmness in Cyprus it can generate a short term rebound (especially that the market depth in following days is low). The correction move will probably be short lived and should not change the negative sentiment to the common currency.
The beginning of next week
Today we don't have any major data which can significantly move currencies (not taking into account the possible resolution in Italy). However, just after the Easter holidays we have a set of PMI data. As we remember the recent preliminary Markit reports in two major economies were much lower then expected. Now it will be important, whether the final data is better then previous estimates (positive for EUR/USD) or close/worse to the partial reports (bearish for the common currency)
The zloty is still weak
Despite a strong global turmoil caused by the Cyprus case the Polish zloty is pretty stable to the euro. In recent days the zloty was weakening around 0.01PLN every session, but it was not able to rise over 4.2000 on EUR/PLN. The base scenario is still the range trade (4.15-4.20) but with higher probability that we move north then we fall under 4.1500 (the same scenario confirms technical analysis).
On Tuesday, similarly to the global markets, we have the PMI data. We still don't have the Bloomberg estimates for the report but any reading above the last value (48.9) can give some boost the PLN (no more than 0.02PLN).
Expected levels of PLN according to the EUR/USD rate
| | | | |
| --- | --- | --- | --- |
| EUR/USD | 1.2750-1.2850 | 1.2850-1.2950 | 1.2650-1.2750 |
| EUR/PLN | 4.1700-4.2100 | 4.1600-4.2000 | 4.1800-4.2200 |
| USD/PLN | 3.2500-3.2900 | 3.2200-3.2600 | 3.2800-3.3200 |
| CHF/PLN | 3.4100-3.4500 | 3.4000-3.4400 | 3.4200-3.4600 |
Expected GBP/PLN levels according to the GBP/PLN rate
| | | | |
| --- | --- | --- | --- |
| GBP/USD | 1.5150-1.5250 | 1.5250-1.5350 | 1.4950-1.5050 |
| GBP/PLN | 4.9300-4.9700 | 4.9500-4.9900 | 4.9100-4.9500 |
Technical analysis EUR/USD: the pair does not want to initiate even a slight correction what supports the bears. The goal for the EUR/USD around 1.2700 can be achieved even as early as till the end of the current week. Any rebound not exceeding 1.3000 should be used to open short positions.
Technical analysis EUR/PLN: we are trying to initiate a breaking up move from the range trade. If we move over 4.1900 there is a chance to attack 4.2300 and in extension even 4.3000 level. The alternative scenario is opening short positions under 4.1500 (low probability).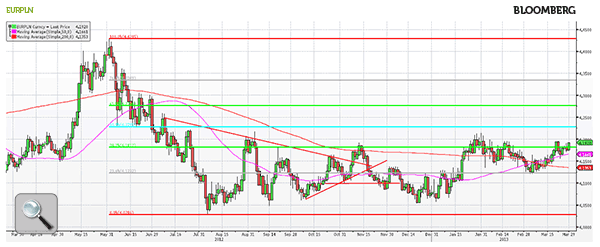 Technical analysis USD/PLN: after a month the buy signal was generated (mid February, breaking 3.14 upside) we did finally reach the medium term terget of 3.2700. . Another resistance levels are 3.30 (highs of mid November 2012) and 3.33-3.35 range. The alternative scenario is short positions after closing the day under 3.2200 (38.2% Fibonacci retracement level and 200 DMA).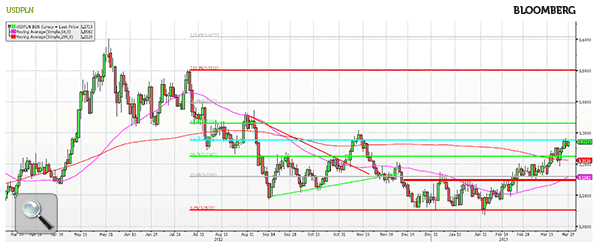 Technical analysis CHF/PLN: the bulls didn't allow to break the 3.4000 support level. The 3.4800 target is still in place.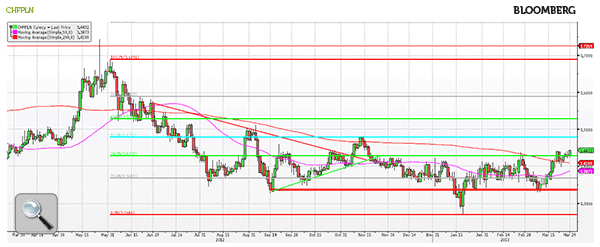 Technical analysis GBP/PLN: bulls are ruling on the GBP/PLN pair and are pushing toward 5.0000 mark. The breakout will generate medium-term buying signal and keep the short term bullish bias.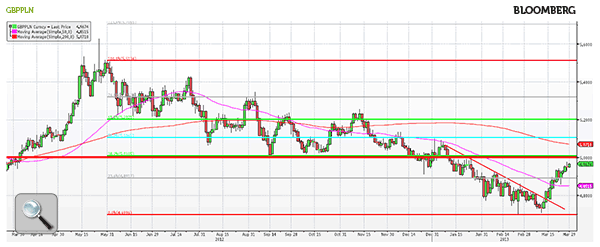 ---
This commentary is not a recommendation within the meaning of Regulation of the Minister of Finance of 19 October 2005. It has been prepared for information purposes only and should not serve as a basis for making any investment decisions. Neither the author nor the publisher can be held liable for investment decisions made on the basis of information contained in this commentary. Copying or duplicating this report without acknowledgement of the source is prohibited.
---