As The Wall Street Journal reports large depositors in the 2nd largest Cyprus bank can lose even 80% of their holdings. Nicosia can implement capital controls which can last for years. S&P 500 is again higher and closed only 2 points below all-time top. UK GDP. The zloty is under Cyprus pressure.
Macro data (CET- Central European Time). Survey is supplied by Bloomberg unless otherwise noted.
10.30 CET: Q4 GDP report from the U.K. (survey +.0.3% y/y and minus 0.3% q/q)
Only 20% of deposits over 100k euro will be rescued from the Laiki Bank? Capital flow in Cyprus. Bulls in full control in the States.
There has been coming much more dark clouds on the common currency and Cyprus. As The Wall Street Journal reports (in article "Cyprus Details Bank Revamp") the losses of larger depositors (over 100k euro) in Laiki Bank (also known as Cyprus Popular) can top even 80%. The paper cites an interview from the national TV where finance ministers Michalis Sarris claims that "The amount [returned] could be 20%". The Journal estimates that most of 3.2 billion savings in Cyprus Popular will be lost and around 40% of 8 billion desposits in Bank of Cyprus will not be recovered.
This is not the end of problems. Nicosia still does not allow to open banks (the decision should be announced today) and we also don't konw how the capital control will look like. Bloomberg brings up examples how similar banking crisis was handle. The most recent case was Iceland where the government in 2008 reassured that any money flow restrictions would be only temporary (like officials in Nicosia recently). The truth is that some of them are still in place (for example after 5 years the "krona denominated bonds left from the boom era cannot be converted to foreign currency when they mature. The proceeds need to be reinvested in krona assets. That has created two foreign exchange rates" where the unofficial rates stands at 220 kronur while the official rate is 220). The case can be even more complex, because the Island shares the common currency so the exchange control is not possible (or a significantly lower official value of the local currency, which was implement in Argentina). What kind of solution will be proposed by the Cyprus government? We should get an answer for that question in the coming days.
U.S equity markets don't really care about the European turmoil. Yesterday we had another all-time-highs on the Dow Jones Index, and the S&P 500 closed only two points below the historical tops. It is clear that the bull market lures many investors and any correction is used to open new long positions. Cheap money, fairly strong economy and new record breaking levels should keep bull in control for the next months.
GDP from the U.K.
The pound is fairly resistant to any stronger moves. We are moving around 1.5200 on the cable and today's GDP data will probably not change it. It is possible that we can wait for more volatility till the next Tuesday PMI report. We are getting higher on the GBP/PLN pair. The move can reach the round 5.000 PLN mark (especially in case of worsening situation in the euro zone which will put pressure on EUR/GBP and in results push GBP/PLN higher.
The zloty is getting weaker
We are opening again around 0.01 PLN higher on the euro (4.1800). The weakens to the common currency is not significant but persistant. It is possible that before the holidays we can reach 4.2000 mark (especially in case of more pessimistic data from Cyprus).
The Monday's Gazeta Wyborcza unofficial information regarding the euro referendum has been confirming (more about the case was in Monday's analysis). Polish Prime Ministers Tusk said yesterday that he " would be in favor of finding an agreement in parliament to add into Constitution that a referendum is to decide on final date of euro adoption". Where does the rapid change in mind comes from? Does the current declaration has only local roots or it is a broader negation strategy with the European partners? The answer we should get pretty soon...
Expected levels of PLN according to the EUR/USD rate
| | | | |
| --- | --- | --- | --- |
| Kurs EUR/USD | 1.2850-1.2950 | 1.2950-1.3050 | 1.2750-1.2850 |
| Kurs EUR/PLN | 4.1600-4.2000 | 4.1600-4.2000 | 4.1700-4.2100 |
| Kurs USD/PLN | 3.2200-3.2600 | 3.2000-3.2400 | 3.2500-3.2900 |
| Kurs CHF/PLN | 3.4000-3.4400 | 3.4000-3.4400 | 3.4100-3.4500 |
Expected GBP/PLN levels according to the GBP/PLN rate.
| | | | |
| --- | --- | --- | --- |
| Kurs GBP/USD | 1.5150-1.5250 | 1.5250-1.5350 | 1.4950-1.5050 |
| Kurs GBP/PLN | 4.9100-4.9500 | 4.9300-4.9700 | 4.8900-4.9300 |
Technical analysis EUR/USD: moving around 4 months lows still prefers the bearish approach wit the target around 1.2700. The level to close short positions (open around 1.3300) should be above 1.3000 now.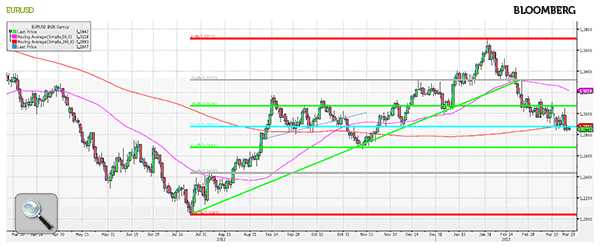 Technical analysis EUR/PLN: we are trying to initate a breaking up move from the range trade. If we move over 4.1900 there is a chance to attack 4.2300 and in extention even 4.3000 level. The alternative scenario is opening short positions under 4.1500 (low probablity).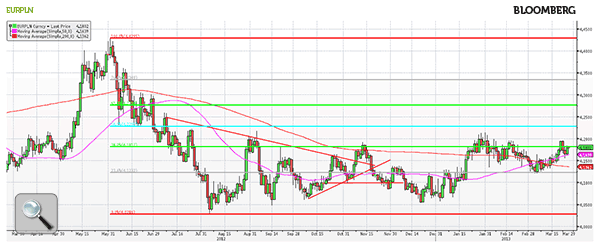 Technical analysis USD/PLN: we are getting closer to reach the medium term target at 3.2700 (50% Fibonacci retracement level). Another resistance levels are 3.30 (higs of mid November 2012) and 3.33-3.35 range. The alternative scenario is short positions after closing the day under 3.2000
Technical analysis CHF/PLN: the bulls didn't allow to break the 3.4000 support level. The 3.4800 target is still in place.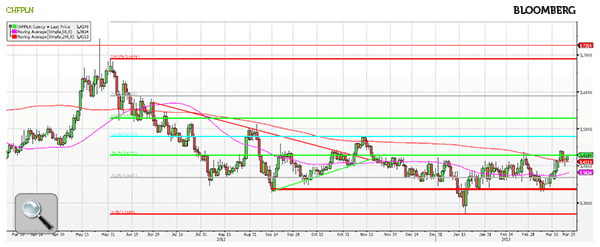 Technical analysis GBP/PLN: the correction was not able to push the pound under 4.85 and in results the bulls are still in favor. The target of the recent move is 5.0000. The alternative scenario is slide under 4.8500 where the bears can increase their PLN holdings.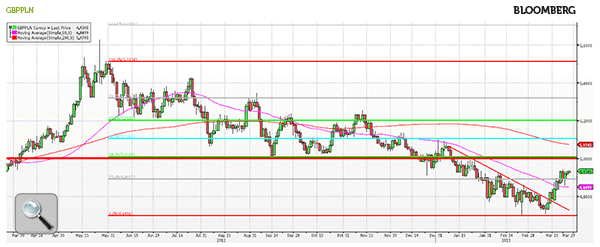 ---
This commentary is not a recommendation within the meaning of Regulation of the Minister of Finance of 19 October 2005. It has been prepared for information purposes only and should not serve as a basis for making any investment decisions. Neither the author nor the publisher can be held liable for investment decisions made on the basis of information contained in this commentary. Copying or duplicating this report without acknowledgement of the source is prohibited.
---