EUR/USD stays above 1.3300. Global markets are waiting for the BOJ meeting results. No session in the States will decrease the volatility after 17.00 CET. The zloty is lower after much-worse-then-expected industrial production report. Is next week GDP data will put more pressure on PLN?
Macro data (CET- Central European Time):
No key macro data is expected today
U.S markets closed (Martin Luther King Day)
BOJ meeting. More easing and more inflation?
Another time the Japanese currency is in focus. During the coming night Bank of Japan (BOJ) will make key decisions regarding the QE and inflation target. According to the Bloomberg survey analysts are expecting that BOJ will expand its asset purchase either by 10 trillion yen (112 billion USD) or by unlimited amount (with expected inflation threshold). Economists also predict that the Central Bank will increase its inflation target to 2%. On the other side there is an ongoing discussion inside the Abe's party concerning the value of yen. Recent statements by Japanese minister of economy regarding threats from too weak currency were supported by Koichi Hamada, economist and adviser to Abe, who said, according to Bloomberg, that: " If it (currency weakness) goes too far is should be stopped". Different opinions within the ruling party (on Friday other Abe adviser said that the preferable exchange rate is between 100 and 110 yen per USD – what is 10-20% more then now) will create much more volatility in the coming weeks. It seems that most of the results of the BOJ decision are already priced in. In the following days we can expect some correction move what can also result in some slide on EUR/USD. In the longer term the yen will suppose to be weaker especially that it can become the carry traders favorite funding currency again.
EUR/PLN jumped after the industrial production report.
Much weaker then expected industrial production data spur a significant sell off on PLN. We are currently around 0.03PLN higher on EUR/PLN then on Friday morning. The move seems to be logic especially that we can not only expect the higher chances for the rate decreases but also very weak Q4 GDP reading (even less then +0.4 q/q) and around +2.0-2.1 y/y (in the budget was written +2.5%). It means that even with a bit lower then planned deficit (less then 35 billion PLN) the slower GDP growth by around 0.5% can result in higher then expected deficit. In can be quite surprising for markets especially that in the second half December the deputy finance minister Wojciech Kowalczyk was confirming that the budget deficit will be around 3.5%. Until the GDP release (next Tuesday) PLN can be under pressure and should be heading toward 4.2000.
Expected levels of PLN according to the EUR/USD value:
| | | | |
| --- | --- | --- | --- |
| EUR/USD | 1.3250-1.3350 | 1.3350-1.3450 | 1.3150-1.3250 |
| EUR/PLN | 4.1400-4.1800 | 4.1300-4.1700 | 4.1500-4.1900 |
| USD/PLN | 3.1000-3.1500 | 3.0800-3.1300 | 3.1300-3.1800 |
| CHF/PLN | 3.3400-3.3700 | 3.3300-3.3600 | 3.3500-3.3900 |
Technical analysis EUR/USD: the recent slide is still a correction move. When it falls under 1.3200 the move can be extended toward 1.3080 (23.6% Fibonacci retarcement level, and 50 DMA) and then toward 1.3000.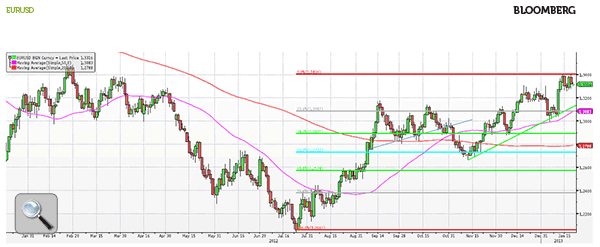 Technical analysis EUR/PLN: the pair finally breakout above 4.1200-4.1250 resistance level and already reached fist target around 4.1650-4.1800. If that level is broken, it can result in rise toward 4.2100 (last August highs). To negate the move is possible after falling below 4.1200 (low probability in the short term).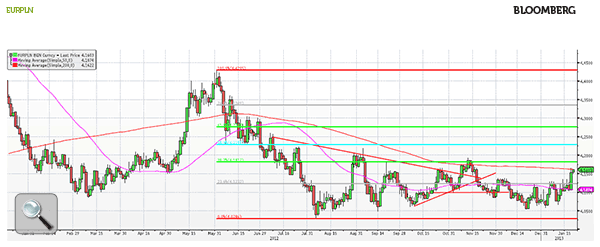 Technical analysis USD/PLN: the fast rebound from around 3.06 to 3.12 was not expected. If we break 3.1400 level the bearish trend should be reversed and the move in the medium term can be pushed toward 3.25-3.27.
Technical analysis CHF/PLN: the fast comeback to around 3.3600 level is surprising from technical point of view. If we rise above 3.3600 it will mean the comeback to the range trade between 3.36-3.41.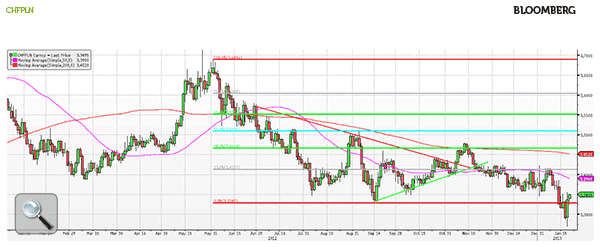 ---
This commentary is not a recommendation within the meaning of Regulation of the Minister of Finance of 19 October 2005. It has been prepared for information purposes only and should not serve as a basis for making any investment decisions. Neither the author nor the publisher can be held liable for investment decisions made on the basis of information contained in this commentary. Copying or duplicating this report without acknowledgement of the source is prohibited.
---