EUR/USD has fallen below 1.3300 after Juncker's comments. Fitch is warning U.S regarding the rating downgrade. Today the market will focus on macro data from the States – industrial production, inflation, and Beige Book. In Poland the zloty is testing again the resistance level around 4.12 after weaker HUF opening and 10 years bonds yields above 4.0000 mark.
Macro data (CET- Central European Time):
14.00 CET: Core inflation from Poland (survey 1.6%)
14.30 CET: CPI from the States (survey 0.2% m/m and 1.8 y/y)
15.15 CET: Industrial production from U.S (survey 0.3%)
20.00 CET: Beige Book – U.S
Juncker pushed EUR/USD under 1.3300. Macro data form the States and Beige Book in focus.
Yesterday shortly before 20.00 CET we had quite strong verbal intervention on EUR/USD from one of the leading Eurozone politician. The Eurogroup chief told during a conference in Luxemburg that the value of EUR is "dangerously high". After his words in less then 15 minutes the common currency dropped by 100 pips. The later recovery didn't change the tone of the speech. It can mean that EU is planning – similarly to Japan, UK or U.S – to stimulate the economy by lowering the value of euro. Some speculations regarding the issue have been around the markets for a few weeks, but on recent EBC conference Mario Draghi claimed that the value of euro is around long term average and the policy of the central bank toward the exchange rate is not an ECB policy target. His comments, rather cut of speculations concerning the intervention to weaken EUR, therefore the reaction on Juncker's words was so fierce. In my opinion in the following days we can expect more questions to EU officials and central bank members regarding the issue. The answer can quickly move EUR/USD (down if confirming Juncker's stance and up in case of dismissing his view). If today's data from U.S disappoints (both inflation and industrial production) it can weaken USD in anticipation that FED will keep its easing policy for a longer time. Additionally low inflation risks, too high unemployment and modest GDP growth in Beige Book can put some pressure on USD after 20.00.
EUR/PLN comes back to the range trade. Hungary and forint in Focus.
The morning weakness on PLN and come back around resistance level around 4.1250 is the consequence of weaker forint and return of 10 years yields above 4% mark. Not only HUF and stronger correction on the debt market can weight on PLN. Besides elements I have been citing in the recent analysis (weak eco data, no interest from government and central bank toward stronger PLN and situation in Hungary) there is also a chance that in case of worsening global sentiment (profit taking, downgrades) the PLN will be under pressure with other CEE currencies. On the other hand if the zloty withstands the stress and stays under 4.12000, it will confirm the stability and relative strength of the Polish currency.
Expected levels of PLN according to the EUR/USD value:
| | | | |
| --- | --- | --- | --- |
| EUR/USD | 1.3250-1.3350 | 1.3350-1.3450 | 1.3150-1.3250 |
| EUR/PLN | 4.1000-4.1400 | 4.0900-4.1300 | 4.1100-4.1500 |
| USD/PLN | 3.0700-3.1100 | 3.0600-3.1000 | 3.1100-3.1500 |
| CHF/PLN | 3.3200-3.3500 | 3.3000-3.3400 | 3.3300-3.3600 |
Technical analysis EUR/USD: the first support level around 1.3300 was broken. It does not mean the end of the bullish trend. IF eurodollar slides under 1.3200 we can expected the further move toward 1.3000. On the other hand the comeback above 1.3350 increase the probability for new highs and test of 1.3450 resistance.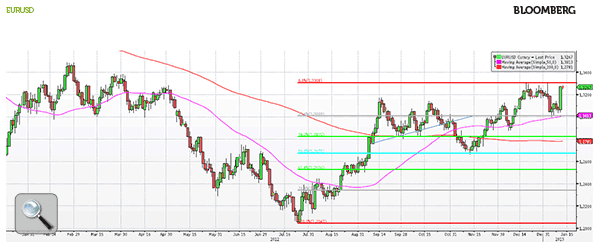 Technical analysis EUR/PLN: the intra day move above 4.1200 is a bullish signal what in result can push the pair toward 4.1650-4.1800 ( 200 DMA and 38.2% Fibonacci retarcement level). The comeback under 4.1000 will confirm the range trade trend (4.06-4.12).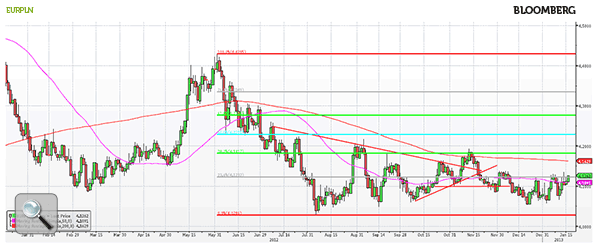 Technical analysis USD/PLN: the bearish trend on USD/PLN is still in place and will be denied only after exceeding 3.1400. Until then the shorts are preferred with the target of 3.05 and further 3.00.
Technical analysis CHF/PLN: strong bearish move under 3.36 generated sell signal with long term target at 3.2000. The daily close above 3.36 will return the range trade trend (3.36-3.41).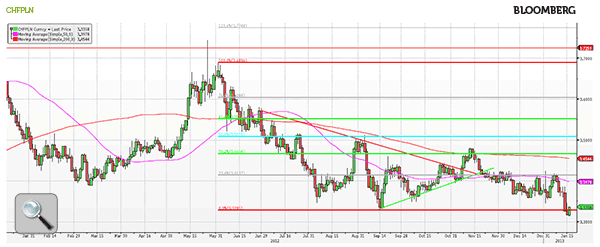 ---
This commentary is not a recommendation within the meaning of Regulation of the Minister of Finance of 19 October 2005. It has been prepared for information purposes only and should not serve as a basis for making any investment decisions. Neither the author nor the publisher can be held liable for investment decisions made on the basis of information contained in this commentary. Copying or duplicating this report without acknowledgement of the source is prohibited.
---