EUR/USD is holding recent gains. Currently we are around 13370. During the yesterday's speech at University of Michigan Bernanke didn't give any more clues regarding QE3 program. On the other hand a few hours later the Japanese Minister of Economy said that excessive weakness of JPY would harm the economy what pushed JPY higher by 100 pips. In Poland we will get the inflation data. It is also worth to pay attention to softening correlation between PLN and HUF.
Macro data (CET- Central European Time):
14.00 CET: CPI from Poland (survey: 2.5% y/y)
14.30 CET: Retail sales in the U.S. (survey 0.2% m/m)
14.30 CET: NY Empire State index
Despite strong expectations Bernanke didn't spur any move on EUR/USD. Japan is again in focus.
FED Ben Bernanke conference was expected to give some direction for currency markets especially, after the Chicago FED chairman speech which moved EUR/USD significantly. The expectations however, turned out to be much overstated. The meeting was quite informal and questions, submitted earlier by students, were asked randomly. Bernanke did a great job translating the complex monetary policy to a simple language, but for markets he only repeated well known opinions. The only statement which could have been picked up by investors was regarding raising the interest rates to early what, in his opinion, would push the U.S into recession. It was a dovish statement, but markets were counting for some clues concerning the QE3 exit timetable. We can then agree that investors' reaction was logic – no new info, no movement. On the other hand just few hours later the Japanese Minister of Economy surprised the markets claiming that excessive weakness of JPY can negatively influence economy by inflating the import prices and increase household costs. It is clearly in contrast to Prime Minister Shinzo Abe and Finance Minister Taro Aso comments. Their statements are sending a clear message to the markets that lowering the yen value is their first priority. After Amari's opinions JPY appreciated both to USD and EUR by around 100 pips. The move and future profit taking can keep USD/JPY pair under 90 (at least to the BOJ meeting scheduled on January 22nd).
EUR/PLN comes back to the range trade. Hungary and forint in Focus.
EUR/PLN has not used the opportunity to move higher (more about this in Monday's analysis). In the afternoon the pair came back to the range trade (around 4.06-4.12). The debt market helped PLN a bit closing on 10 year benchmark below 4%. Today the zloty will be paying attention to the CPI data. If the report is above 2.6% (less possible) it can strengthen the PLN by 0.01-0.02 PLN. On the other hand if CPI is below 2.4% (more possible) the PLN should be weaker by up to 0.02 PLN. In the medium term expect the factors mentioned in Monday analysis the Polish currency can be under pressure from Hungary. As Reuters reports ( http://www.reuters.com/article/2013/01/10/us-hungary-cbank-insight-idUSBRE9090TG20130110) in March Victor Orban will chose the new Central Bank Chairman. The market speculates that his monetary policy will aim to help the government to be reelected next year. The new governor can use unconventional methods in monetary policy – similar to FED (bond buying program to lower the long term interest rate). Analysts claim that Central Bank will also use its reserves to help commercial bank lower the cost of financing in foreign currency (what suppose to result in lower costs of Swiss franc denominated mortgages for individuals). Broad speculations of such measures are weakening forint. Regarding that historically Polish currency is strongly correlated with HUF (during the last 3 years 0.883, but in last month only 0.550) it is possible that forint will push zloty lower and in result the PLN looses around 0.05-0.10 from its value to EUR.
Expected levels of PLN according to the EUR/USD value:
| | | | |
| --- | --- | --- | --- |
| EUR/USD | 1.3250-1.3350 | 1.3350-1.3450 | 1.3150-1.3250 |
| EUR/PLN | 4.1000-4.1400 | 4.0900-4.1300 | 4.1100-4.1500 |
| USD/PLN | 3.0700-3.1100 | 3.0600-3.1000 | 3.1100-3.1500 |
| CHF/PLN | 3.3200-3.3500 | 3.3000-3.3400 | 3.3300-3.3600 |
Technical analysis EUR/USD: technical situation on EUR/USD has not changed much. The fist support is around 1.3300, but for larger correction the pair will have to break 1.3200. The main trend is rising with the target 1.3450 generated after braking 1.3150 level.
Technical analysis EUR/PLN: EUR/PLN finished the day below 4.1200 what reduced odds for move toward 4.1650-4.1800 (between 50 DMA and 38.2 Fibonacci retracement level). The range trend is still in place until the PLN finishes the day either under 4.06 or above 4.12.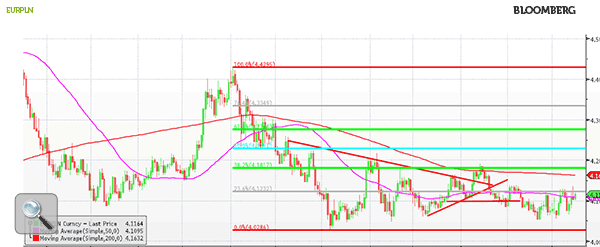 Technical analysis USD/PLN: similarly to yesterday's situation there is no threat to bearish trend on USD/PLN. The test will be 3.0500 level. If it breaks the support USD can further depreciate toward 3.0000. On the other hand the come back above 3.14-3.15 will suppose result in strong upside move toward 3.26-3.28.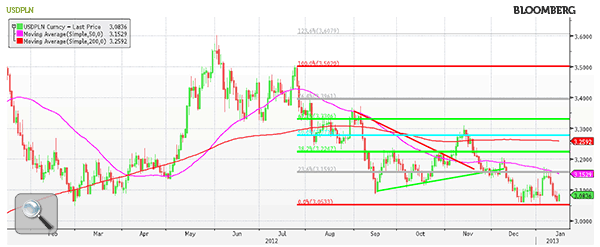 Technical analysis CHF/PLN: CHF moved lower breaking 3.36 (lower band of range trade) and finished the day reaching the first target around 3.3300. Analyzing 3 – year chart the next support level (target) is 3.2000. The bearish move will be negated when we come back above 3.36.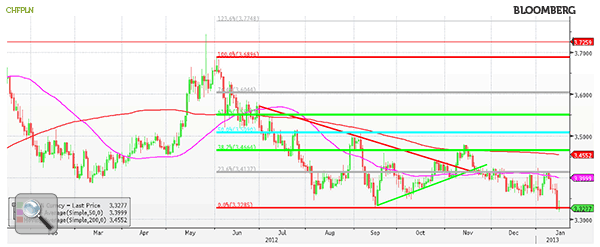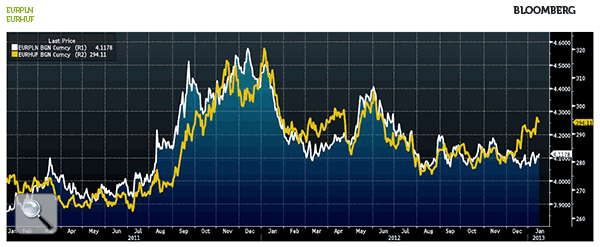 ---
This commentary is not a recommendation within the meaning of Regulation of the Minister of Finance of 19 October 2005. It has been prepared for information purposes only and should not serve as a basis for making any investment decisions. Neither the author nor the publisher can be held liable for investment decisions made on the basis of information contained in this commentary. Copying or duplicating this report without acknowledgement of the source is prohibited.
---