EUR/USD is breaking another resistance levels. On the Asian session Chicago FED President Charles Evans pushed the common currency above 1.3400 just shine from year's highs. Japanese yen is weakening pushed lower by government officials. EUR/PLN is weaker after 10 years government yields closed above 4% mark on Friday. What will shape the Polish currency in the following weeks?
Macro data (CET- Central European Time):
22.00 CET: FED chairmen Ben Bernanke speaks
Start of the week and already new highs on EUR/USD. JPY is weaker again.
We haven't got used to the levels around 1.3300, and at the beginning of the weak we are already testing another round mark – 1.3400. The main reason of such a surge, on usually calm Asian session, were remarks from Chicago Fed official. Charles Evans (represents the dovish camp) told on conference in Hong Ko ng that according to his estimates the record low interest rate would be kept till 2015. Additionally he claimed that QE would end only when NFP data exceeds 200k in several consecutive months. Dollar "shorts" enjoyed the Evans message which was much softer then the recent "Minutes" suggesting that easing operations may be over until 2013 ends. Fast look at the NFP chart shows that since 2007 only once the job data exceed 200k three month in the row. Regarding recent Payrolls trend it will difficult to beat that performance what in consequence can result in keeping easing at the current level till 2014 We can get some more suggestions concerning monetary policy after today's Ben Bernanke conference starting at 22.00 CET. Investors will pay attention to any remarks regarding the current FOMC view on QE. It is still quite interesting on JPY pairs. The Japanese Prime Minister another time put pressure on the Central Bank to increase the inflation target to 2% on the 21-22 January meeting. Additionally the ruling party is considering a special fund that will buy U.S debt (worth as much as 50 trillion yen (560 billion USD)). According to cited by Bloomberg, JPMorgan Securities claims the move will weaken yen further.
PLN is weaker despite EUR/USD surge and low global risk aversion.
On the Polish zloty we can observe some substantial moves, which can lead to the further weakness. The key to PLN performance will be the domestic and European debt market. The recent sentiment improvement on the Old Continent (money transfers from safe havens – Germany to Spain and Italy) and lower appetite for rate cuts by Polish MPC (RPP) can, paradoxically, weaken the zloty in the medium term. Investors who bought Polish debt at the beginning of 2012 earned several percent on the price appreciation. Additionally they profited around 10 percent from PLN strength. Some institutions which were buying Polish bonds were at the same time shorting Italian and Spanish papers in fears of default. The strong trend on debt market and rising zloty lured more funds. However the recent improvement in peripheries is causing that some of the assets are coming back to PIIGS in anticipation of hefty returns in 2013. The acceleration of that tendency can be fueled by RPP which lower the expectations for more easing. Theoretically it is suppose to be a positive move for the currency but the bond market reacted with slide on prices (and rise on yields to 6 weeks high, above 4%) and repatriation of some funds (selling bonds and exchanging PLN to EUR) In addition either government or RPP is not in favor of strong PLN. The recent remarks from vice chairmen of NBP regarding the possible intervention on currency markets in case of PLN strength or today's statement from deputy prime minister Jacek Piechociński who told Rzeczpospolita that "it would be good if the zloty depreciated further and the level of 4.30-4.38 per euro would guarantee real profitability for exporters" can keep PLN under pressure. The mention elements and signals from technical analysis (after breaking 4.1200 upside) can weaken PLN to EUR even by 0.1-0.15 PLN to EUR.
Expected levels of PLN according to the EUR/USD value:
| | | | |
| --- | --- | --- | --- |
| EUR/USD | 1.3250-1.3350 | 1.3350-1.3450 | 1.3150-1.3250 |
| EUR/PLN | 4.1200-4.1500 | 4.1200-4.1500 | 4.1200-4.1500 |
| USD/PLN | 3.0800-3.1200 | 3.0600-3.1000 | 3.1100-3.1500 |
| CHF/PLN | 3.3700-3.4000 | 3.3600-3.3900 | 3.3800-3.4100 |
Technical analysis EUR/USD: the expected by technical analysis move toward 1.3450 has almost been fulfilled. Despite the the slight morning correction move the EUR/USD it should successfully test 1.3450 in the recent days. Only the fall under 1.3200 should result in closing longs.
Technical analysis EUR/PLN: fast move toward strong resistance level and upper limit on the range trend (4.06-4.12) favors bulls. The breakout above 4.1200 will be strong bullish signal and increase the odds for move toward 4.1650-4.1800 (between 50 DMA and 38.2 Fibonacci retracement level).
Technical analysis USD/PLN: there is no threat to bearish trend on USD/PLN. The test will be 3.0500 level. If it breaks the support USD can further depreciate toward 3.0000. On the other hand the come back above 3.14-3.15 will suppose result in strong upside move toward 3.26-3.28.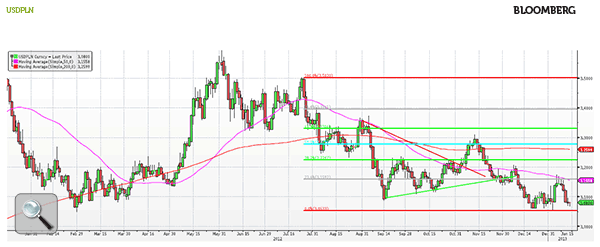 Technical analysis CHF/PLN: no major move is currently seen on CHF/PLN. It stays inside the range trade 3.36-3.41. Breaking either above or below this levels will result in bullish or bearish move respectively.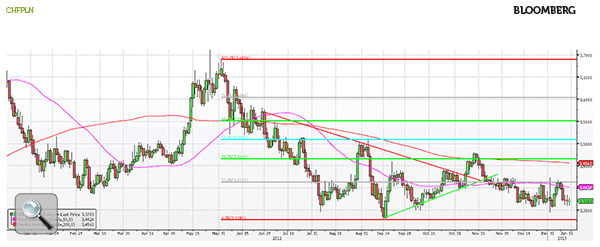 ---
This commentary is not a recommendation within the meaning of Regulation of the Minister of Finance of 19 October 2005. It has been prepared for information purposes only and should not serve as a basis for making any investment decisions. Neither the author nor the publisher can be held liable for investment decisions made on the basis of information contained in this commentary. Copying or duplicating this report without acknowledgement of the source is prohibited.
---