EUR/USD is around 1.3000 and there are slim chances for a stronger rebound now. Investors are preparing to the Thursday ECB meeting. In Poland the news of the week will be the MPC rate decision.
Macro data (CET- Central European Time). Survey is supplied by Bloomberg unless otherwise noted:
No major macro data is expected today
EUR/USD is starting the week near the Friday's lows.
I don't see any clear signals that can provoke a major rebound on EUR/USD. Good macro data from US (manufacturing ISM and University of Michigan index) didn't help the common currency (euro ignores positive signals). On the other hand less optimistic reports from China (weak governmental PMI) put pressure on the single currency. Due to lack of macroeconomic publications from Europe this week, we can expect that investors will shortly start trying to evaluate the ECB conference and rate decision on Thursday. The market does not expect Draghi to lower the benchmark, but he can suggest that such a move can be possible in the near future. The economic stagnation, low inflation (under 2% first time in more than two years) and record high unemployment (11.9%) allow the Central Bank to loose its monetary policy. If ECB sounds dovish during the Thursday's conference then it can initiate another selling signal for the EUR/USD. On the other hand if Draghi doesn't want to put euro under further pressure, then he can be less dovish and therefore give some relief to the common currency. The market will continue to focus on the Italian situation. During the weekend we get another disappointing news. The democratic party run by Pier Luigi Bersani does not rule out another election this year and the leader of 5-star alliance wants, according to Reuters, a non-binding online vote on euro. More similar news will weigh on euro and increase the selling pressure of the single currency.
Polish MPC rate decision.
On Friday thanks to better-then-expected GDP reading from Poland (1.1% y/y vs 0.9% y/y) we managed to close under 4.1500 on EUR/PLN. I don't expect that the slide will continue (even though the technical analysis looks favorable) until the Wednesday's MPC decision. Investor will rather be resilient to open any positions due to unclear outcome of the Committee stance. According to Bloomberg 21 out of 32 analysts expect that RPP will lower the benchmark by 25 bps. The others predict no change. Leaving the rate unchanged and giving a hawkish press release/conference can strengthen the zloty and push EUR/PLN pair toward 4.1000. On the hand if MPC cuts the rate and Belka's conference is dovish (lower probability), then it will be possible that EUR/PLN comes back to 4.18-4.19 levels.
Expected levels of PLN according to the EUR/USD value:
| | | | |
| --- | --- | --- | --- |
| EUR/USD | 1.2950-1.3050 | 1.3050-1.3150 | 1.2850-1.2950 |
| EUR/PLN | 4.1300-4.1700 | 4.1300-4.1700 | 4.1300-4.1700 |
| USD/PLN | 3.1700-3.2100 | 3.1500-3.1900 | 3.1900-3.2300 |
| CHF/PLN | 3.3600-3.4000 | 3.3600-3.4000 | 3.3700-3.4100 |
Technical analysis EUR/USD: lack of stronger rebound confirms the strength of sell pressure and the next support level is 1.2900-1.2840 (head and shoulder target, 50% Fibonacci retarcement level and 200 DMA). The comeback to the bullish trend is possible after moving above 1.3300 (currently low probability).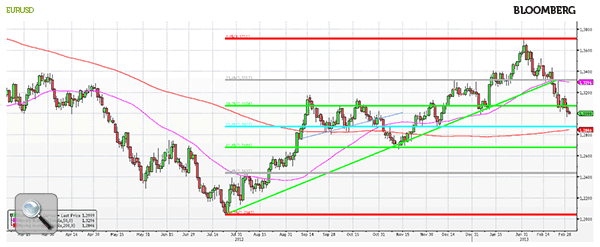 Technical analysis EUR/PLN: according to the technical analysis the break down from 4.1500 support is a strong bearish signal with the first target around 4.1200 and then the move toward 4.08-4.12. EUR/PLN also moved under 50 DMA and 200 DMA on Friday (selling signal). The alternative scenario is a rise above 4.1900 (low probability now).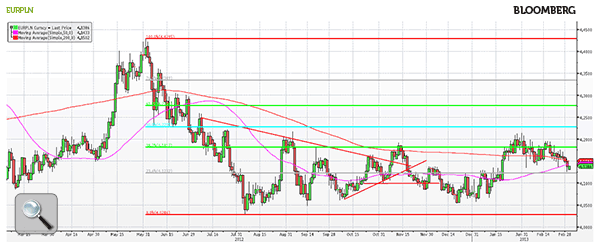 Technical analysis USD/PLN: the base scenario is a move toward 3.24-3.27 (between 200 DMA and 50% Fibonacci retracement level). The comeback to the bearish trend is possible after sliding under 3.1100 (low probability now).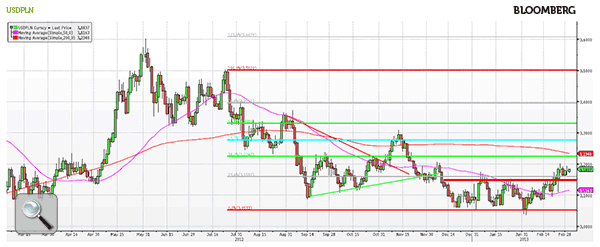 Technical analysis CHF/PLN: we are close to level (3.3700) that will negate the recent jump. The base scenario is a range trade again between 3.36 and 3.41. Shorts should be consider after sliding under 3.3300 and logs should be open above 3.41.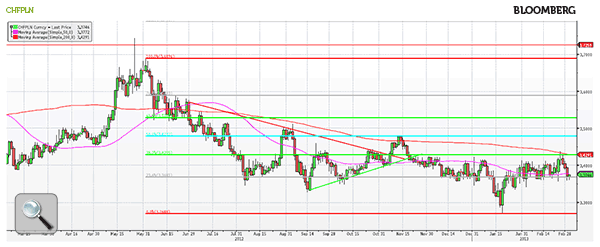 ---
This commentary is not a recommendation within the meaning of Regulation of the Minister of Finance of 19 October 2005. It has been prepared for information purposes only and should not serve as a basis for making any investment decisions. Neither the author nor the publisher can be held liable for investment decisions made on the basis of information contained in this commentary. Copying or duplicating this report without acknowledgement of the source is prohibited.
---