Wczorajsze notowania były pod wpływem plotek. Dziś rynek powinien skupić się na twardych danych makro. Warto również pamiętać o protokole z FOMC.
Dane makro:
14.00 CET: dane o inflacji w Polsce
14.30 CET: sprzedaż detaliczna w USA
14.30 CET: inflacja producentów w USA
20.00 CET: Zapiski z posiedzenia FOMC
EUR/USD starał się nie pogłębiać ostatnich minimów.
Wczoraj mimo niesprzyjających okoliczności EUR/USD wydawał się relatywnie odporny na złe informacje. Ciągłe powtarzanie sporu podczas wspólnej konferencji Christine Lagarde i Jean- Claude Juncker'a nie spowodowało spustoszenia na wspólnej walucie. Również słaby odczyt wskaźnika ZEW nie był w stanie negatywnie wpłynąć na eurodolara. Może to oznaczać, że rynek przygotowuje się do korekty ostatniego ruchu. Trzeba jednak pamiętać, że takie korekty najczęściej należy wykorzystywać do zajmowania pozycji zgodnych z obowiązującą tendencją.
Czasami niesprawdzone informacje rządzą rynkami.
Wtorek mógł się podobać inwestorom grającym pod plotki. Pierwszą informacją była publikacja nienieckiej gazety (Bild Zeitung) dotycząca wypłacania pomocy dla Grecji. Dziennik twierdził, że Niemcy chcą przeforsować pomysł wypłacenia całości pożyczki w jednej racie, a nie jak to ma miejsce teraz w formie kilku płatności. Niemiecki minister finansów potwierdził, że dyskutowano nad takim pomysłem, ale decyzje nie zostały podjęte, a dodatkowo musiałby zostać wprowadzony dodatkowy mechanizm kontrolujący wydawanie tych pieniędzy. Nie zmienia to jednak faktu, że EUR/USD wzrósł dzięki temu o 30-40 pipsów. Drugą niepotwierdzoną informacją były spekulacje w sprawie wystąpienia o pomoc przez Hiszpanię. Tym razem reakcja na wspólnej walucie była mniejsza, ale 10-letnie obligacje Madrytu spadły po tych doniesieniach o 10 pb.
Przychodzi jednak czas na powrót do rzeczywistości. Uwaga na FOMC.
Dziś jednak rynek powinien skupić się na twardych danych. Lepszy od prognoz raport dotyczący sprzedaży detalicznej powinien pozytywnie wpłynąć na przeceniony ostatnio rynek giełdowym, a przez to również przełożyć się np. na umocnienie złotego. Warto również zwrócić uwagę na protokół z posiedzenia FOMC. Ostatnio pojawiają się informacje, że Komitet Otwartego Rynku chce zrezygnować z publikacji kalendarza stóp procentowych (obecnie to przedział 0-0.25% do połowy 2015). Ma być on zastąpiony przez wskaźnik zależny od inflacji oraz zatrudnienia. Sądzę, że jeżeli zobaczymy dyskusje na ten temat w ostatnich "minutes" powinno to wzmocnić USD. Inwestorzy mogą to zinterpretować jako pierwsze sygnały wycofywania się z ultra łagodnej polityki monetarnej.
Dane o inflacji mogą okazać się kluczowe dla dzisiejszego zachowania się PLN.
Polski złoty prócz uzależnienia od globalnego sentymentu może być również pod wpływem danych z kraju. Jeżeli dzisiejsza publikacja wskaźnika inflacji będzie powyżej prognoz może być ona argumentem dla RPP przemawiającym za pozostawieniem stóp procentowych w grudniu na niezmienionym poziomie. Powinno to wzmocnić rodzimą walutę. Przy odczycie niższym od szacunków rosną szanse na osłabienie PLN. Aby reakcja rynku była zauważalna publikacja powinna się różnić od szacunków minimum +/- 0.2 %.
Spodziewane przedziały par złotowych w zależności od kursu EUR/USD:
| | | | |
| --- | --- | --- | --- |
| Kurs EUR/USD | 1.2550-1.2650 | 1.2650-1.2750 | 1.2750-1.2850 |
| Kurs EUR/PLN | 4.2000-4.1700 | 4.1900-4.1600 | 4.1800-4.1500 |
| Kurs USD/PLN | 3.3300-3.2900 | 3.3000-3.2700 | 3.2700-3.2300 |
| Kurs CHF/PLN | 3.5000-3.4700 | 3.4800-3.4500 | 3.4700-3.4400 |
Technicznie EUR/USD: cały czas na głównej parze walutowej preferowany jest scenariusz spadkowy z pierwszym celem w okolicach 1.2600, a następnie 1.2475. Zasięg korekty wzrostowej to max poziomy około 1.2800.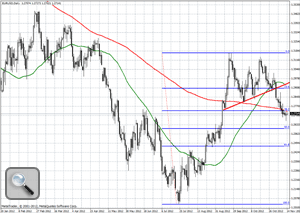 Technicznie EUR/PLN: opór w postaci 200 sesyjnej średniej kroczącej oraz 38.2% zniesienia Fibonacciego nadal się broni. Scenariuszem bazowym pozostają jednak cały czas wzrosty z celem na poziomie 4.2300 (50% zniesienia Fibonacciego).
Technicznie USD/PLN: na parze USD/PLN także dominują wzrosty. Cel na najbliższe dni to trwałe przebicie 50% zniesienia Fibonacciego i dojście do poziomu 3.3350. Maksymalny zasięg korekty obecnych wzrostów to poziomy około 3.2400.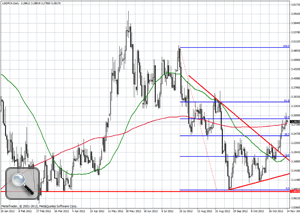 Technicznie CHF/PLN: na parze CHF/PLN scenariusz wzrostowy jest nadal preferowany z celem w okolicach 3.500. Hipotetyczna korekta spadkowa nie powinna przekroczyć poziomu 3.44 w dół.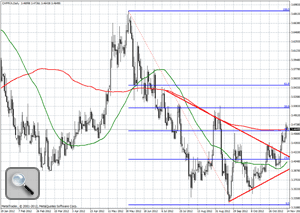 ---
This commentary is not a recommendation within the meaning of Regulation of the Minister of Finance of 19 October 2005. It has been prepared for information purposes only and should not serve as a basis for making any investment decisions. Neither the author nor the publisher can be held liable for investment decisions made on the basis of information contained in this commentary. Copying or duplicating this report without acknowledgement of the source is prohibited.
---