EUR/USD has been pushed again over 1.2900 on better-then-expected PMI readings from Europe and more comments from FED's member Bullard. Primary dealers are complaining on FOMC communication. Today Ifo from Germany. The zloty is under pressure from the bonds sell-off. At 10 am retail sales from Poland.
Najważniejsze dane makro (czas CET – środkowoeuropejski). Szacunki danych makro są na podstawie informacji z Bloomberg'a, chyba że zaznaczono inaczej.
10.00 CET: Ifo from Germany (survey 104.4)
10.00 CET: Retail sales from Poland (survey 1.1% y/y)
14.30 CET: Durable goods from the States (survey 1.5%; excluding transportation: 0.5%)
EUR/USD is rising over 1.2900 on better data. Ifo in focus
After a weak morning yesterday, the mood on EUR/USD has been improving. The risk-off sentiment started fading just after PMI reports from the Euro-Zone. Euro bulls enjoyed especially manufacturing reading both from France and Germany. Despite that the reports still show contraction the situation seems to improving. The combined PMI reading form the Single Market was also positive – both manufacturing and services indexes exceeded expectations (47.8 and 47.5 vs surveyed 47.0 and 47.2 respectively). Better mood was also supported by James Bullard comments. The Fed member (perceived to be slightly hawkish) said that " any tempering should be in relatively moves". He also claims that "he doesn't see enough "bubbly behavior" in markets to tighten". Overall Bullard sounded pretty dovish, what weakened the dollar slightly. It is also worth to note that traders are looking new signs regarding the QE just a day after Ben Bernanke testimony and Minutes release. The reason can be pretty straight forward. Investors are confused on the recent FED communication. It could be confirmed by survey of 21 primary dealers (who trade directly with Federal Reserve). As Bloomberg reports are banks are "concerned" on the "clarity around the program" and claim that "differing views on monetary policy may reduce the policy's effectiveness".
Today investors will be focused on the Ifo report. It seems that recently the index has found some kind of equilibrium, so in my opinion, it should be close to the estimates. However if we get a reading more than one point higher/lower then we can see more bullishness on EUR/USD or a further downside pressure respectively.
Summarizing we still have more arguments on the EUR/USD slide then rise. However, it seems that the market shrugged of the Wednesday events and now we a "new opening'. It is also important that the eurodollar slide is based mainly on USD strength. For larger slide we will have to wait for the other side of trade – euro weakness.
Retail sales. 4.2000 in the game
Bernanke's testimony before the Congress had made quite an impact on bond market – both primary and emerging. It was also clearly seen on the Polish debt market. We are currently at 3.5% on 10-year bonds whereas in May the lows were around 3%. It had also some side-effect on EUR/PLN which jumped over 4.20. The percentage change was not that significant but the closeness of 4.20 level increases overall nervousness.
Today in the calendar we have retail sales reading. In scenario of negative number (survey is +1.1%) we can easily see a strong pressure on the zloty and move over 4.21 (intraday highs). In case of reading in line with expectations or better the selling pressure should weaken.
It is also worth to remember that Polish BGK bank can be present on the market. Piotr Pawłowski from BGZ told PAP yesterday that "It's possible that BGK is lurking on the market and can intervene either today or tomorrow".
Expected levels of PLN according to the EUR/USD rate:
| | | | |
| --- | --- | --- | --- |
| EUR/USD | 1.2850-1.2950 | 1.2950-1.3050 | 1.2750-1.2850 |
| EUR/PLN | 4.1600-4.2000 | 4.1500-4.1900 | 4.1600-4.2000 |
| USD/PLN | 3.2200-3.2600 | 3.1900-3.2300 | 3.2500-3.2900 |
| CHF/PLN | 3.3200-3.3600 | 3.3300-3.3700 | 3.3300-3.3700 |
Expected GBP/PLN levels according to the GBP/PLN rate:
| | | | |
| --- | --- | --- | --- |
| GBP/USD | 1.5050-1.5150 | 1.5150-1.5250 | 1.4950-1.5050 |
| GBP/PLN | 4.8900-4.9300 | 4.9300-4.9500 | 4.8700-4.8900 |
Overall technical situation on the analyzed pairs
The technical analysis perfectly predicted EUR/USD move. There is still no changes on the analyzed paris.
Technical analysis EUR/USD: we quickly bounced back from the 1.3000 resistance level. No we should continue the bearish trend and after falling under 1.2800 the slide should accelerate to reach the 1.2700 target.
Technical analysis EUR/PLN: the base scenario is still the range trend (4.12-4.20). Alternatively the breakout above 4.20 should generate fast move toward 4.25-4.30.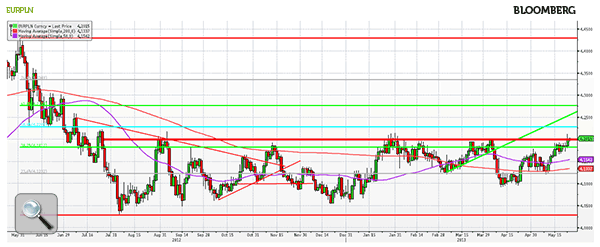 Technical analysis USD/PLN: the 3.27 target is still in place with extension to 3.3300. A comeback to the sliding trend is possible after falling below 3.18 (low probability currently).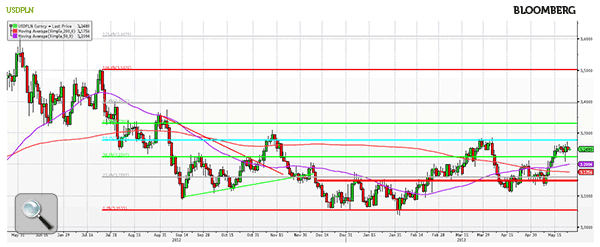 Technical analysis CHF/PLN: we are again close to generating sell signal on CHF/PLN. Falling under 3.330 should give a sell signal with a target of 3.2700. If 3.33 resistance holds then we chould expect the CHF/PLN to stay in the range trend (3.33-3.40).
Technical analysis GBP/PLN: the short term target for the pair is a move toward 5.0000 and an attempt to change the mid term trend to rising. The breaking above 5.0000 should initiate the move toward 5.1000. The alternative scenario is a move under 4.85 where bears should take the lead.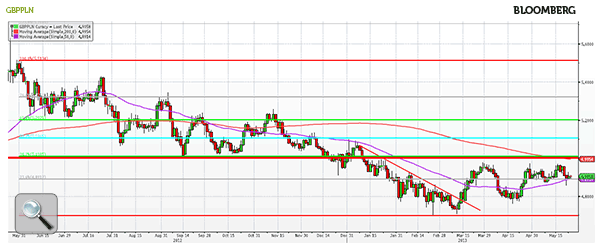 ---
This commentary is not a recommendation within the meaning of Regulation of the Minister of Finance of 19 October 2005. It has been prepared for information purposes only and should not serve as a basis for making any investment decisions. Neither the author nor the publisher can be held liable for investment decisions made on the basis of information contained in this commentary. Copying or duplicating this report without acknowledgement of the source is prohibited.
---