EUR/USD over 1.2900. Comments from voting Fed members are weakening the dollar. Both slightly hawkish Bullard and Dovish Dudley are still in favor of QE. Bernanke's testimony before the Congress is still crucial for the markets, but evening "Minutes' is loosing its steam. The Polish zloty is slightly stronger and will be depended on the EUR/USD performance today.
Macro data (CET- Central European Time). Survey is supplied by Bloomberg unless otherwise noted.
16.00 CET: Existing home sales (survey: 4.99m)
16.00 CET: Ben Bernanke hearing starts
20.00 CET: Fed releases Minutes from the recent FED meeting
Bullard and Dudley on QE. Bernanke in focus
The market has had a clear goal in the recent days – predict what the FED chairman is going to tell Congress. To do so, it chose firstly a James Bullard conference at Geothe University in Frankfurt. Voting member of the Fed was mainly talking on a need to implement the QE in Europe (falling inflation can push the ECB to asset purchase program to avert Japanese style stagnation). However, currency investors found some dovish statements on U.S. monetary policy. As CNBC reports Bullard said that the States should: ""Continue with the present quantitative easing program, adjusting the rate of purchases appropriately in view of incoming data on both real economic performance and inflation.". As the data is still below the potential of the U.S economy (both employment and the growth; still not threat from inflation), the market interpreted it as a dovish stance and pushed the EUR/USD over 1.2900. Much more bold view was presented by William Dudley. According to Bloomberg he said that "because the outlook is uncertain, I cannot be sure which way – up or down – the next change will be. Dudley also made some remarks on the exit strategy form the asset purchase. He claims that the Committee "could judge it would prefer not to commit to agency MBS sales". It was similar to what I pointed out regarding the government securities, that the FOMC can keep the assets until the mature.
Overall both Fed members sounded dovish for the dollar. The key will be then today's Ben Bernanke Congress hearing. Eric Green from TD Securities on www.marketwatch.com claims that "Dudley or Bernanke had to come out and reiterate the policy symmetry adopted at the May 1 FOMC meeting". The goal was to lean against the sell-off in Treasurys in recent days". Taking into the account a good point made by Green we should expect the further dollar depreciation and a rise above 1.3000.
I would expect less volatility form "slightly outdated" Minutes. It will be showing a three-week-old discussion and do not take into the account recent data revision from the job market. Investors prefer to focus on the most recent data so any trend formed after Bernanke speech should last beyond the Minutes release.
Global sentiment in focus
Slightly worse then expected industrial production data (2.7% vs 3% expected) didn't change a situation on the zloty. Today, however, in scenario of much weaker dollar and EUR/USD rising, it is possible that we can test 4.15-4.16 on EUR/PLN. On the other hand if Bernanke sounds more hawkish then currently is expected it is possible that we can test 4.20 (without breaching the resistance).
Today I would not a higher volatility around 16.00. Larger moves, however, should stay within the range of 4.15-4.20.
Expected levels of PLN according to the EUR/USD rate:
| | | | |
| --- | --- | --- | --- |
| EUR/USD | 1.2850-1.2950 | 1.2950-1.3050 | 1.2750-1.2850 |
| EUR/PLN | 4.1500-4.1900 | 4.1400-4.1800 | 4.1500-4.1900 |
| USD/PLN | 3.2200-3.2600 | 3.1900-3.2300 | 3.2500-3.2900 |
| CHF/PLN | 3.3200-3.3600 | 3.3300-3.3700 | 3.3300-3.3700 |
Expected GBP/PLN levels according to the GBP/PLN rate:
| | | | |
| --- | --- | --- | --- |
| GBP/USD | 1.5250-1.5350 | 1.5350-1.5450 | 1.5150-1.5250 |
| GBP/PLN | 4.9300-4.9700 | 4.9500-4.9700 | 4.9100-4.9500 |
Overall technical situation on the analyzed pairs
Form the technical point of view the recent moves are still within a range of correction. Until we breach the 1.3000 level on EUR/USD the bearish trend should be in place. CHF/PLN is heading for the second test of 3.3300 level. Other PLN trends remain unchanged.
Technical analysis EUR/USD: the correction on EUR/USD has been extended. Breaking 1.3000 on the upside will send a signal to close the short positions. It is wort to note that both 50 and 200 DMAs are close 1.3000 level what additionally strengthens the resistance.
Technical analysis EUR/PLN: the base scenario is still the range trend (4.12-4.20). Alternatively the breakout above 4.20 should generate fast move toward 4.25-4.30.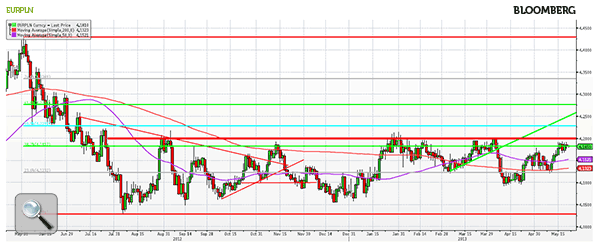 Technical analysis USD/PLN: the 3.27 target is still in place with extension to 3.3300. A comeback to the sliding trend is possible after falling below 3.18 (low probability currently).
Technical analysis CHF/PLN: we are again close to generating sell signal on CHF/PLN. Falling under 3.330 should give a sell signal with a target of 3.2700. If 3.33 resistance holds then we chould expect the CHF/PLN to stay in the range trend (3.33-3.40).
Technical analysis GBP/PLN: the short term target for the pair is a move toward 5.0000 and an attempt to change the mid term trend to rising. The breaking above 5.0000 should initiate the move toward 5.1000. The alternative scenario is a move under 4.85 where bears should take the lead.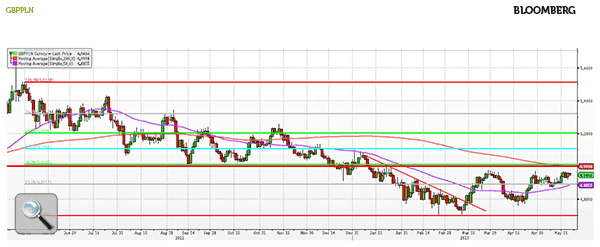 ---
This commentary is not a recommendation within the meaning of Regulation of the Minister of Finance of 19 October 2005. It has been prepared for information purposes only and should not serve as a basis for making any investment decisions. Neither the author nor the publisher can be held liable for investment decisions made on the basis of information contained in this commentary. Copying or duplicating this report without acknowledgement of the source is prohibited.
---