Weaker-then-expected data from the Euro Zone significantly lowered the common currency. Early morning Bloomberg interview with Jens Weidmann gave a short relief rally, but a key to the EUR/USD performance can be info from G20. The new front runner to BOJ can be less dovish? The PLN was weaker after GDP reports from Euro Area. Now the Polish currency is waiting for the CPI data.
Macro data (CET- Central European Time):
14.00 CET: CPI from Poland (survey 2.0% y/y)
15.15 CET: industrial production form the U.S (survey + 0.2%)
15.55 CET: University of Michigan Confidence index (survey 74.8 points)
Disappointing macro data. Weidmann's interview. Speculations on BOJ governor.
Thursday's weak data clearly were weighting on the common currency. After worse-than-expected GDP readings from Germany and France we received also lower by 0.2 percentage point GDP report from the Euro Zone (survey was minus 0.4%, actual: minus 0.6%). It all caused a 100 pips drop on EUR/USD and we finished the day around 1.3350. A relief rally at the beginning of today's European session was spurred by Bloomberg interview with ECB member and Bundesbank President Jens Weidmann. He claims that ECB will not lower the rates to weaken the euro. Additionally he rejected any speculations that he has ever considering a resignation. In result the EUR/USD jumped a 30-something pips but later a part of this rally faded. The market is still waiting for the G20 statement on exchange rate policy. If the report is neutral (similar to the G7 stance) we can expect some rally on EUR/USD. On the other hand if there are some direct references to recent Japanese actions it can significantly strengthen the yen and put further pressure on the euro. As The Wall Street Journal reports the front runner for BOJ governor position can be Toshiro Muto. Recently the main candidates cited by media were Kazumasa Iwata and Haruhiko Kuroda. Both are seen as extremely dovish and will support the weaker yen policy. Yuji Saitio, director of foreign exchange at Credit Agricole told the Jorunal that:" Mr. Iwata, Mr. Kuroda and others were very vocal in the media about the need for additional easing, while Mr. Muto is almost hiding form the public". He also added that, "even mr. Muto, should be open to additional easing steps in nominated by Prime Minister Shinzo Abe. However, markets usually try to evaluate different scenarios. If the new BOJ chief is less dovish then anticipated, it can stop the strong rally on USD/JPY and result in a strong correction even toward the 90 level. In result it can also put some pressure on EUR/USD.
Weaker zloty. Crucial CPI data.
The zloty weakened significantly on disappointing data from the Euro Zone. EUR/PLN jumped from 4.1500 and finished the session near 4.1800 level. Today the investors will be closely observing the CPI report. Both Ministry of Economy and Bloomberg consensus estimate the reading around 2.0% y/y. However, some markets participants predict the inflation report to be closer to 1.9%. In consequence any reading below 1.9% can put further pressure on the zloty and spur the move toward 4.2100. On the other hand the actual data at 2.0% and above should allow EUR/PLN to come back to 4.1500-4.1800 levels.
Expected levels of PLN according to the EUR/USD value:
| | | | |
| --- | --- | --- | --- |
| EUR/USD | 1.3250-1.3350 | 1.3350-1.3450 | 1.3150-1.3250 |
| EUR/PLN | 4.1600-4.2000 | 4.1500-4.1900 | 4.1700-4.2100 |
| USD/PLN | 3.1200-3.1600 | 3.0900-3.1300 | 3.1500-3.1900 |
| CHF/PLN | 3.3800-3.4200 | 3.3700-3.4100 | 3.3900-3.4300 |
Technical analysis EUR/USD: we are getting closer to testing the support levels around 1.3330-1.3320 (23.6 Fibonacci retracement level). Another support is between 1.3290-60 (50 DMA and lows of mid January). It that levels are broken, the probability to move toward 1.3080 (38.2 Fibonacci retracement level, highs of December 2012 and lows from the beginning of January). The alternative scenario is move above 1.3500 (now less probable in the the short term).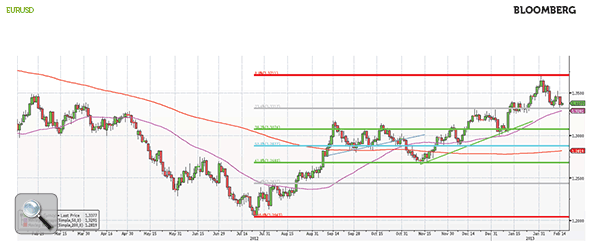 Technical analysis EUR/PLN: the technical analysis is waiting for the move above 4.1800. If euro moves over 4.1800 another stop should be level around 4.2000. It the resistance fails then we can expect the move rise toward 4.2300 (50% Fibonacci retracement level) and even trend reversal. The alternative scenario is a come back below 4.1500 (less probable now) and slide toward 4.08-4.12.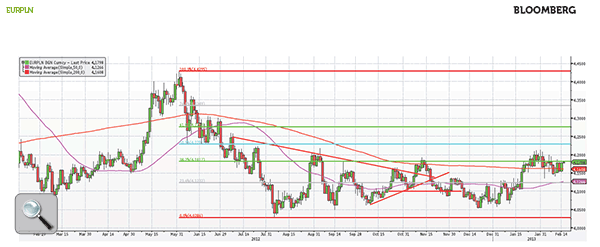 Technical analysis USD/PLN: we probably had yesterday a critical moment on USD/PLN. We finally managed to close above 50 DMA (several attempts were unsuccessful recently) and heading toward 3.1400. If broken then we can expect the move toward 3.25-3.27 (200 DMA and 50% Fibonacci retracement level. A failure to move above 3.1400 and come back under 50 DMA will negate the move (less probable).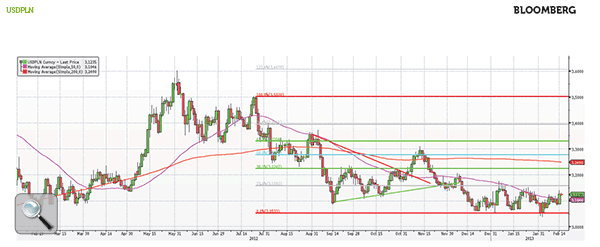 Technical analysis CHF/PLN: we are close to generate a buy signal on CHF/PLN. The breaking above 3.4100 will give a chance to move toward 3.4800 (50% Fibonacci retracement level). Shorts should consider to open the positions when we slide under 3.3300 (the possibility of such a move is low now).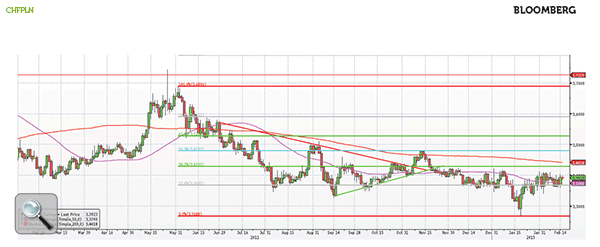 ---
This commentary is not a recommendation within the meaning of Regulation of the Minister of Finance of 19 October 2005. It has been prepared for information purposes only and should not serve as a basis for making any investment decisions. Neither the author nor the publisher can be held liable for investment decisions made on the basis of information contained in this commentary. Copying or duplicating this report without acknowledgement of the source is prohibited.
---