Record weak yen due to U.S Treasury Under Secretary Lael Brainard comments. In Europe we have another set of opinions regarding currency rates (Weidmann, Moscovici). Federal Reserve Vice Chairman Janet Yellen does not see a rapid withdrawal from ultra low interest rate policy. In Poland the zloty is fairly stable. Comments form MPC members – Elżbieta Chojna-Duch and Anna Zielińska-Głębocka didn't change the mood on PLN.
Macro data (CET- Central European Time):
No major macro data which will impact the global currency market
Another round of statements regarding deflation and currency rates.
Analyzing the recent several hours I don't see any major changes on EUR/USD. The opposite situation we could observed on yen pairs. USD/JPY again reached record levels and approached almost 94.50 mark. The rapid upside move was spurred by U.S Treasury Under Secretary Lael Braindard statement who said that "we support the efforts to reinvigorate growth and to end deflation in Japan" In reference to her words a trader based in Tokyo cited by The Wall Street Jorunal said that "Our only concern has been what U.S would say about the recent yen moves. As that's all-clear now, the dollar will soon enter a new range of 95-100" We also have some strong voices on the European ground, but they don't crate such an impact as in Japan. Yesterday the French Finance Minister Pierre Moscovici claimed that the currency value cannot be a result of market sentiment or speculation. He also said that: "I am pleading for a coordinated approach at the international level which enables exchange-rate stability and also that these exchange rates reflect the fundamentals of our economies". The contrary view is presented by ECB member and Bundesbank chairman Jens Weidmann. In his opinion the euro is not overvalued. He also warned governments not to weaken the euro because it would lead to higher inflation, rather then a sustained increase in competitiveness. Lastly it is worth to mention the FED vice Chairman Janet Yellen comments on Federal Reserve QE withdrawal policy. She emphasized that the central banks will be able to hold the interest rates close to zero even after the economy reaches inflation and unemployment targets. Most of the statements were rather positive for EUR and should have strengthened the common currency (at least through yen move). However, the coming G20 summit and fears before the Italian election have been weighting on the euro and not allowing it to appreciate.
Comments form MPC members didn't move PLN.
The Polish zloty cannot decide whether to come back to depreciation trend or try to break down the 4.1500 level and move toward 4.1200 support. Yesterday's comments form MPC members also didn't help it to make its mind. Slightly hawkish statement form professor Elżbieta Chojny-Duch that "it is too late to catch up with the rate cuts" were leveled by opinions form Anna Zielińska-Głębocka who claimed that "100 bps cut was not enough and further reduction my be necessary". The zloty will probably have to wait for stronger impulses (maybe from inflation on Friday) to move either above 4.1800 or under 4.1200.
Spodziewane przedziały par złotowych w zależności od kursu EUR/USD:
| | | | |
| --- | --- | --- | --- |
| EUR/USD | 1.3350-1.3450 | 1.3450-1.3550 | 1.3250-1.3350 |
| EUR/PLN | 4.1400-4.1800 | 4.1400-4.1800 | 4.1400-4.1800 |
| USD/PLN | 3.0800-3.1200 | 3.0500-3.0900 | 3.1000-3.1400 |
| CHF/PLN | 3.3700-3.4100 | 3.3700-3.4100 | 3.3700-3.4100 |
Technical analysis EUR/USD: the yesterday's session didn't change much. If the 1.3300 does not stop the slide we can expect the test of 1.3260-40 (50 DMA and the December consolidation levels) and in extension toward 1.3070 (38.2% Fibonacci retarcement level). The come back to the bullish trend is possible after reaching 1.3500.
Technical analysis EUR/PLN: moving above 4.1500 again is not a suggestion to close the shorts. Only the breakout above 4.1800 negates the Friday sell signal and prefers the bulls. The target is still 4.1200 and the come back toward 4.08-4.1200 range.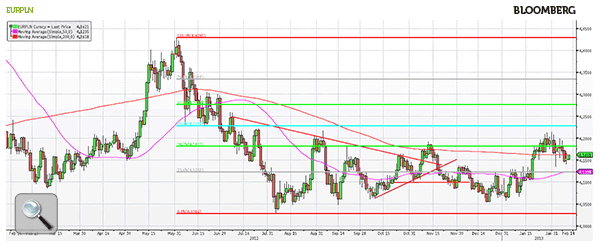 Technical analysis USD/PLN: no changes are still visible on USD/PLN. The bulls will have push USD/PLN above resistance level (50 DMA - 3.1150) and then over resistance at 3.1400. The breakout of 3.14000 should change the trend and spur move toward 3.25-3.27. We should remember however, that the trend is still bearish and until 3.1400 is broken any level should be used for opening short positions.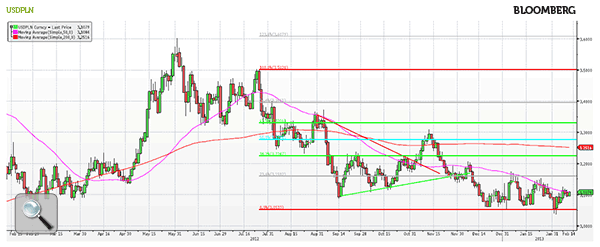 Technical analysis CHF/PLN: again nothing changes on CHF/PLN. Bears should be waiting until the CHF/PLN moves under 3.3300. Such a slide will initiate the sell signal with the target around recent lows (3.27). The longs are set to open buy positions above 3.41 and wait until 3.4800 is reached (50% Fibonacci retracement level).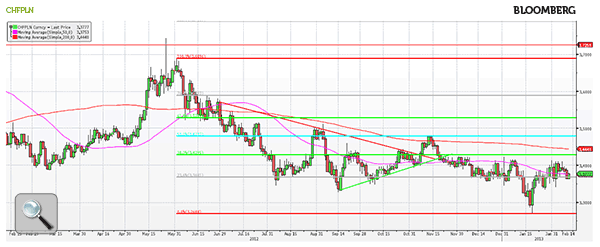 ---
This commentary is not a recommendation within the meaning of Regulation of the Minister of Finance of 19 October 2005. It has been prepared for information purposes only and should not serve as a basis for making any investment decisions. Neither the author nor the publisher can be held liable for investment decisions made on the basis of information contained in this commentary. Copying or duplicating this report without acknowledgement of the source is prohibited.
---