Fairly good data from China and solid from Europe are holding the EUR/USD above 1.32. Surprising decision on pausing the intervention in Syria gave some boost to stocks and corrected recent gains on crude oil. Strong PMIs reading from Poland pushed the EUR/PLN below 4.2600 level.
Macro data (CET- Central European Time). Survey is supplied by Bloomberg unless otherwise noted.
Already published PMIs from China and Europe
PMIs and Syria
We started the week in a relative good mood. Both governmental and private PMIs from China were above the 50 level and it seems to confirm that Beijing 2013 growth at 7.5% will be possible to achieve. In the morning we also received a set of European readings. The euro area PMI was at the highest level in 2 years (51.4). There are also positive sings form the, so called, peripheries – Spain and Italy. The Managers' Indexes rose to 51.1 and 51.3 respectively. There is also a bright spot in the most battered economy (Greece) where the PMI rose to almost 4 year high reaching 48.7. The reading was still below 50, which separates expansion form contraction, but it is worth to note that back in 2012 we had data under 40 level. The only disappointment came from France (in line with the flash estimate published several days ago) where the reading not only remained under 50 mark, but also it didn't improve from the previous month (49.7). The overall analysts' impression that France will be lagging in case of any euro area rebound seem to be valid so far. In comments to the European PMIs chief Markit economist Chris Williamson notes that the expansion is visible in almost all analyzed countries (besides already mentioned also in Ireland, Austria, and the Netherlands). On the other hand the job market is still behind the curve. Williamson claims that "However, the fact that companies remain reluctant to take on staff [due to the need to cut costs to boost competitiveness and offset rising oil prices] suggests that there's a long way to go before the recovery feeds through to a meaningful job market improvement".
We had quite an interesting turning point regarding Syria on Saturday. Instead of getting a clear intervention message, the US president Barack Obama decided to ask Congress for the military action approval. However, it seems that it will be quite hard to get a "yes" vote on the matter. Firstly the majority in Senate belongs to Democrats and in the House of Representatives in in charge of Republicans. Secondly even within each party there are congresspeople who claim to be against the intervention, seem to back Obama or even consider a much broader military operation than just air strikes. However, the pause on Damascus gave some boost to the stocks and corrected recent gains on oil.
Summarizing the EUR/USD should be fairly stable today (there is still a hefty set of data till the end of the week, so any major decisions will take place later). Regarding the PMIs, the EUR/USD wasn't eager to exploit the opportunity of better-than-expected readings so we can consider it as a bullish sing for the greenback.
The zloty get a lift from the PMI
The Polish currency, in contrary to the EUR/USD, clearly took advantage of solid local PMI data. The reading turned out to be the strongest in two years and enjoyed quite a solid rally in last four months (May – 48, June – 49.3, July – 51.1 and August – 52.6). In comments to the index, Murat Ulgen, Chief Economist, Central & Eastern Europe and sub-Saharan Africa at HSBC sounded pretty optimistic. He claims that "Not only the headline, but also the forwardlooking details such as new orders and employment conditions were encouraging with the latter growing for the first time in a year". Ulgen also added that export has been the strongest since 2011 and Poland is pretty resilient to a global liquidity shock thanks to its low current account deficit and low inflation. Just after the PMI was published we could observed quite a intense battle between the zloty's bears and bulls. Finally after 15 minutes the EUR/PLN dropped under 4.26 (strong support), what should be regarded as a success for the PLN longs.
Summarizing the Polish currency showed again its strength among other EM counterparts. Its weakening move was fairly mild, and today it gain some value despite it had to move under 4.26 on the EUR/PLN.
Expected levels of PLN according to the EUR/USD rate
| | | | |
| --- | --- | --- | --- |
| Range EUR/USD | 1.3250-1.3350 | 1.3350-1.3450 | 1.3150-1.3250 |
| Range EUR/PLN | 4.2600-4.3000 | 4.2600-4.3000 | 4.2600-4.3000 |
| Range USD/PLN | 3.2000-3.2400 | 3.1800-3.2200 | 3.2300-3.2700 |
| Range CHF/PLN | 3.4600-3.5000 | 3.4600-3.5000 | 3.4600-3.5000 |
Expected GBP/PLN levels according to the GBP/PLN rate.
| | | | |
| --- | --- | --- | --- |
| Range GBP/USD | 1.5550-1.5650 | 1.5650-1.5750 | 1.5450-1.5550 |
| Kurs GBP/PLN | 4.9900-5.0300 | 5.0100-5.0500 | 4.9700-5.0100 |
The EUR/USD is still bullish. Buy signals were generated on Polish pairs
Technical analysis EUR/USD: he slide under 1.3200 generates a sell signal with a target at 1.3000. Currently the trend is still bullish and the retest of 1.3400 is still possible.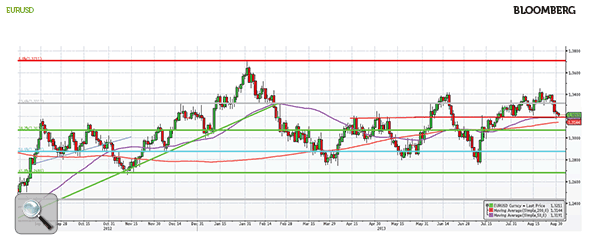 Technical analysis EUR/PLN: the move over 4.26 generated a buy signal with a first target at 4.30 (almost reached). The next target is 4.35. A slide under 4.24 suggests a return to range trade 4.22-4.26. If the EUR/PLN slides under 4.22 it generates a sell signal.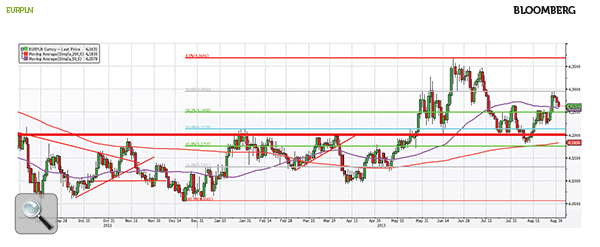 Technical analysis USD/PLN: the rise above 3.22 generates a buy signal with a target at 3.30. The comeback under 3.18 negates the bullish singal.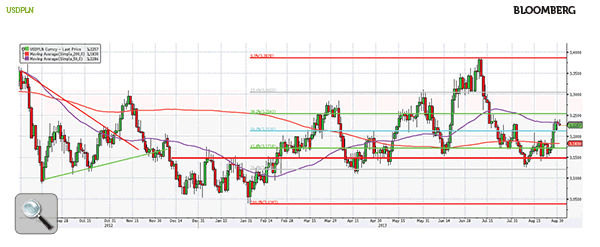 Technical analysis CHF/PLN: the buy signal was generated on CHF/PLN with a first target at 3.52. On the other hand the slide under 3.43 should favor a range-trade between 3.40-3.45.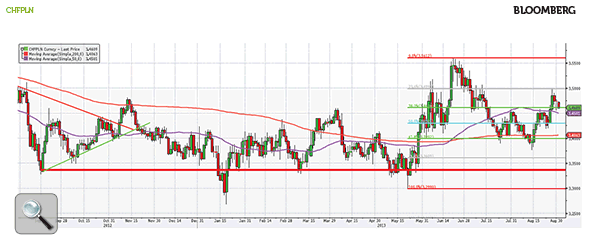 Technical analysis GBP/PLN: we are getting closer to generate the buy signal (after breaking 5.00) with the target around 5.10. Staying under 5.00 still prefers the short positions.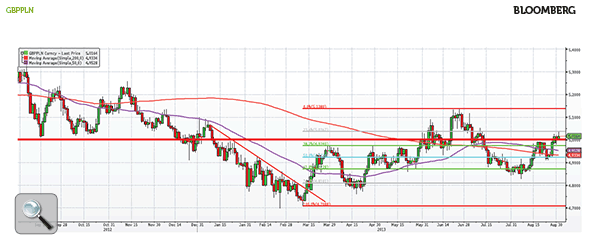 ---
This commentary is not a recommendation within the meaning of Regulation of the Minister of Finance of 19 October 2005. It has been prepared for information purposes only and should not serve as a basis for making any investment decisions. Neither the author nor the publisher can be held liable for investment decisions made on the basis of information contained in this commentary. Copying or duplicating this report without acknowledgement of the source is prohibited.
---