The EUR/USD slided under 1.3300. Slightly lower pressure regarding the Syrian issues helped some EM currencies and equities to rebound. Yellen chances has diminished? The Polish zloty weakened significantly reaching almost 4.30 per the euro.
Macro data (CET- Central European Time). Survey is supplied by Bloomberg unless otherwise noted.
14.30 CET: weekly jobless claims from the states (survey 332k)
14.30 CET: US GDP second reading (survey 2.2%)
The EUR/USD is lower. Slight rebound on EM currencies. "WSJ" on Yellen?
During the US and Asian session the EUR/USD was traded around 1.3340-1.3320. However, just before a European equity opening the common currency had slided under the 1.3300 mark. It seems that the euro didn't resits the pressure from the risk-aversion rise and it turned out that the dollar is the real safe haven. The move has also diminished the odds that we can move over 1.3400 (at least before the Fed's meeting). Additionally during a no-news-period on Syria some macro data are scheduled to hit the wires. Today we will get the weekly jobless claims and 2nd GDP reading (expectations are at 2.2% and investors will be closely watching this number regarding the possible tapering).
UN inspectors claim that they will need 4 more days to decide whether the chemical weapons have been used in Syria. Additionally it seems that a hypothetical intervention will be rather short-lived and will not change the regime. The information gave some relief to a number of Asian currencies (Indian rupee, Turkish lira). However, I would not see it as a turning point for the EM assets, so probably more weakness is on the horizon (the breakthrough can come after a military action starts and the destabilization will be less significant then currently expected – for example regarding the crude oil).
In today's "Journal" Jon Hilsenrath and Carole E. Lee wrote that Janet Yellen chances for the Fed's chairwoman positions has been diminishing ("Yellen Plays Down Chances of Getting Fed Job"). The authors claim that Janet Yellen "has played down her chances of getting the job, according to people who have spoken to her." Markets currently see the current Fed's deputy chairwomen as a follower of Bernanke's dovish policy which eventually should translate into a weaker dollar. Her opponent's view (Lawerence Summers) on the monetary policy is not clear, but ihe s probably more hawkish. President Obama promised to nominate the Federal Reserve chairperson in Autumn, but the decision is not trivial. Summers is considered to have strong supporters in the White House, while Yellen is backed by the democratic party. There is also a clear engagement in the decision process from influencing institution (famous editorial "NYT" article which strongly advocated Ms. Yellen). A few days ago the "WSJ" even gave a kind of cheat sheet on the Yellen/Summers supporters :http://blogs.wsj.com/economics/2013/08/22/summers-vs-yellen-scorecard-whos-supporting-who.
Summarizing the market should be more focused on the macro data today. For the EUR/USD it will be key to remain above 1.3200 level.
Technical signal on the zloty
The Polish currency significantly weakened yesterday and the EUR/PLN almost touched 4.30. What is interesting it was not caused by local/global macro data or more tensions in Syria. It was rather a purely technical move. When the EUR/PLN slightly exceeded 4.26 it generated a zloty selling signal which pushed the local currency lower by 1% in a matter of two hours. However, I would not regard it as a sentiment changed toward the zloty or a beginning of a much stronger slide (similar to the Indian rupee or Turkish lira). In the following days the zloty will be under pressure, but the whole move should not exceed the Summers highs.
Today the base case scenario is a range-trade between 4.26 and 4.30. We should also remain close to this levels till the end of the week with a slight higher chance to move above 4.30 then slide toward 4.26.
Expected levels of PLN according to the EUR/USD rate
| | | | |
| --- | --- | --- | --- |
| Range EUR/USD | 1.3250-1.3350 | 1.3350-1.3450 | 1.3150-1.3250 |
| Range EUR/PLN | 4.2600-4.3000 | 4.2600-4.3000 | 4.2600-4.3000 |
| Range USD/PLN | 3.2000-3.2400 | 3.1800-3.2200 | 3.2300-3.2700 |
| Range CHF/PLN | 3.4600-3.5000 | 3.4600-3.5000 | 3.4600-3.5000 |
Expected GBP/PLN levels according to the GBP/PLN rate.
| | | | |
| --- | --- | --- | --- |
| Range GBP/USD | 1.5550-1.5650 | 1.5650-1.5750 | 1.5450-1.5550 |
| Kurs GBP/PLN | 4.9900-5.0300 | 5.0100-5.0500 | 4.9700-5.0100 |
The EUR/USD is still bullish. Buy signals were generated on Polish pairs
Technical analysis EUR/USD: he slide under 1.3200 generates a sell signal with a target at 1.3000. Currently the trend is still bullish and the retest of 1.3400 is still possible.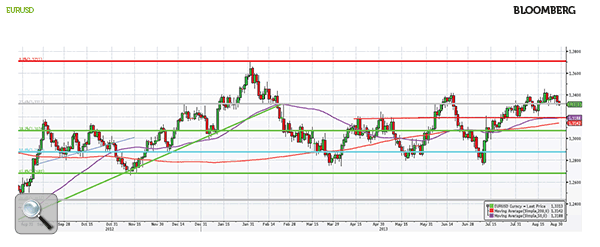 Technical analysis EUR/PLN: the move over 4.26 generated a buy signal with a first target at 4.30 (almost reached). The next target is 4.35. A slide under 4.24 suggests a return to range trade 4.22-4.26. If the EUR/PLN slides under 4.22 it generates a sell signal.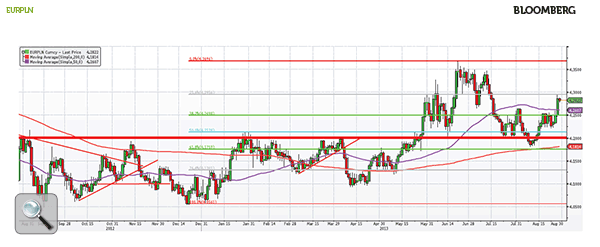 Technical analysis USD/PLN: the rise above 3.22 generates a buy signal with a target at 3.30. The comeback under 3.18 negates the bullish singal.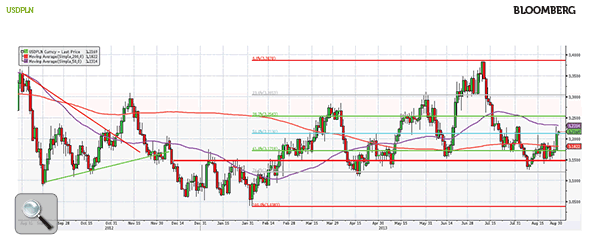 Technical analysis CHF/PLN: the buy signal was generated on CHF/PLN with a first target at 3.52. On the other hand the slide under 3.43 should favor a range-trade between 3.40-3.45.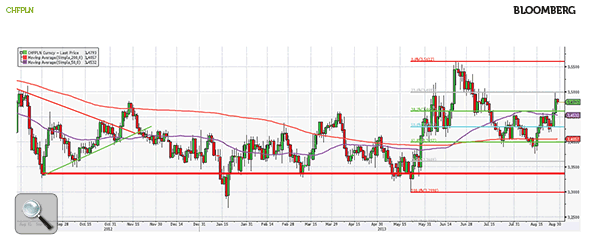 Technical analysis GBP/PLN: we are getting closer to generate the buy signal (after breaking 5.00) with the target around 5.10. Staying under 5.00 still prefers the short positions.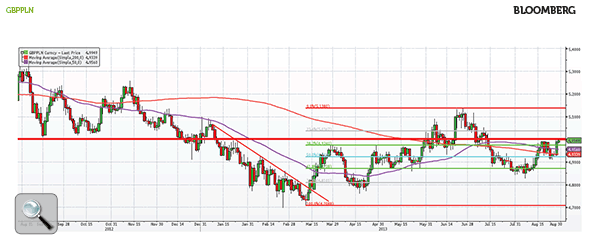 ---
This commentary is not a recommendation within the meaning of Regulation of the Minister of Finance of 19 October 2005. It has been prepared for information purposes only and should not serve as a basis for making any investment decisions. Neither the author nor the publisher can be held liable for investment decisions made on the basis of information contained in this commentary. Copying or duplicating this report without acknowledgement of the source is prohibited.
---