Over the past few years, interest in online shopping has grown incredibly fast, and the coronavirus pandemic has only intensified this trend. Consumers are now turning their eyes more and more to local online shops and foreign ones. According to a report by eShopWorld, in 2020, already 7 out of 10 people decided to shop abroad. This is good information for online shops looking for ways to expand further. However, there are important questions that have to be answered first. How to start cross-border sales? Which factors should be considered when thinking about a cross border business?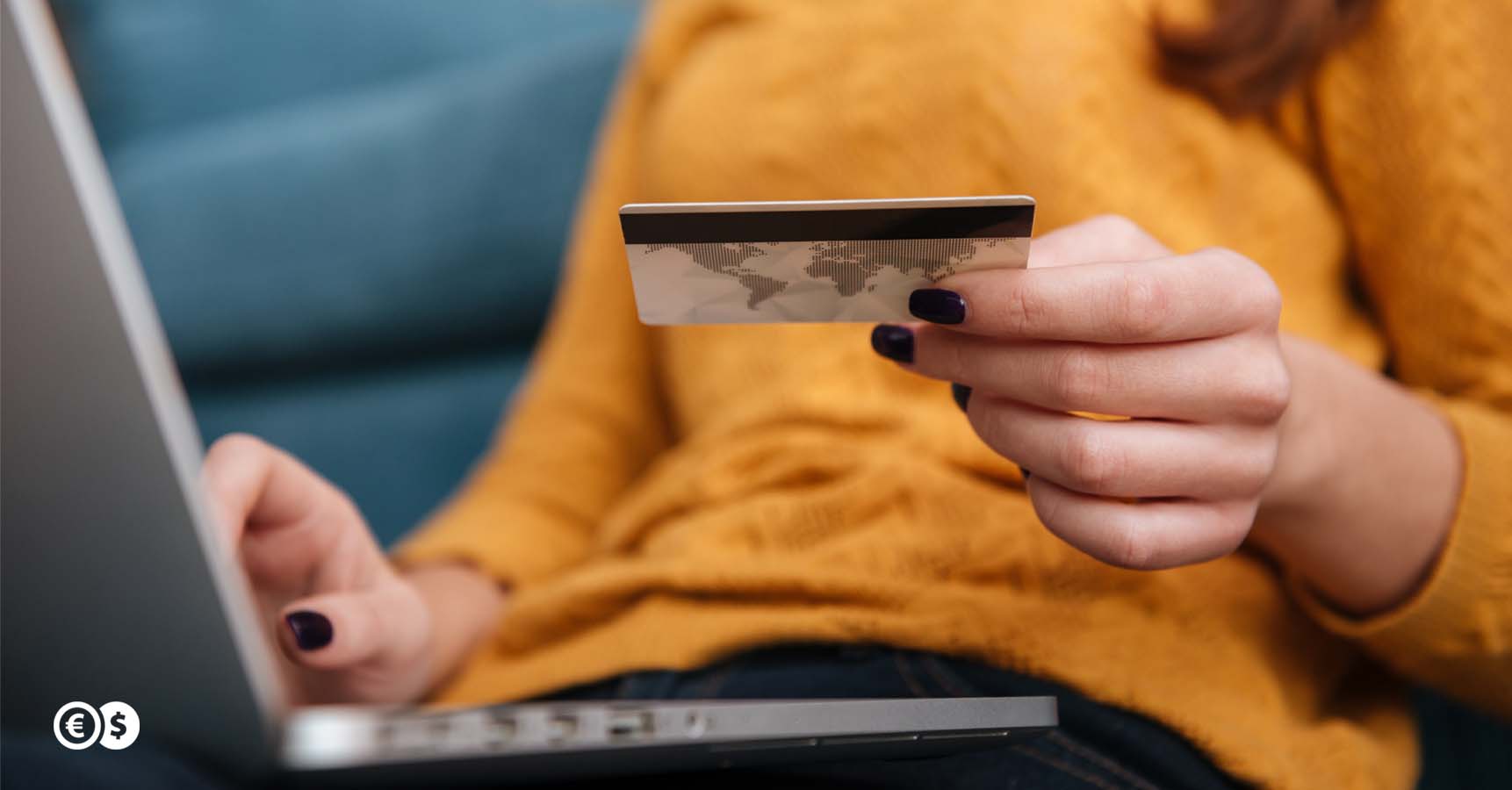 Who buys abroad?
Men buy online more often than women, and mainly people of young age. According to the report "Cross Border eCommerce. Opportunity or Threat?" prepared by the Polish Post, they are the most willing group to shop in foreign online shops. The 16-24 age group dominates among Europeans buying cross-border (33%), although it is chased by slightly older people aged 25-54 (31.4%).
Most cross-border orders in Europe come from urban areas, although suburban and rural residents also back them up. Citizens of Cyprus, Luxembourg and Malta are among the most likely to use cross border e-commerce. More than 85% of respondents choose to shop abroad in practically every age bracket. These small countries do not have enough online shops to meet the shopping needs of their citizens. For this reason, many people buy abroad.
However, by no means does this mean that these countries are the largest markets for cross border e-commerce. The share of international shoppers and market size are not identical concepts. In some cases, the opposite is true - Germany is a nation with little interest in cross-border shopping, but its market is still highly attractive for foreign shops.
Broader range and lower price
Why are consumers switching to buying abroad more and more often? According to a study by International Post Corporation on a group of active online shoppers, they are tempted mainly by the wide range of products that may not be available at home. Sometimes they are also drawn to higher quality. Two-thirds of respondents pointed out that buying abroad is attractive because of the lower price, even after adding taxes and duties.
Europeans also appreciate low delivery costs and previous positive shopping experience. Therefore, they are likely to return to shops where they have already ordered something.
When choosing a shop, customers are also motivated by security and choose platforms with a clear and transparent return policy. They are worried about high costs related to, for example, sending the parcel back abroad. They also pay attention to the available payment methods and choose the shops that offer their preferred methods.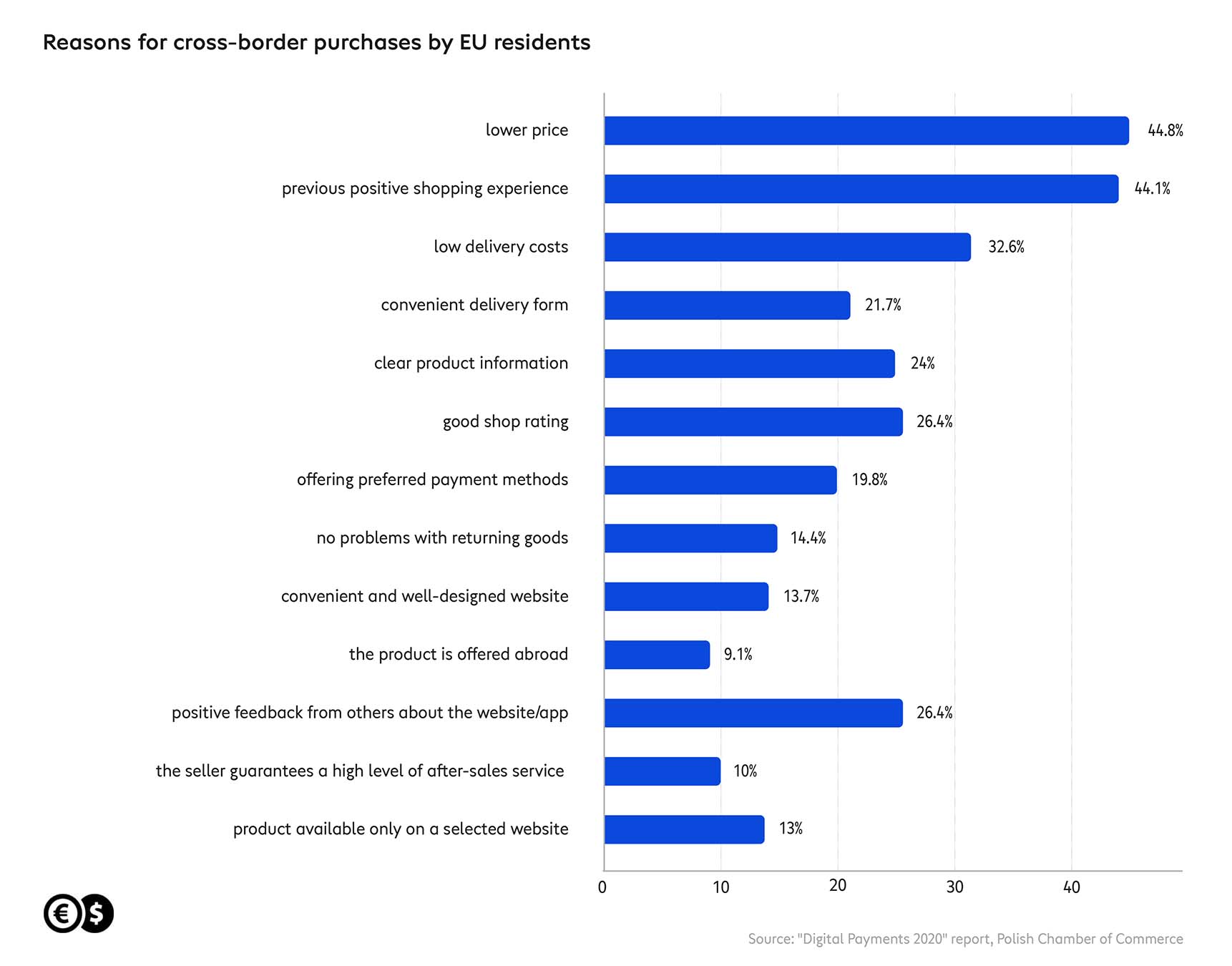 What and where is it profitable to merchandise?
Europeans buy abroad mainly in the most developed e-commerce markets, namely Germany and the UK. The third direction is China. Major sales platforms there tempt with low prices. According to a report by Polish Post, as many as 31.3% of Europeans made an online purchase in China. Just behind the podium came the United States.
Among the most frequently ordered goods abroad are clothes, shoes and accessories. They account for up to 24.2% of all orders, although the British and Germans order them even more frequently (53 and 54% respectively).
According to Eurostat data, the second most popular category on the list is books and music, with electronics coming as the third most popular. However, these preferences depend on the country. For instance, Italians often put electronics in their shopping baskets abroad, Americans often look for clothes, books and software in other countries, and Chinese for food and cosmetics, believing in a better quality of foreign products. Therefore, food products also seem to be promising for cross border e-commerce.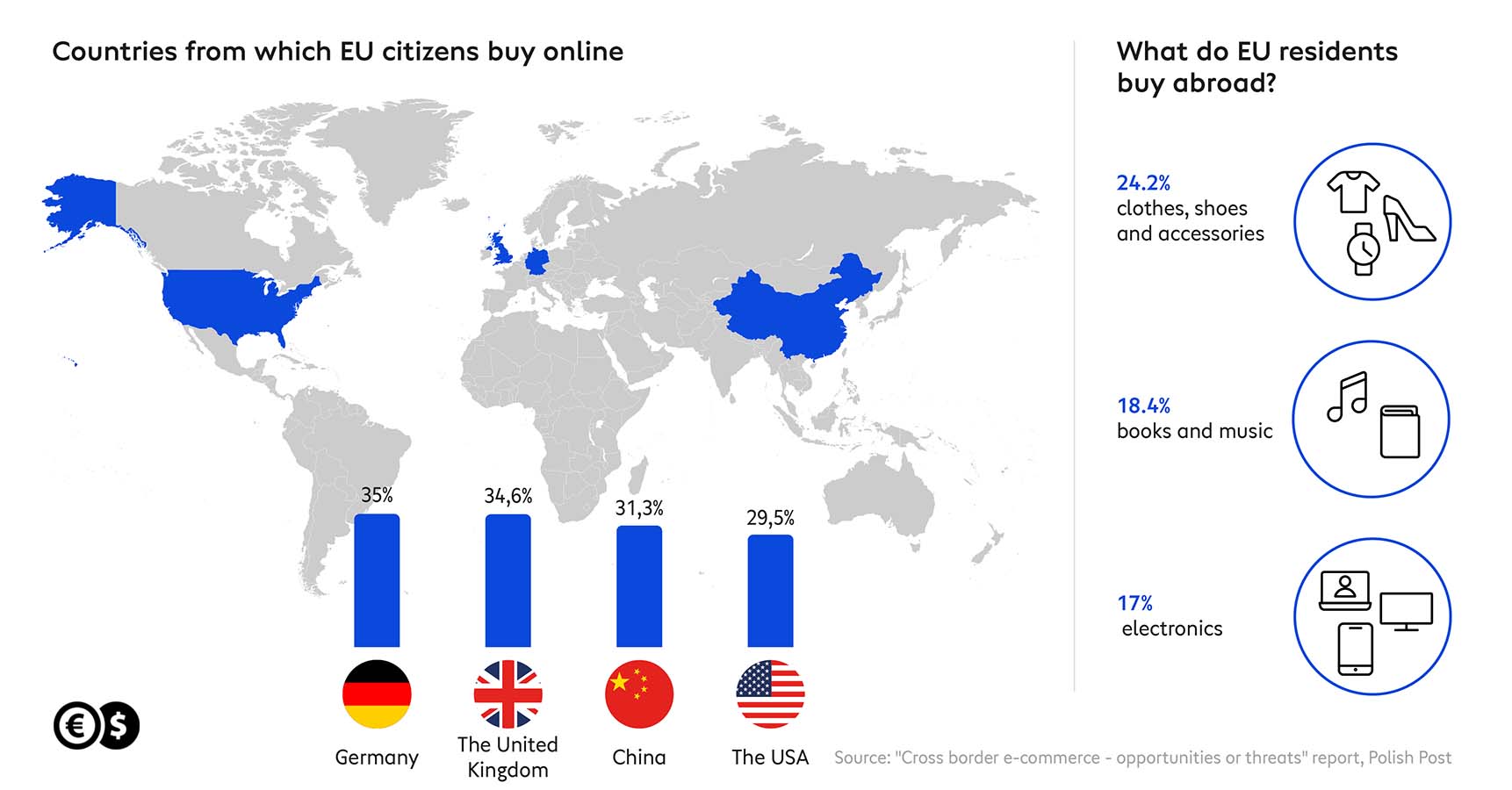 How to adapt your shop for foreign sales?
By 2022, cross-border sales could account for up to 17.3% of all online transactions, according to the Global Unified Commerce Forecast report prepared by 451 Research. The growing interest in cross-border shopping among consumers is an excellent opportunity for online shops to expand their business and gain new customers. How to sell abroad? First, you need to be properly prepared. Here are the essential issues you need to bear in mind.
Domain extension and language used in the shop
If you intend to sell your products to customers from abroad, the first step to take should be to adapt your shop to the habits and customs of customers from other countries. For this purpose, plan to buy additional extensions for your domain, e.g. one global domain or several local ones corresponding to the countries where you will be offering products.
Furthermore, it is important to provide appropriate language localisation for your shop. Ideally, it would help if you made your website available in many popular languages, meeting the needs of many nations. However, this can be expensive, so you may want to limit yourself to English first. However, consider shopping habits, customs and even laws when creating content for a particular country. Do not forget that you will sometimes be communicating with foreign customers. This means you need to have someone in your team who speaks the language well.
Ensure secure and well-recognised payments
As you prepare for an overseas sale, you cannot overlook such an important issue as payment. Not having a favourite method on the list of available payment methods may cause the customer to abandon the purchase and choose a competitor's offer.
In every market, consumers prefer different payment methods. For example, the United States primarily uses payment cards, Poland is dominated by quick online payment and BLIK, and China uses Alipay most often.
You need to analyse the specific markets and select a payment provider that offers the most popular methods that evoke trust among customers. Moreover, don't forget about accepting payments in the most popular currencies. By integrating your shop with Conotoxia Pay, you give your customers many widely recognized payment methods and the possibility to pay in the local currency or any other currency offered at attractive exchange rates.
Shipping methods and return policy
Delivering internationally can be a major challenge, especially if you don't initially intend to open warehouses in other countries. When selecting a partner to deliver your parcels abroad, you should consider the price and the delivery time. Fortunately, more and more courier companies are opening up to cross border e-commerce and offering attractive terms that can reduce costs.
A separate issue is the return policy, which should be on your shop's website. You need to specify how customers can return and warranty their orders. Remember that some countries have specific return policies; therefore, it is advisable to consult the policy with a lawyer or a specialist.
Prepare terms and conditions
Remember that e-commerce laws may differ from country to country. For instance, it is not allowed to sell certain products in some countries, while the rules of processing personal data may vary in others. Pay attention to this when preparing your terms and conditions, which must be in line with the foreign market. It is best to consult lawyers or legal advisors for this purpose.
Start using Conotoxia Pay in your store!
---