The EUR/USD has been trading around 1.3100. Falling yields on Italian 10-year debt are only 20 bps above 2006 levels. Interest rate cut positive for the common currency? Overview of investment banks scenarios. The zloty is benefiting form the sentiment improvement and it is currently around 4.14 per euro.
Macro data (CET- Central European Time). Survey is supplied by Bloomberg unless otherwise noted.
11.00 CET: Euro-Zone CPI estimate (survey: 1.6%)
11.00 CET: Unemployment rate from the Euro-Zone (survey 12.1%)
15.45 CET: Chicago PMI from the States (survey 52.5 points)
16.00 CET: Consumer Confidence (survey: 61.0 points)
Positive sentiment on equities and debt market supported the euro. Investment banks on the ECB rate decision
Yesterday we had another optimistic day form global investors. U.S. equities closed at all-time-highs, yields on peripheries debt slided and the EUR/USD jumped over 1.3100. The dominant cause behind the movement was the establishment of a new government in Italy (more about the subject in Monday's analysis). It is, however, worth to look closer at the local debt market. The 10-year yields dropped under 3.9% which was the lowest level since October 2010, and we are only 20 bps above 2006 levels. In such moments there is always a question whether such drop is justified with the economic conditions or just a result yield search in zero-rate environment. The answer is not clear, but undoubtedly it shows that the stress in financial markets eased significantly during the last year.
Yesterday I presented my view on the ECB rate decision. Today I would like to cite some interesting opinions from investments banks (information source: Bloomberg).
Credit Suisse claimst that "If ECB only delivers a 25bps refi rate cut without any non-standard measures, expect market to be disappointed, weighing on EUR/USD. Citigroup does also predict the cut, but warns that "investors may want to be cautious as EUR trends to bounce whenever ECB disappointed on rate cut calls". The most interesting view is presented by Goldman Sachs (already in market rumors). Thomas Stolper, Chief Forex Strategist at Goldman writes that "ECB very likely to cut refi rate by 25bps; doesn't necessary mean EUR will weaken; He also claims that "from currency point of view, additional policy steps will matter more than expected refi cut, and peripheral spreads are key driver of EUR currently, and any policy support for periphery would boost EUR".
It seems that that market starts seeing the decision as a win-win situation. The cut will not cause a slide because it is already priced in and additional credit program for SMEs should support the common currency. On the other hand leaving the rate unchanged will also give a support to the euro as a traditional reaction for more hawkish then predictions monetary policy.
Stronger zloty on risk on sentiment
The Polish zloty benefited form global equity rally and global/local record-low debt yields (in Poland under 3.30 at 10-year benchmark). The similar market reaction should stay with us at least till the end of the week (firmer PLN in case of EUR/USD rise and softer zloty in risk off trade).
From Monday investors will try to anticipate the rate cut (the June one). In May the "money cost" will stay at unchanged level, but the statement and the conference will be crucial to estimate the odds for the cut in June.
Expected levels of PLN according to the EUR/USD rate:
| | | | |
| --- | --- | --- | --- |
| EUR/USD | 1.2950-1.3050 | 1.3050-1.3150 | 1.2850-1.2950 |
| EUR/PLN | 4.1300-4.1700 | 4.1200-4.1600 | 4.1400-4.1800 |
| USD/PLN | 3.1700-3.2100 | 3.1400-3.1800 | 3.2000-3.2400 |
| CHF/PLN | 3.3700-3.4100 | 3.3600-3.4000 | 3.3800-3.4200 |
Expected GBP/PLN levels according to the GBP/PLN rate:
| | | | |
| --- | --- | --- | --- |
| GBP/USD | 1.5450-1.5550 | 1.5550-1.5650 | 1.5350-1.5450 |
| GBP/PLN | 4.8900-4.9300 | 4.9100-4.9500 | 4.8700-4.9100 |
Overall technical situation on the analyzed pairs:
There is still more chances for a rise on EUR/USD then for a fall. Yesterday's PLN strength hasn't changed the technical situation on the Polish pairs and has not negated last week buy signal on GBP/PLN.
Technical analysis EUR/USD: the base case scenario of the EUR/USD is still bullish move toward 1.3200. On the other hand if it falls under 1.30-1.2950 (strong support and 200 DMA respectively) then we can expect the slide toward 1.2700.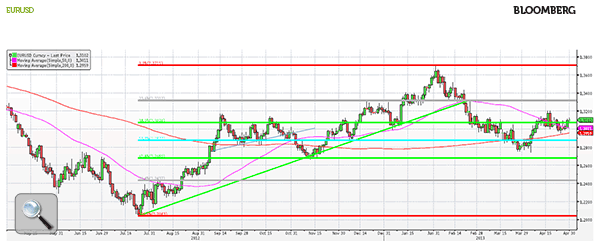 Technical analysis EUR/PLN: the move over 4.1600 last week resulted that the technical analysis supports a view with range trade between 4.15-4.20. The slide under 4.1200 will favors bears and rise over 4.20 bulls (the least probable scenario).
Technical analysis USD/PLN: the pair hasn't moved over 3.2000 so the preferable scenario is bearish trend with the target around 3.06 in the medium term. On the other hand breaking 3.20 to the upside will favor bulls with the target at 3.2700.
Technical analysis CHF/PLN: no changes on CHF/PLN. After sliding under 3.4000 we are in the well known territory (range 3.33-3.40). A sell signal should be generated under 3.3300 level. If the 3.3300 support holds then the base case scenario is range trade between 3.33 and 3.40.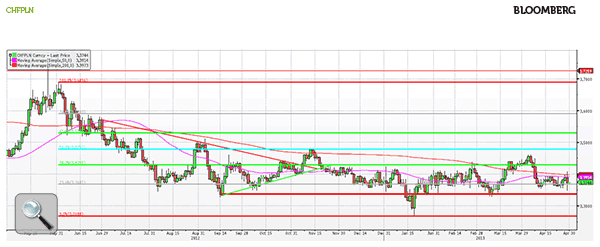 Technical analysis GBP/PLN: thursday's move from 4.86 to 4.93 did change the perception in the short term (form bearish to bullish). The target for the pair is 5.0000 and the probe to change the medium term sliding trend. On the other hand the slide under 4.84 will support the bears again.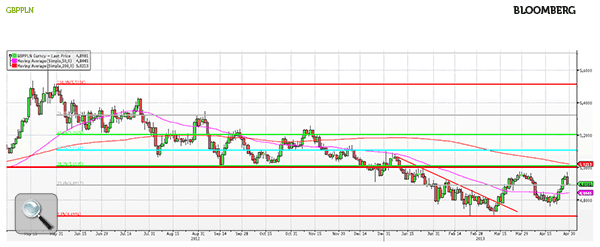 ---
This commentary is not a recommendation within the meaning of Regulation of the Minister of Finance of 19 October 2005. It has been prepared for information purposes only and should not serve as a basis for making any investment decisions. Neither the author nor the publisher can be held liable for investment decisions made on the basis of information contained in this commentary. Copying or duplicating this report without acknowledgement of the source is prohibited.
---