There is still no breakthrough on the EUR/USD, despite that we are opening around 30 pips lower than on Tuesday. Former Bank of Israel governor on forward guidance. The Polish zloty, similarly to the EUR/USD, is still not really eager for a stronger move.
Macro data (CET- Central European Time). Survey is supplied by Bloomberg unless otherwise noted.
14.30: CET: Durable goods orders from the US (survey: minus 0.2%; excluding transportation +1.0%)
16.00 CET: New home sales from the US (survey: 420k)
Low volatility on the EUR/USD. Stanley Fischer on monetary policy
Another low volatility day on the EUR/USD is behind us. We had also few central bankers' statements, but they didn't impact the market. William Dudley from the New York Fed told CNBC (http://www.cnbc.com/id/101058446) that tapering this year is possible but conditional. He said that "I think that framework that he [Bernanke] laid out is still very much intact. But we actually have to see 1) improvement in the labor market, and 2) confidence that that improvement's going continue-- in the future." On the other side of Atlantic we had another confirmation that ECB LTRO operation is feasible. Benoit Coeure said (according to Reuters) that "LTRO is part of the possible instruments. But there has been no specific discussions on what could be the right instrument in case there will be a need for the ECB to act." Overall all the remarks were already known on Monday after Dudley and Draghi statements.
In reference to the global monetary policy it is worth to cite former Bank of Israel governor Stanley Fischer. During the meeting organized by CLSA broker in Hong Kong (article in The Wall Street Journal http://blogs.wsj.com/economics/2013/09/23/the-key-to-forward-guidance-dont-give-it-fischer-says/ ) he was really critical on forward guidance. He claimed that it increases the confusion on markets and said that "You can't expect the Fed to spell out what it's going to do," "Why? Because it doesn't know." Fischer also adds that "If you give too much forward guidance you do take away flexibility,". What is interesting the former governor was regarded as a potential candidate on Fed's chair and, according to the "Journal", while he was a professor on MIT he advised Ben Bernanke on the thesis.
Summarizing we can have another calm day on the EUR/USD. It is worth, however, to analyze the incoming macroeconomic data for the US. They will mainly shape the dollar value in the following weeks. The sentiment on the most traded currency pair seems to be still pretty bullish – virtually no correction after the Wednesday's surge keeps bulls close in charge.
The zloty is still pretty calm
The Polish currency gained some value in comparison to the yesterday opening. A slightly higher appetite for the PLN can be a result of more vocal talks regarding the LTRO. More liquidity in the system should traditionally help the CEE currencies (especially that ones with fairly good economic standing and higher interest rates).
Additionally more QE should also give some boost to the zloty in the medium term. Despite that we bounced back quickly from 4.14 the potential PLN weakness should be limited. If investors realize that the EUR/PLN has much lower probability to rise than slide we can either expect a consolidation or a fall under 4.18. Today, however, no major changes are expected and we should stay in the 4.21-4.23 range.
Expected levels of PLN according to the EUR/USD rate:
| | | | |
| --- | --- | --- | --- |
| Range EUR/USD | 1.3450-1.3550 | 1.3550-1.3650 | 1.3350-1.3450 |
| Range EUR/PLN | 4.2000-4.2400 | 4.2000-4.2400 | 4.2000-4.2400 |
| Range USD/PLN | 3.1100-3.1500 | 3.0800-3.1200 | 3.1600-3.2000 |
| Range CHF/PLN | 3.4000-3.4400 | 3.4000-3.4400 | 3.4000-3.4400 |
Expected GBP/PLN levels according to the GBP/PLN rate:
| | | | |
| --- | --- | --- | --- |
| Range GBP/USD | 1.5950-1.6050 | 1.6050-1.6150 | 1.5850-1.5950 |
| Range GBP/PLN | 4.9900-5.0300 | 5.0100-5.0500 | 4.9700-5.0100 |
A breakout above 1.3400 was another bullish signal for the EUR/USD and a confirmation for the move toward the next major target at 1.3650. All PLN pairs are in bearish trends.
Technical analysis EUR/USD: the next target for the EUR/USD is 1.3650 and in the extension even 1.4000. Sliding below 1.3400 generates a sell signal with the first target around 1.3200.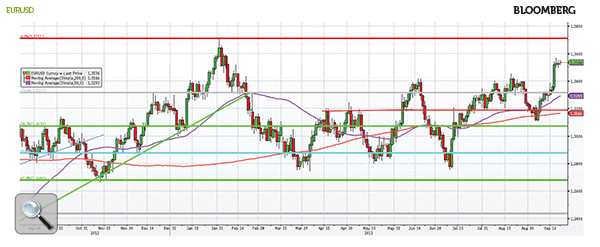 Technical analysis EUR/PLN: the 4.1800 target was reached. The next is fall toward 4.10-4.13 range with a possible test of the lower band. A bullish signal is generated after moving above 4.22 level.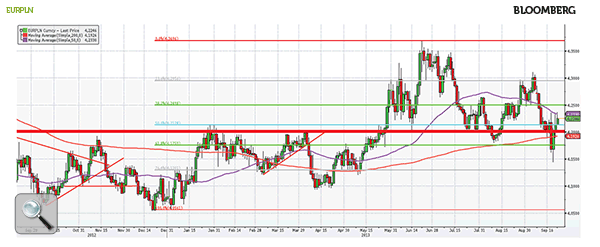 Technical analysis USD/PLN: the target is still 3.05 on the pair (which was almost reached). We are down more than 0.15 PLN since the sell signal was generated. Shorts are preferred until we rise above 3.15.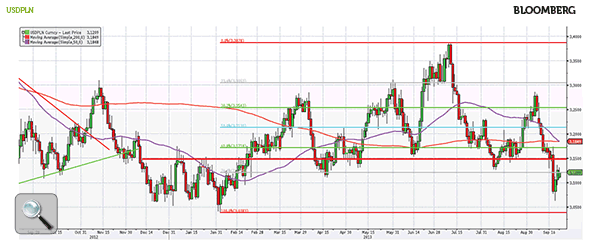 Technical analysis CHF/PLN: the comeback under 3.43 negates the buy signal. Now the base case scenario is a range trade between 3.40-3.45. Sliding under 3.40 generates a sell signal with target at 3.33.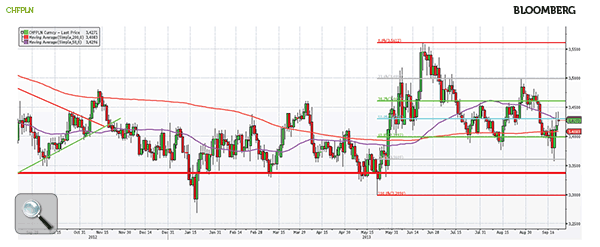 Technical analysis GBP/PLN: the sell signal was generated with the first target at 4.93 and another at 4.85. The comeback to the bullish trend is generated above 5.03.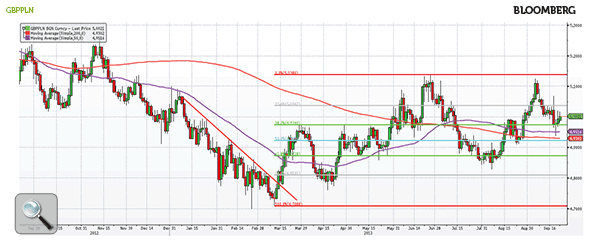 ---
This commentary is not a recommendation within the meaning of Regulation of the Minister of Finance of 19 October 2005. It has been prepared for information purposes only and should not serve as a basis for making any investment decisions. Neither the author nor the publisher can be held liable for investment decisions made on the basis of information contained in this commentary. Copying or duplicating this report without acknowledgement of the source is prohibited.
---