New Obama's proposal regarding fiscal cliff helped equities, but were neutral for the currencies. Draghi once again drew the plan for a single banking supervisor and warned regard gloomy economy in 2013. EUR/USD stable (close to 1.3170), and near the recent highs. PLN in correction move around 4.0890 per EUR.
Macro data (CET- Central European Time):
14.00 CET: Hungarian central bank interest rate decision
14.30 CET: average salary change y/y in Poland
Cliff resolution much closer. Deal before Christmas?
The new, positive info regarding the cliff hit the wires yesterday, and gave a substantial boost to the U.S equities. Obama proposed that the tax hike will start from 400k USS per household income instead of previous 250k USD idea. Republicans praise the progress from democratic side, but they still stick to 1M USD limit to tax increase. Recently it has been clear that the deal will be done quite soon (even before Christmas). It can be also confirmed by democratic Senate leader Harry Reid, who that said: "senators would probably convene Dec. 26 to consider budget measures" according to Bloomberg reports. The cliff which still weights on equities it has been neutral for currencies. Firstly due to its low possibility to materialize, and secondly (as I analyze it in December 14th commentary) because its unclear impact on EUR/USD and other risk on/of currencies.
Draghi about single banking supervisor.
The ECB head yesterday was assuring markets that the central bank policy will remain independent even though ECB will also be in charge of supervising European banks. In many countries (In Poland we have RPP (MPC) and KNF (SEC)) both institutions are formally separate. Draghi also confirmed that the central bank will be in charge of 150-200 the largest banks and is due to start the job in March 2014. He repeated the earlier economic estimates that the economy will shrink in 2012 by 0.5% and further weakness will be observed in 2013 (-0.3% GDP y/y). Some modest rebound is possible at earliest in 2H of 2013. His comments didn't spur any action on the currency market.
Hungarian central bank interest rate decision. Polish debt-to-GDP around 53% in 2012.
Monday's slight weakness on PLN could have been caused by Hungarian forint slide. HUF can be under pressure today and also can give some direction to PLN (I expect weakness before the decision and some rebound after (in case it meets analysts survey)). It is also worth to mention quite comfortable fiscal situation in Poland. According to deputy minister Wojciech Kowalczyk debt-to-GDP ratio will be around 53% at the end of 2012 (Polish methodology) and around 56% (EU rules). Kowalczyk also said for the Gazeta Prawna interview that budget deficit will not exceed 3.5% GDP and till the end of 1Q 2013 Finance Ministry will secure 50% of the next year borrowing needs. I think that Finance Ministry has been doing a great job managing the debt issue, perfectly communicates with the market and plan bond auctions when the sentiment is favorable.
Expected levels of PLN according to the EUR/USD value:
| | | | |
| --- | --- | --- | --- |
| EUR/USD | 1.3050-1.3150 | 1.3150-1.3250 | 1.2950-1.3050 |
| EUR/PLN | 4.1000-4.0700 | 4.0900-4.0600 | 4.1100-4.0800 |
| USD/PLN | 3.1500-3.1100 | 3.1200-3.0900 | 3.1700-3.1300 |
| CHF/PLN | 3.4000-3.3700 | 3.3900-3.360 | 8.4100-3.3700 |
Technical analysis EUR/USD: the resistance level at 1.3200 is still quite strong. However if it breaks the rise to 1.3300 can be rapid. The hypothetical downside move should be stopped by 1.3080 support.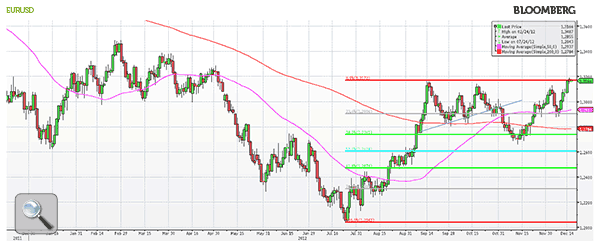 Technical analysis EUR/PLN: technical situation on EUR/PLN has not changed much. Until the 4.1200 is not touched there is higher possibility for move lower then higher. The target for following days is come back to 4.08 and the move to 4.06 and in extension to 4.04.
Technical analysis USD/PLN: USD/PLN trend is still downside. Successful test of 3.1000 will set another target at 3.07-3.06. The correction move should not exceed 3.1300-3.1400.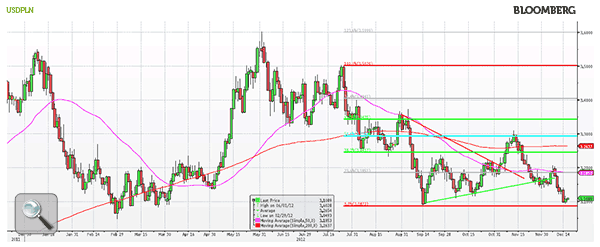 Technical analysis CHF/PLN: CHF/PLN is in the range trade (3.3700-3.3900). Break out above 3.4000 is a buy signal. Fall under 3.3700 can suggest to short CHF with target around 3.3300.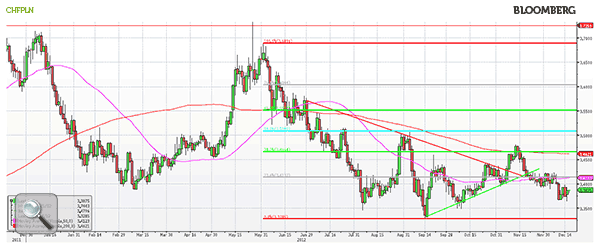 ---
This commentary is not a recommendation within the meaning of Regulation of the Minister of Finance of 19 October 2005. It has been prepared for information purposes only and should not serve as a basis for making any investment decisions. Neither the author nor the publisher can be held liable for investment decisions made on the basis of information contained in this commentary. Copying or duplicating this report without acknowledgement of the source is prohibited.
---