The EUR/USD still holds over 1.30. level. The Chinese data, despite some fears, met economists' estimates. Ben Bernanke is in focus again this week. Today we have U.S retail sales data and ECB's Asmussen speech. Marek Belka and current account surplus boosted the zloty.
Macro data (CET- Central European Time). Survey is supplied by Bloomberg unless otherwise noted.
14.30 CET: Retail sales from the US (survey: 0.5%; ex Auto & Gas: 0.4%)
17.00 CET: ECB's Asmussen speaks in Germany
The EUR/USD is pretty stable. No surprise from China. Asmussen.
In contrary to some fears, the Q2 GDP growth in China met analysts' expectations. The economy grew by 7.5% y/y. Last week some confusion regarding the issues was caused by Finance Minister remarks regarding the future GDP expansion where he stated (later denied by a government official) that it would be acceptable if China expanded 6.5% in the future. However some speculations concerning the health of the most populated country can resume especially if the expected 2H rebound in developed world does not materialize. Another case was pointed out by Zhu Haibin, JPMorgan economist. He told the Financial Times that "Big stimulus [from the government as it used to be in the past] is not going to come out that is for sure" and "The government tolerance for slower growth is definitely higher". So far, large economic institutions have not reduced the estimates. A few days ago the IMF confirmed that China will expand 7.8% this year and 7.7 in 2014.
We are facing another week when Ben Bernanke and other central bank officials will be in focus. The Fed chairman is going to testify before House of Representatives (on Wednesday) and Senate (on Thursday). It is possible that the market will react in line with Credit Agricole analysts scenario cited by Marektwatch website. They expect that "in the wake of last week's strongly dovish interpretation of his comments, we look for a more measured, slightly hawkish policy tone" and "a rising dollar would likely send the euro down toward its near-term support level of 1.2850". Today we can also get some comments form Jorg Asmussen. The ECB member is having a speech in Germany and the questions regarding his remarks on "forward guidance" are expected. Last week, in a Reuters interview, he mistakenly cited Draghi suggesting that interest rates will remain at current level or lower for at least 12 months. Today he will have an opportunity to correct it and therefore give some support to the EUR/USD.
Summarizing we should have a pretty calm session unless the US data or Asmussen surprise. The market is getting ready for the Wednesday-Thursday Bernanke statements. The EUR/USD is expected to trade around 1.30 level.
The zloty is stronger. Capital outflows (NBP report)
The EUR/PLN managed to fall under 4.30 level on Friday afternoon. The zloty was supported by two events. Firstly the NBP governor Marek Belka in a Reuters interview confirmed that he does not expect any rate change till the year ends (kind of forward-guidance). He also said that in his opinion NBP forecast regarding Polish GDP growth is to pessimistic and he is "personally" more upbeat on the economy. Secondly on Friday the Polish current-account data surprisingly showed a surplus for a second month in the row. The data does usually bring hardly any changes on the zloty (it shapes currencies in the long term and it is quite dated – 1.5 month old), but this time was different and the PLN gained some value.
There is also a bit of bad news for zloty bulls. A few days ago the NBP published a report on global economy (only in Polish http://www.nbp.pl/publikacje/km/km_07_13.pdf ). In a two-page long paragraph (36-37) economists try to evaluate the impact on "normalization" of monetary policies of developed economists on EM. Authors note that the withdrawal of ultra-easy policy will not have a dramatic outcome, but Asia, Middle East or Africa are in a better positions (mostly longer term investments) then EM Europe or Latin America (government debt investments).
Summarizing I don't expect that EUR/PLN falls under 4.28 today. I would rather see that the zloty will stay a bit under 4.30 per per euro with an option to come back above that level especially when EUR/USD drops under 1.30.
Expected levels of PLN according to the EUR/USD rate
| | | | |
| --- | --- | --- | --- |
| Kurs EUR/USD | 1.3050-1.3150 | 1.3150-1.3250 | 1.2950-1.3050 |
| Kurs EUR/PLN | 4.3000-4.3400 | 4.2800-4.3200 | 4.3100-4.3500 |
| Kurs USD/PLN | 3.3000-3.3400 | 3.2600-3.3000 | 3.3200-3.3600 |
| Kurs CHF/PLN | 3.4800-3.5200 | 3.4600-3.5000 | 3.4700-3.5100 |
Expected GBP/PLN levels according to the GBP/PLN rate
| | | | |
| --- | --- | --- | --- |
| Kurs GBP/USD | 1.5050-1.5150 | 1.5150-1.5250 | 1.4950-1.5050 |
| Kurs GBP/PLN | 4.9900-5.0300 | 5.0100-5.0500 | 4.9700-5.0100 |
Overall technical situation on the analyzed pairs
The EUR/USD is till bullish. We are close to generate sell signals on EUR/PLN and on GBP/PLN.
Technicznie EUR/USD: the EUR/USD moved quite substantially last. It broke many resistance levels and stopped around 1.32. The upside trend dominates now with target at 1.3200 and support around 1.3070. The next support is around 1.2950. If we fall under that level is should generate a sell signal with a target around 1.28.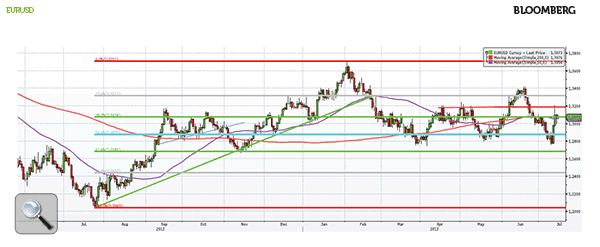 Technicznie EUR/PLN: if we fall under 4.28 a sell signal will be generated with a target around 4.22. Currently the bullish trend remains with a medium-term target at 4.40.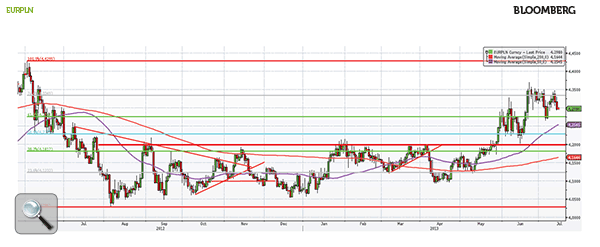 Technicznie USD/PLN: a fall under 3.28 was a sell signal. The USD/PLN target is 3.18-3.14 now. A comeback above 3.34 again favors bulls.
Technicznie CHF/PLN: the sell signal was generated after falling under 3.48. The target is 3.42 now. Alternatively the rise over 3.52 should be bullish.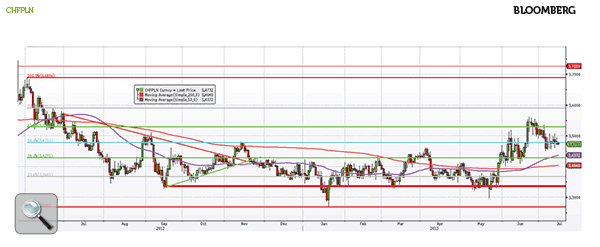 Technicznie GBP/PLN: we were close to generate the sell signal (falling under 4.97). The pair, however, rebounded from 50 and 200 DMAs. Therefore it should retest the 5.10 highs. Alternatively a fall under 4.97 should generate a sell signal.
---
This commentary is not a recommendation within the meaning of Regulation of the Minister of Finance of 19 October 2005. It has been prepared for information purposes only and should not serve as a basis for making any investment decisions. Neither the author nor the publisher can be held liable for investment decisions made on the basis of information contained in this commentary. Copying or duplicating this report without acknowledgement of the source is prohibited.
---