EUR/USD is heading to test 1.3300. Bullard on inflation. German Constitutional Court on the OMT program. Capital outflow from Polish and EM bonds. The zloty is still under pressure.
Macro data (CET- Central European Time). Survey is supplied by Bloomberg unless otherwise noted.
No scheduled macro data which will significantly impact the analyzed currencies.
Bullish EUR/USD. Bullard. Germany.
EUR/USD is clearly giving an impression that it is eager to successfully test 1.3300. It overstates the dollar negative info and underestimates the data which is suppose to be greenback bullish. We can formulate a similar theory for both the last and the current week. Previously the EUR/USD was rising on analysis that the NFP could be weaker then expected and therefore there would be less chances for QE earlier tapering. The payrolls turned out to be in line with expectations but the eurodolar "shrugged off" the data and didn't even corrected. Yesterday, after James Bullard (Fed member, voting, slightly hawkish) the dollar weakened (which was pretty logic). Bullard, according to Bloomberg, said that "inflation below central bank's 2 percent target may warrant prolonging the "aggresive" use of bond buying to spur growth and bring down unemployment". However, when Standard&Poor's raised the U.S rating perspective from negative to neutral (dollar positive) the EUR/USD didn't react.
Issues with the German Constitutional Court seems to be overstated. The Court is suppose to decide (as Reuters reports probably not before the German election) whether the OMT program is legal (to indirectly finance other government (through bond buying program)). Citing Reuters, and making the case simple "the Karlsruhe court is more likely to approve ECB action, while asking to make clear it is not using monetary policy to finance euro zone states' budgets, experts said". "Building in such a requirement would not be a problem, as the ECB has not finalized the legal OMT documentation yet, "said Andreas Rees, chief German economist at Unicredit Research".
Summarizing the test of 1.3300 seems to be pretty possible (and probably we can move much higher). Additionally many market participants do not believe for a stronger EUR/USD rally (are still on the short side). The market enjoys such situations, when it can "squeeze shorts" and rise significantly.
Pressure on the zloty
Monday was another day with the weaker zloty and sell off on the debt market. It is a broad move out of EM currencies and bonds. It is worth to point out that the yields 10-year bonds jumped 1% in just a month (from 3% to 4%). It means that the price did fall around 8%. If we add the zloty depreciation (2%) the we can see that some foreign investors could have lost roughly 10% of their invested capital. So, there is no surprise that in such swings some investors are pretty nervous. In the longer time, however, the capital shift from overvalued bonds to other asset classes can be seen as a positive signal. Investors are expecting that the yields will rise, inflation will pick up and growth will return. On the other hand in the short-term the market only sees less money (from QE) and the need to sell expensive bonds.
Summarizing form the May 22th (Bernanke Congress hearing) we have a clear trend on the EM bonds and money transfer to "hard currencies". The zloty will be still under pressure and any chances to come under 4.20 are pretty slim (even with the NBP help). We will be probably testing the recent highs soon, but I don't expect that any time we can move over 4.40.
Expected levels of PLN according to the EUR/USD rate:
| | | | |
| --- | --- | --- | --- |
| EUR/USD | 1.3150-1.3250 | 1.3250-1.3350 | 1.3050-1.3150 |
| EUR/PLN | 4.2400-4.2800 | 4.2400-4.2800 | 4.2400-4.2800 |
| USD/PLN | 3.2100-3.2500 | 3.1800-3.2200 | 3.2400-3.2700 |
| CHF/PLN | 3.4200-3.4600 | 3.4200-3.4600 | 3.4200-3.4600 |
Expected GBP/PLN levels according to the GBP/PLN rate
| | | | |
| --- | --- | --- | --- |
| GBP/USD | 1.5450-1.5550 | 1.5550-1.5650 | 1.5350-1.5450 |
| GBP/PLN | 4.9700-5.0100 | 4.9900-5.0300 | 4.9500-4.9900 |
Overall technical situation on the analyzed pairs:
Technical analysis EUR/USD: EUR/USD closed above 1.3200 what is a bullish signal. It sopped close to very strong resistance – 1.33 (it was the level from February – April slide started). Breaking 1.3300 on the upside opens the path toward 1.37. Slide under 1.3200 favors range trade again.
Technical analysis EUR/PLN: the slide on Friday was pretty hard for bulls, but the upside trend is still present until we slide under 4.2200. The target is still 4.40.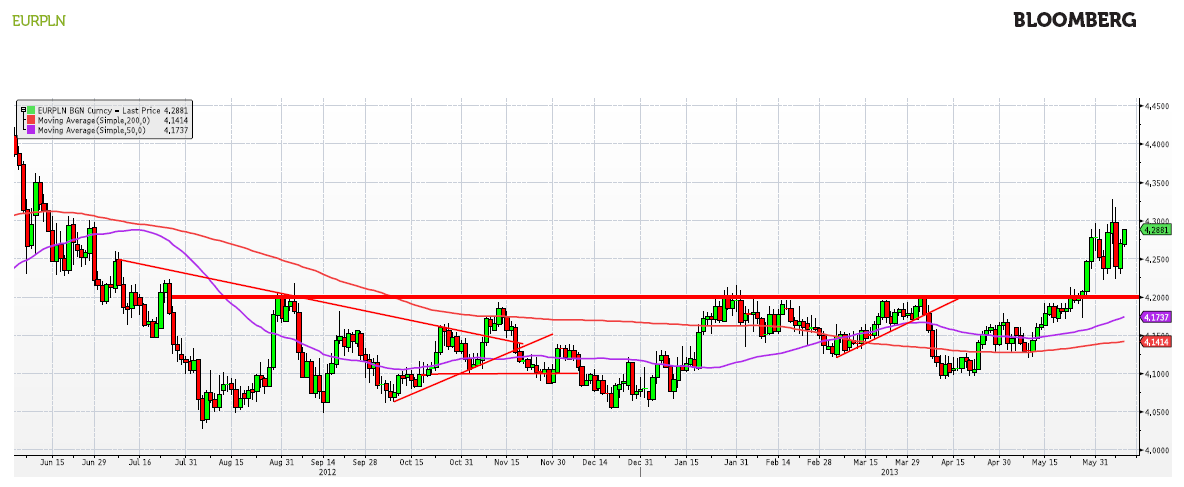 Technical analysis USD/PLN: the pair slided under 3.22 which was a bearish signal. The target is 3.15 now and the slide should accelerate after sliding under 3.20.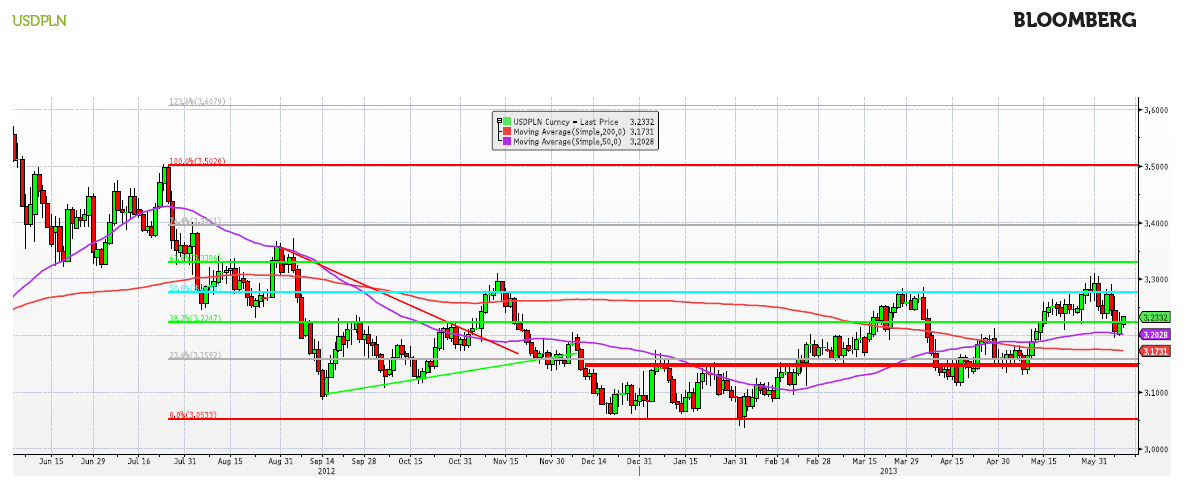 Technical analysis USD/PLN: the pair slided under 3.22 which was a bearish signal. The target is 3.15 now and the slide should accelerate after sliding under 3.20.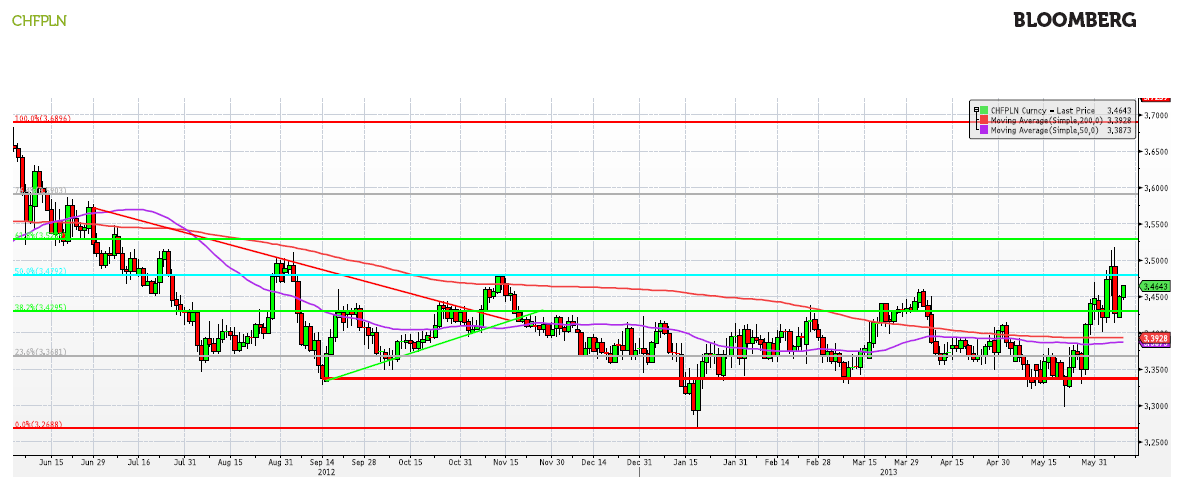 Technical analysis GBP/PLN: we almost reached the 5.10 target on Wednesday and on Thursday. If we slide under 4.95 the bears will be in charge.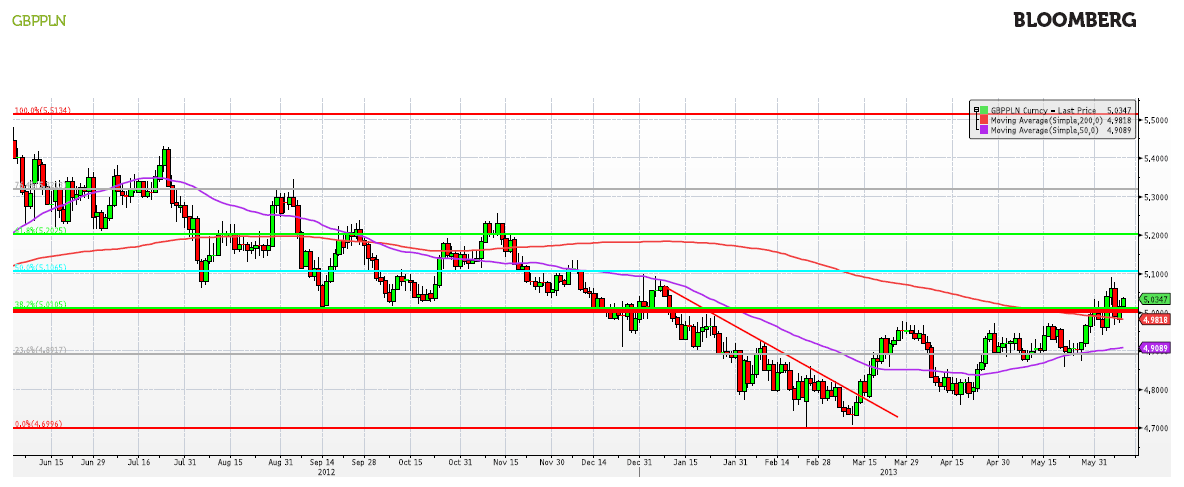 ---
This commentary is not a recommendation within the meaning of Regulation of the Minister of Finance of 19 October 2005. It has been prepared for information purposes only and should not serve as a basis for making any investment decisions. Neither the author nor the publisher can be held liable for investment decisions made on the basis of information contained in this commentary. Copying or duplicating this report without acknowledgement of the source is prohibited.
---