A museum, in which you can an expensive car and get away with it. A district which gives you an impression that the time has stopped… but in three different eras. You can find these places in Aarhus, which is the second-largest city in Denmark. This city is the European Capital of Culture 2017 and describes itself as, "a vibrant mix of youthful energy and a blast from the past."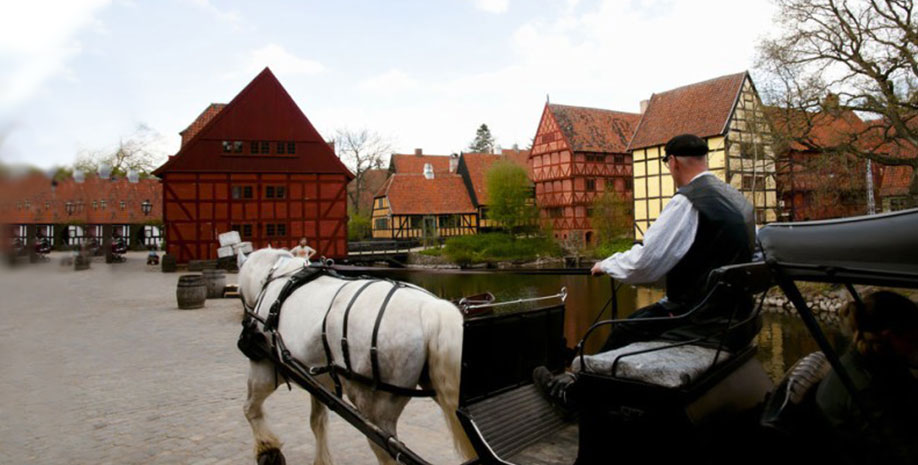 On one hand, a gust of Viking's colorful and adventurous history. On the other, stereotypical jokes about dimwit Danes, which are told all over Denmark. In the middle of this country, you can find a city with beaches, boulevards, canals, a large port, picturesque Old Town, monuments and museums that you must see.
Long road to capital city
Aarhus has quite an interesting history. At the beginning, it was a small Viking village, surrounded by bulwark. The town later became famous of its mint and also became an important trade location in the Baltic region.
The town's inhabitants were decimated by the Black Death twice and once by a great wildfire. During the Second World War, Aarhus was frequently bombed. However, in the nineteenth century it became one of the main cities in Denmark. This was caused by increasing the port and the industrial plants, as well as founding the second university in Denmark.
Today, Aarhus describes itself as, "a vibrant mix of youthful energy and a blast from the past." Its trade district is considered the best in Scandinavia. This is a modern city, which you can visit in its entirety on foot. In 2016, Aarhus was considered as the hottest location in Europe by Lonely Planet, which is the largest travel guide publisher in the world.
This is not an exaggeration. Thousands of students makes this city actually vibrant. Moreover, it has many parks and the authorities of Aarhus take care of the biking infrastructure. They really encourage people to ride bicycles and meters, which are installed above bicycle lanes, show that increasingly more people undergo these persuasions.
Three stars from Michelin
In 2017, Aarhus became the European Capital of Culture. This means that tourists will get an opportunity to see many cultural events. You can find a detailed program on visitaarhus.com.
Of course, Aarhus has many everyday attractions as well, such as Domkirke cathedral, Marselisborg Palace (which used to be the summer residence of the Danish royal family), Tivoli Friheden entertainment park, the Royal Music Academy concert hall, the Old Town and a modernistic city hall. However, it's the museums that offer the city's greatest treasures. Three of them deserve a special attention.
The first one is Den Gamle By. This is an outdoor museum, which has been divided into three era zones. It consists of old buildings from different places in Denmark. What's unique about this museum is that it "lives". Its streets are roamed by people dressed in clothes from the past eras. To remain even more consistent with historical standards, the museum has its own workshops and inns. Moreover, the museum's stores do not use electronic cash registers and you won't find there vividly packed products. This basically gives you a complete picture of the past, which has been divided into three eras – before nineteenth century, 1920s and 1970s.
The Michelin travel guide awarded Den Gamle By with three stars, which is the highest rank. Moreover, this location was defined as a "must see."
Toddlers and teenagers can enter Den Gamle By for free. Adults have to pay approximately 150 krone. However, prices vary depending on a weekday or the year period. The museum has hundreds of thousands visitors. They can experience many aspects of their ancestors' life.
ARoS – incredible art museum
Even if you are insensitive to the beauty of art or negative towards visiting museums, you should really visit the ARoS. There, you will not only see the classic works of art, but also some originals ideas from modern artists. They are furniture made from pill packages, sculptures made from plastic cutlery or a huge chandelier made from tampons. However, the museum's greatest model of Lamborghini, which could be scratched with a nail by every visitor. This car is still in ARoS, but its body has been so damaged that it's basically impossible to see its original color.
Visitors can also walk inside a 150-meter glass ring, which is located on the museum's roof. It's painted with the colors of rainbow. This way, Aarhus, as well as the entire world, will always be colorful from there.
ARoS was ranked with two stars by the Michelin travel guide and defined as, "worth seeing." The museum has its own cafeteria and a souvenir shop.
Aarhus also has another museum which is internationally famous, has unique exhibits and was awarded with two stars by Michelin. It's called Moesgaard Museum (MoMu) and is dedicated to prehistory. There, you can see particular stages of the human evolution.
Entertainment park for everybody
Marselisborg is a forest in Aarhus. There, you can find Tivoli Friheden, which is a large entertainment park. It has been divided into four theme zones and equipped in rollercoasters and 40 meter high jumping towers, among others. The rollercoaster carts go down with the speed of 70 km/h. After jumping from Sky Tower, you will fall with the speed of 90 km/h and land safely thanks to a net, which is stretched above the ground.
Ferris Wheel, carousels, water bikes, minicars, 5D movie theater, concerts, exhibitions, playgrounds – these are just a few attractions of Tivoli Friheden. Even though this place has many bars and restaurants, there is a tradition that people come here with their own food to have a picnic or a barbecue. Of course, if the weather is nice.
Danish krone
The distance between Warsaw and Aarhus is 1179 km. If you go there by car, you will drive 1116 km of this route through Polish and German motorways.
A weekend stay in a hotel for two people can be booked via booking.com. The prices are within the range of 115-520 euro and they are dependent on hotel's standards, as well as on period of the year.
According to trasa.info, "Denmark is among Europe's most expensive countries." Living costs are much higher than in Poland. A loaf of bread costs an equivalent of approximately 8 PLN and so does one liter of fuel. A dinner in a restaurant costs an equivalent of 70-80 PLN. Denmark's currency is the Danish krone. One krone costs approximately 0.49 PLN. - The Danish krona's exchange rate is constant against the euro. This means that the Danish central bank defends it and its fluctuations are minor. However, the Danish currency has lost more than 2,5% against the zloty since December – explained Bartosz Grejner, analyst of Cinkciarz.pl. The company allows to exchange twenty-four currencies online, twenty-four hours a day.
---