When the Irish celebrate Saint Patrick's Day, the whole world celebrates with them. Places like Niagara Falls, The Sydney Opera House and The London Eye are colored green on the 17th of March. It has also become a tradition to pay a visit to a local pub and raise a glass filled with Irish booze. What if you could do this authentically in Dublin?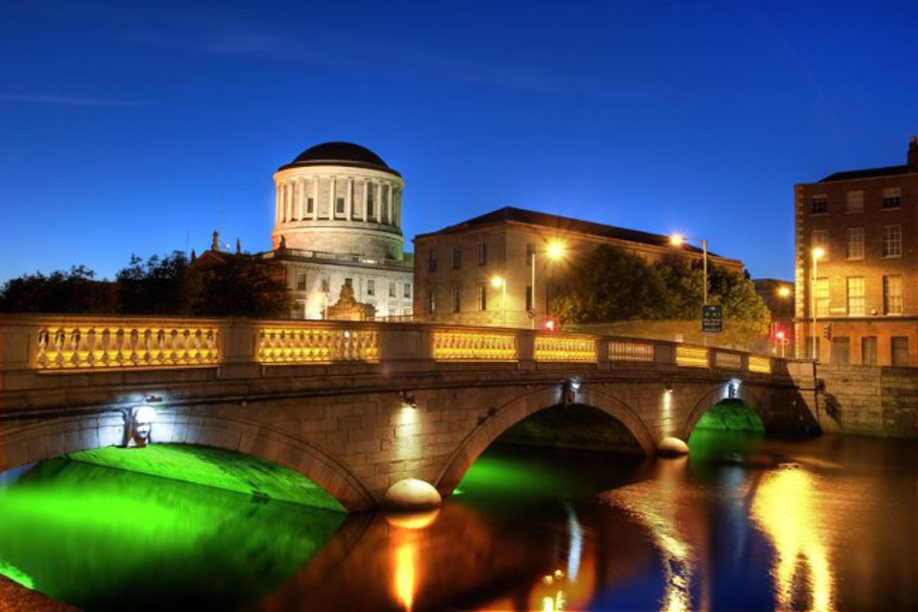 Simply put, green is a symbol of Ireland. You can see it from the air. There's also plenty of green in the Irish capital city, Dublin. Ireland is surrounded by three seas and the Atlantic Ocean. This type of environment has a significant impact on the island's climate – on one hand, it's friendly and moderate and on the other it causes frequent rainfalls. The latter is an integral element of residing or visiting Ireland. However, the weather is much kinder on Ireland's east coast. And this is where Dublin sits proudly.
Parades and festivals
Dublin is definitely different than the majority of global cities - a large advantage. This city is not crowded with glass skyscrapers and its daily routine is free of the big city rush and racket. Ireland's capital city's trademarks are monuments, parks by the Liffey river and of course... pubs.
Nevertheless, the streets of Dublin become loud, crowded and even more green on March 17th. This is when the Irish celebrate Saint Patrick's Day. Saint Patrick was a bishop and a missionary who was made Ireland's patron saint. He lived in the fifth century and it is said that he died on March 17th, 461. Even if that can't be confirmed, this day has become a national holiday in Ireland. People eagerly attend historical reconstructions, concerts, parades and more.
A characteristic element of Saint Patrick's Day is a young sprig of clover, known as the shamrock. According to the legend, Saint Patrick used the shamrock to explain his stories about the Holy Trinity. This legend was so influential that the three-clover has become the national symbol of Ireland.
The Irish continue their celebrations even when the parades have finished. Afterwards, they go to pubs where they drink a traditional glass of Irish whiskey. The same tradition has become popular in many other countries, mostly because of the large amount of Irish immigrants. However, it is more popular drink beer instead of whiskey outside of Ireland.
Most popular export product
According to Wikipedia, the global consumption of Guinness amounts to 10 million glasses a day. This dark beer is Ireland's most popular export product. This is why you can start your tour around Dublin by visiting the Guinness Brewery, located in the city center and one of the most popular tourist attractions of the Irish capital city.
The Guinness Brewery was created by Arthur Guinness in 1759 in Dublin. Today, the building is divided into a production area and museum. The interior of the museum is shaped like a giant beer tankard. At the museum, you will learn the secrets of Guinness stout, which gets its specific dark color from the addition of roasted barley malt. The ticket price (18 euro) includes a tasting. This stage of the trip takes place on the building's highest floor, which possesses a remarkable view on Dublin.
The museum (guinness-storehouse.com) also includes a souvenir store. All attractions are open seven days a week between 9:30 AM and 5:00 PM. Each year, the museum attracts more than four million tourists.
Ireland is also famous for its whiskey. You can learn the secrets of producing this nectar in the Old Jameson Distillery, which is another museum that is located in Dublin. Adults can also imbibe in some whiskey samples.
Walls that remember those who fought for independence
After visiting the Guinness Brewery, you should stay on the museum trail and visit Kilmainham Gaol. Formerly a prison not only for common criminals, many people who have fought for Ireland's independence were sentenced to death in this haunting place.
It's best to wear warm clothes before entering Kilmainham. This is due to the chilly walls of the corridors and prison cells. Also factoring into the cool temperatures, is the fact that it takes approximately two hours to tour the entire facility. The program consists of visiting the historically preserved prison cells, courtyard, prison chapel and the opportunity to attend an audio-visual show about the prisoners of Kilmainham. One ticket costs 9 euro.
Another interesting tidbit are the interiors of this building - which were used in movies such as "In the Name of the Father" and "The Boondock Saints." In March, this museum is open between 9:30 AM and 5:30 PM on weekdays and 10:00 AM and 6:00 PM on Sundays.
Green oasis
The St. Stephen's Green, designed by architect William Sheppard approximately 150 years ago, is located in the heart of Dublin. This place can be very crowded on St. Patrick's Day. However, it's very peaceful and quiet on a daily basis.
You can bask amongst green areas aplenty, beautiful flowers, a lake, a river, a waterfall, fountains, stone bridges, statues, playgrounds and much more. The entire property is very well preserved and taken care of.
A little bit further from the center of Dublin lies a the larger Phoenix Park. This place is surrounded by a stone wall and is considered to be the green oasis within Dublin. Phoenix Park also contains the Irish president's mansion as well as a zoo.
World of monuments, music and Irish coffee
Some of the most famous monuments in Dublin are the Royal Castle, the National Gallery, the oldest university in Ireland, St. Patrick's Cathedral, numerous symbols of the Easter Rising 1916 and many more. The Irish capital also has many art and culture attractions like theaters and art studios. Moreover, this place has always been favorable to artists. After all, this is the city of Bob Geldof, Sinéad O'Connor, U2 and Thin Lizzy and writers such as Oscar Wilde or James Joyce have lived here in the past.
Dublin pubs are filled with live music. You don't have to tell the Irish twice to sing or play an instrument. The Irish capital has several pubs. A few-days stay wouldn't be enough to visit even half of them. However, you should definitely step into the Temple Bar district, which is famous for its cultural institutions, rich nightlife and clubs such as Bar Palace and The Temple Bar.
You should also try Irish cuisine, based on traditional and stodgy dishes. It's also quite similar to traditional English cuisine with its egg and bacon breakfasts, as well as fish and chips meals. Essentially every Dublin restaurant serves mutton, stew or homemade cakes and pastries.
Poles, golf-courses and kindness
You can fly to Dublin directly from the biggest Polish cities. If you're lucky, you may only pay approximately 450 PLN for a round-trip ticket. However, such a ticket may also cost you approximately 1400 PLN.
Inhabitants of Dublin are used to crowds of tourists in their city. Therefore, the accommodation offer is very rich and you shouldn't have problems finding a vacant room around the 17th of March. What about cost? It's possible to find a room for approximately 60 PLN. However, the majority of facilities offer very snug and well maintained rooms for approximately 100 PLN.
Prices in Ireland are higher than Poland, and so are salaries. You should buy euro before heading to Ireland. This currency has worn-off against the zloty over the past few months. - Twelve months ago, the euro was at the level of 4.45 PLN and currently it's near 4.30 PLN – said Bartosz Grejner, Cinkciarz.pl analyst. You can exchange the euro to the zloty in Cinkciarz.pl twenty-four hours a day. Moreover, the company's exchange rates are more favorable than those offered by banks.
- The Irish are very open and kind people. They're slightly crazy about hurling, rugby and football – said Piotr Marszałek who worked in Ireland for ten months. - When I was in Ireland, I managed to visit some places on this island. That's why I know that this country is truly green and full of golf-courses. It often rains in Ireland and there are many Poles who live there.
---