Cinkciarz.pl has signed as a Global sponsor of the UEFA European Under-21 Championship™. The tournament will take place in six Polish cities this June. As part of this association the company will present its international brand, Conotoxia, to football fans worldwide. Moreover, it will strengthen its position in Poland.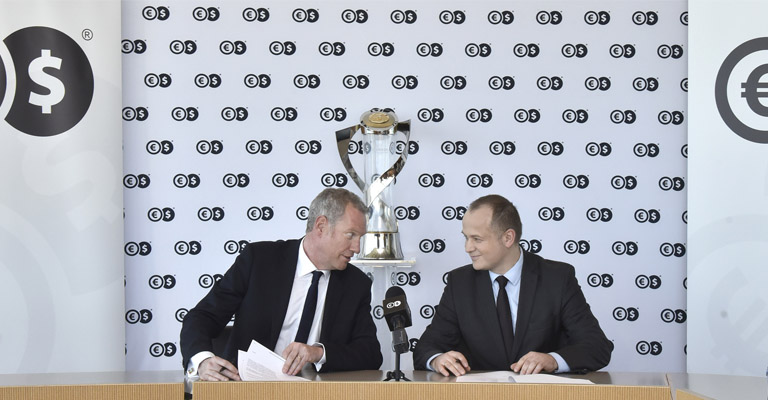 The U21 EURO occurs every other year. At the beginning of 2015, the UEFA Executive Committee decided that Poland will be the host of this tournament for the first time in history. In addition, the tournament has expanded from eight to twelve participating national teams.
The U21 championship will take place between June 16th and 30th 2017. The cities that will host the games are Bydgoszcz, Gdynia, Kielce, Krakow, Lublin and Tychy. The tournament's organizers are UEFA in collaboration with the Polish Football Association (PZPN) and hosting cities.
'We are delighted with the contract that we have signed with UEFA. We will prepare an extensive activation to engage with fans during the final tournament. Thanks to our partnership with the UEFA U21 EURO, we will be able to present our international brand, Conotoxia, to football fans worldwide. In doing so we will strengthen the position of Cinkciarz.pl in Poland as well. We are positive that this cooperation will be favorable for both parties.' said Piotr Kicinski, Cinkciarz.pl Vice-Chairman of the Board.
Brands such as Coca-Cola, McDonald's and adidas are global sponsors of the UEFA U21 EURO and Cinkciarz.pl is the only Global partner from Poland within this group. This event will allow Cinkciarz.pl to promote the Conotoxia brand, which is dedicated for the global markets. The brand will appear pitchside on signage, tickets and the official UEFA EURO U21 website, as well as on various materials across the host cities. The company gained exclusive rights to marketing activities in the scope of currency exchange, money transfers, payments and Forex services.
'We are delighted to welcome Cinkciarz.pl as a sponsor of the UEFA European Under-21 Championship™. As a successful Polish company with global ambitions we are sure that the partnership can help grow their business whilst simultaneously helping to promote the competition. This demonstrates the strength of the newly expanded tournament and we look forward to working with them in the months ahead.' said Guy-Laurent Epstein, Marketing Director, UEFA Events SA.
Cinkciarz.pl allows its customers to exchange foreign currencies online using very attractive exchange rates. The services of Cinkciarz.pl are used by individuals as well as businesses. You can conclude currency transactions at any time with the use of express and free online cash transfers. Conotoxia is a financial institution that will provide money transfer and payment services globally.
---