Huge cruise ships offer every attraction that is characteristic of luxury hotels. People taking part in these cruises emphasize the massive difference. The ship moves from port to port, places to be seen, cities, countries and sometimes even continents change day by day. This is what makes it more interesting, they say.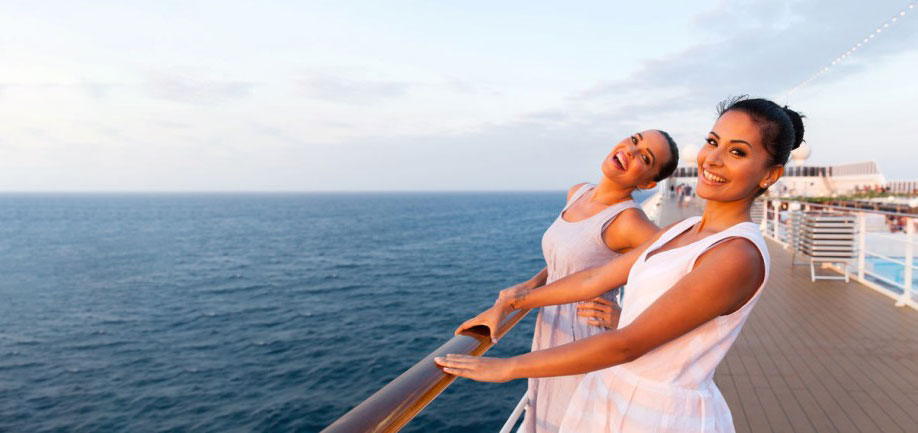 - Malaga on day one, the next day you wake up in Casablanca, then drift to the Canary Islands, Lisbon, Gibraltar, Malta... every day you wake up in a different world. It's been two months already, and yet the impression remains. I highly recommend this type of vacation to anyone who hasn't tried it yet. You can visit port cities and their surroundings in various parts of the world, but still have the same room. And this is just one advantage. Others? An endless space before one's eyes during the day allows the head to rest. There's smiling and relaxed people around who aren't rushed. Delicious cuisine, dances, shows and fitness rooms can be found on a cruise ship, which is so huge that one could go on a walk on a couple of decks – this is how Pawel Pilonis, a 44-year-old entrepreneur from Zielona Gora, described his feelings about the cruise.
A ship filled with adventure
At first, ships were only built for practical use, in order to get where one couldn't walk or ride, in the times when no one had even dreamt of planes yet. As it turns out, the curiosity to discover new lands is a general human characteristic, and traveling by ship is a pleasure in and of itself. Amateurs were first to notice a chance for a business and started ordering bigger and better equipped passenger ships.
The race was on. Who would and could build the largest, most luxurious and expensive sailing unit? This competition wasn't held back by famous and tragic shipwrecks, of which legends began to be told, books were written and movies were made. Amateur cruise-makers were only drawn to the search of adventure.
A swimming pool, park, cinema, theatre, casino
Restaurants, bars and casinos are no longer a novelty on cruise ships. The gigantic boats that are created with a budget of one billion dollars offer way more: parks, shopping centers, playgrounds for children, climbing walls, pools, water slides, surfing simulators, saunas, rinks, running tracks, gyms, tennis courts, bowling alleys, cinemas and two-story apartments with terraces.
As the Forbes' ranking of the 10 largest cruise ships shows, these ships could board the citizens of a city with a population of 50-thousand!
A sense of the massive size of these ships can come from the comparison of up to three or four football fields. The ships are also several stories high and can board 4-6 thousand people to sail around the world. They are giants created to deliver entertainment, but also so that the huge investment is brings revenue.
Not all are driven by the elegance and the splendor, though. Cruise organizers are well aware of this fact and offer paid cruises on freight ships. A short characteristic of this type of offer states as follows: less comfort, but vastly more affordable, and during the cruise one is able to visit ports which huge cruise ships couldn't reach.
Etiquette when aboard
Freedom and latitude during the day, elegance at dinner – these are the suggestions regarding the outfits that are met by the passengers of most of the cruise ships. Evening galas on cruise ships are events of social conventions, where women show up wearing long evening dresses, and men with a suit and tie. And if somebody forgets their formal outfit, huge ships sometimes have rentals of their own.
Even if we choose to go on a cruise in a tropical climate, it's still worth packing a few formal outfits which may come in handy should we wish to visit churches in the ports we visit - regardless of whether we attend fancy galas on the ship.
However, there are exceptions to every rule – there are cruise lines where even grand dinners take place without suits, ties, bowties or long evening dresses. The outfit is up to the passenger.
Spend today, pay tomorrow
On the website Rejsy.pl and through online search engines, one can easily find many attractive offers suggestion how we spend the holidays. Prices in the majority of offers include: accommodation, alimentation, using most of the attractions available aboard and entertainment events as well as integration parties. The cost of getting to the port and possible parking, spending the night awaiting the embarkation, port fees and charges, visas, trips with a guide, insurance, the cost of the internet connection and bills at the bars are to be added as own expenses. Passengers also need to remember to take money in currencies of every country that is on the cruise's route. The foreign exchange services of the currencies from all around the world are offered by Cinkciarz.pl.
A cost of the vacation cruise depends on the standards, as well as the size of the ship. Also important is the type of a cabin that we choose, number of days spent on the ship and the places that the ship sails to. Port fees and charges, visas and obviously our own personal expenditures weigh on our wallets. However, it is easy to lose track of these costs as passengers only use cash or credit cards on the day before leaving the deck and when the time to settle the bill comes. Before that time, magnetic ID cards are used not only to open doors, but to also confirm and record expenses in bars, at service points, hair stylists, at spas, etc. Before leaving the ship, cruisers need to settle their payment and include gratuity. Companies that organize cruises often remind cruise-goers that tipping is a custom on cruise ships and for the 'comfort' of their clients they add 8-12 dollars per day to satisfy their staff.
A two-week cruise through the ports of South America costs 1800 euro per person for an inside cabin, 2300 euro for a cabin with a window, 3300 euro for a cabin with a balcony and 5500 euro for an apartment. On the other hand, an apartment for three weeks on a cruise ship on the waters of the Caribbean Sea will cost 17000 euro. The turquoise waters, white sand and the fresh air of the Caribbean can be seen and sensed for a lot less – the promotional price for a 9-day cruise in a cabin without a window will cost 600 euro. And 350 euro could buy a last-minute offer for a 12-day cruise on the Mediterranean Sea, including visits to Rome, Genoa, Valetta, Piraeus, Limassol and Rodos. For comparison, an ocean odyssey around the world in a luxurious apartment on a board of the exclusive 'RMS Queen Mary 2' will set you back the astonishing amount of half a million PLN. Cruises will always be fun, relaxing and breathtaking - but their cost varies significantly.
---