Cinkciarz.pl, one of the fastest developing fintech companies in Europe, has become a sponsor of Jagiellonia Bialystok. This is yet another recently announced partnership for the company with a football team from the Top League.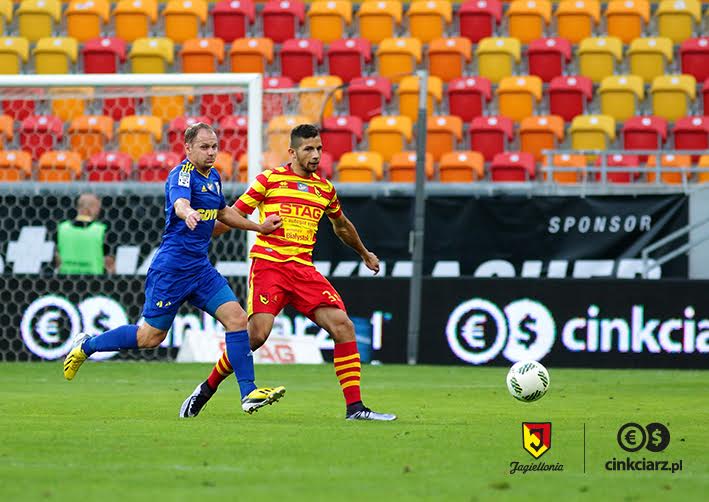 Cinkciarz.pl signed a muliti-year sponsorhip contract with Jagiellonia Bialystok, having the title of: Official Sponsor of Jagiellonia Bialystok. The Cinkciarz.pl logo will be exposed during the team's home-games, eg. on the LED pitch-side signage.
Jagiellonia Bialystok is the most recognisable football club in north-eastern Poland. It has competed in the Top League for 14 seasons. The team was the bronze medalist of the Polish national football championship. It also won the Polish Cup and the Polish Super Cup. The Bialystok team plays its football matches in a modernized city stadium, which has a capacity of more than twenty thousand viewers. A covered grandstand, modern lighting and state-of-the-art sound systems allow the audience to watch the game in a comfortable environment.
We are happy that Jagiellonia Bialystok will be among the Top League clubs which we are going to support. We have been present in Polish sport for many years and we want to deepen our commitment to its promotion. We gained a partner that has a starring role in the life of many football fans. We hope that in the coming seasons, together with the club, we will suprise football fans by having intereseting ideas - said Kamil Sahaj, Cinkciarz.pl Chief Marketing Officer.
Because of the signed multi-year contract, Cinkciarz.pl holds the title of 'Official Foreign Currency Exchange Partner' and the company's logo will be exposed on the club's official website. The sponsor will also have the possibility of promotional campaigns involving the first-string footballers of the team, social media and CinkciarzTV. Because of this, fans will have the possibility of participating in many competitions with attractive rewards.
The agreement with Cinkciarz.pl is very important to the club. We have gained an important partner with whom we can plan long term activities with. We believe that cooperating with such a well known company will allow us to organise many innovative actions, which can draw fans to visit our stadium more often. We invite our fans to the club's and sponsor's social media. They will be able to find many attractions there - comments Agnieszka Syczewska, Vice President of Jagiellonia Bialystok.
Last week, Cinkciarz.pl announced the signing of the sponsorship contract with Ruch Chorzów. The currency exchange company is currently the sponsor of Cracovia Krakow, as well as the sponsor of the Chicago Bulls, the Polish national football team, the Polish Basketball League and Stelmet BC Zielona Góra.
---